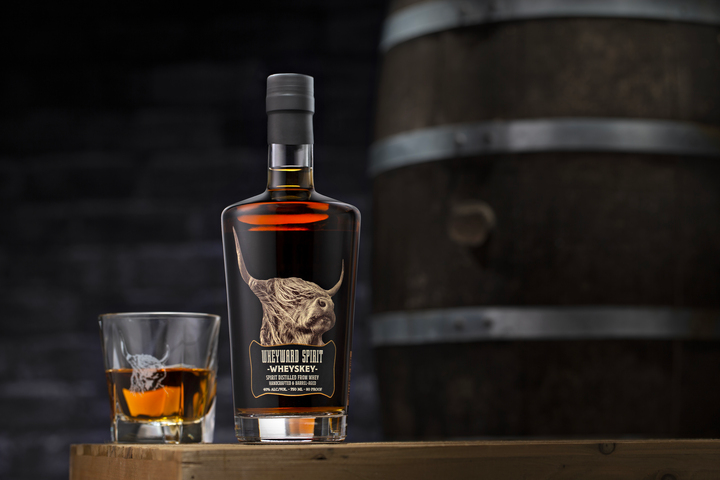 Portland, Oregon-based Wheyward Spirit announced the launch of its new barrel aged spirit: Wheyskey. According to Wheyward Spirit, it is the first aged specialty whey spirit in the U.S. Wheyskey's first barrel release is now available nationwide via Wheyward Spirit's website.
Wheyskey by Wheyward Spirit is a spirit for those who value a versatile, complex, and sippable drinking experience. It is a barrel-aged version of the double gold award winning Wheyward Spirit, which enables the distinct Wheyward Spirit flavor that is naturally created during the fermentation and distilling process to fully blossom and mature through oak aging. Wheyskey incorporates the natural development of oaky vanilla, toffee, and warm spice during the farm-to-cask-to-flask journey. The result is a rich and smooth barrel-aged spirit that is both complex and easy to drink neat or use in your favorite cocktails. All of Wheyward Spirit's products are free from additives and flavorings, as well as being gluten-free, grain-free, and lactose-free.
"At Wheyward Spirit, our ethos is about breaking boundaries and bringing to market better tasting and more approachable spirits made responsibly and domestically," said Emily Darchuk, founder and CEO of Wheyward Spirit. "We are so proud of the years of innovation work that went into the launch of Wheyskey and truly believe this spirit will be a game changer for both the liquor and dairy industry as well as consumers who are drinking more mindfully and are seeking more approachable and versatile options where they can actually taste a difference and make a difference."
Wheyskey continues the company's vision to produce best in class spirits that deliver versatility with values. Like its clear counterpart Wheyward Spirit, Wheyskey upcycles underutilized domestically produced whey instead of using a traditional grain as a whiskey would. Wheyward's production creates a value added outlet for the over 100 billion pounds of whey that goes to waste annually. As a company, Wheyward Spirit's upcycling and circular economy implementation prevents food waste, optimizes production inputs for our dairy partners, and minimizes the environmental footprint of spirit production as whey spirits have been shown to generate a lower carbon and water footprint than traditionally produced spirits.