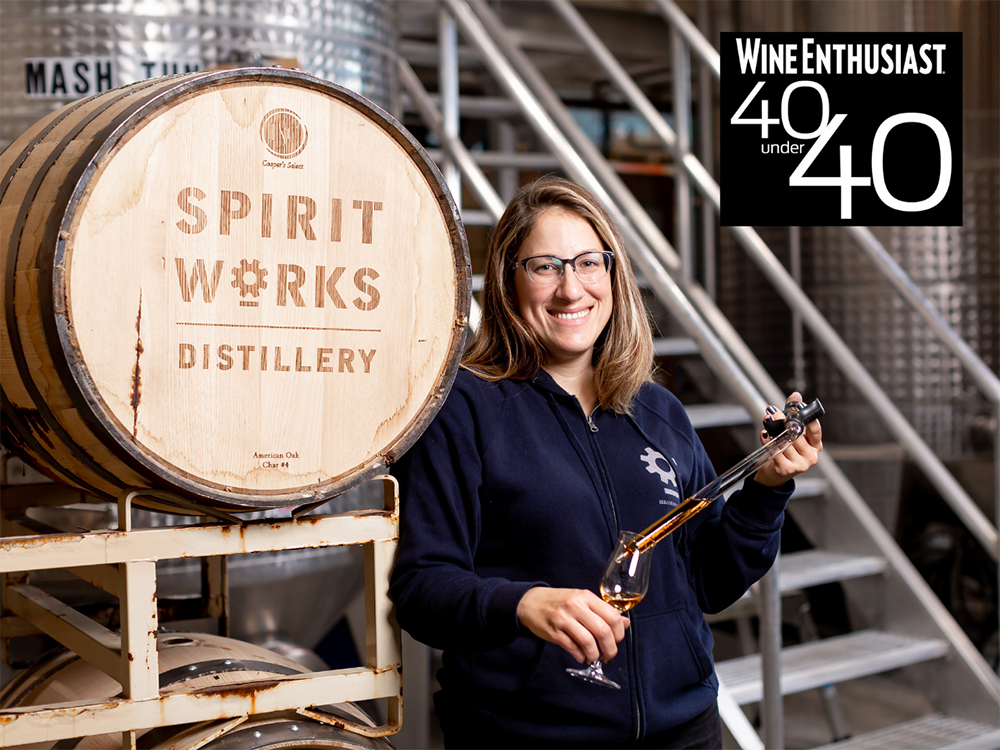 Krystal Goulart, head distiller of Sebastopol, California-based Spirit Works Distillery, has joined the ranks of this year's Wine Enthusiast Magazine's 40 Under 40 Tastemakers, which highlights the people shaping the future of wine, beer, cider and spirits.
The sole distiller on this year's list, Goulart has the unique distinction of having forged careers in both the wine and craft spirits arenas. She arrived at Spirit Works Distillery in 2018 to apprentice with the female-led distilling team after more than a decade of work in the wine industry as a lead enologist and cellar master at such esteemed Sonoma wineries as Chateau St. Jean and Cruse Wine Co. With an astute palate, deep technical knowledge and a passion for fine craft beverages, Goulart was an immediate asset to the Spirit Works team, which is widely respected for its creativity, innovation and deep commitment to quality and environmental stewardship. She has a degree in Enology and Viticulture from California State University, Fresno, and honed her skills abroad prior to her tenure with Sonoma County wineries, including in Australia's Margaret River Valley and Portugal's Douro Valley. While working with wine, Goulart had been observing with great interest the boom of the craft distilling industry around the U.S. and in her own Sonoma County backyard. That interest and readiness for a new adventure and challenge landed her at Spirit Works Distillery.
"What an honor it is to be included in this list of talented peers and game-changers in the beverage industry," said Goulart in a press release. "I feel fortunate to have had incredible experiences with both wine and more recently craft spirits industries. Working side-by-side with mentors and colleagues who are passionate about their craft, their community and their impact beyondinspires me daily. To be recognized for my own contributions to this award-winning distillery and an industry I love is an amazing feeling!"
As the leading creative force behind the Spirit Works' still, Goulart has been adding her own stamp to the Distillery's expansive portfolio, currently crafting an amaro with a sloe berry twist and a new recipe for a second batch of Exploratory Gin. A top priority for Goulart is carrying forward the strong Spirit Works grain-to-glass ethos around local sourcing and sustainability, spearheading new partnerships with neighboring organic grain farmers.
"We are absolutely thrilled to see Krystal on this incredible list!" said Ashby Marshall, Spirit Works proprietor and original distiller. "She is such a positive force, an incredible mentor to her team, and a stellar example in the industry and in her community. Krystal has been an asset to our team from day one, bringing so much value with her creativity, leadership, dedication to quality, her remarkable palate, her warmth and wonderful team spirit and incredible hard work. We're really happy for her!"