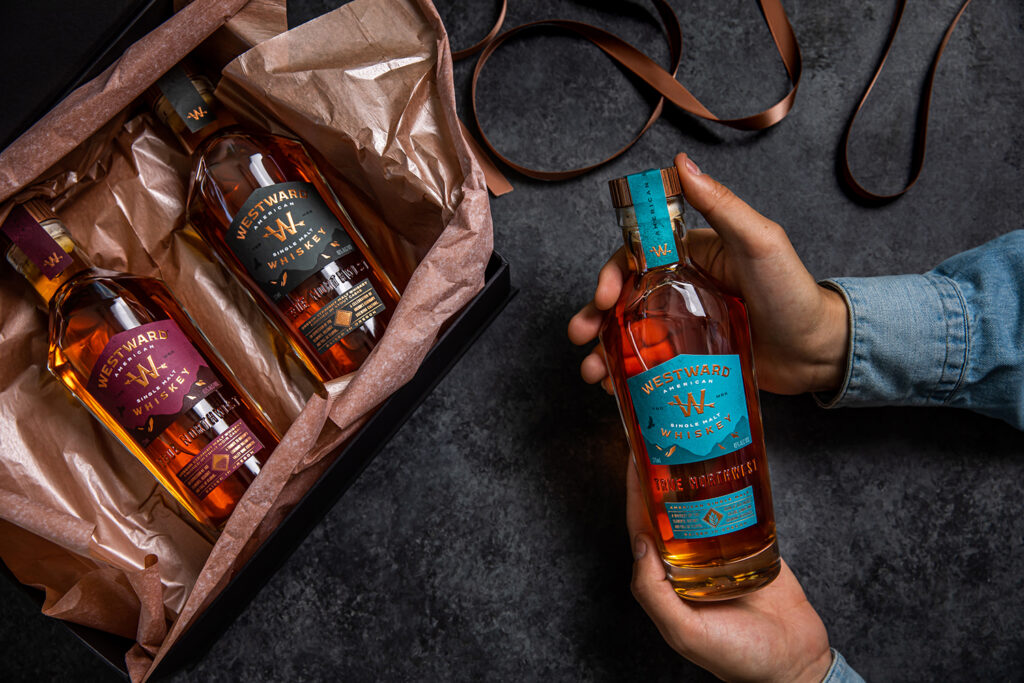 Westward Whiskey of Portland, Oregon, is proud to announce the launch of what it calls the first truly national, direct-to-consumer (DtC), brand-owned whiskey club, The Westward Whiskey Club.  Consumers across the country can now discover firsthand the fine art and craftsmanship of whiskey making from America's highest-rated Single Malt. 
Launched in 2019 and previously available exclusively in Oregon, where the company is based, whiskey lovers in nearly 30 states now have the opportunity to join the Westward Whiskey Club, granting them exclusive access to club-only whiskey releases, club-only events led by Westward's team of experts, and fellowship with others who celebrate American whiskey innovation. 
Members can choose from two different tiers: Explorer Club and Cask Club. Explorer Club members will receive one bottle of whiskey in Westward's four yearly Club releases (approx. $90 quarterly), and Cask Club members will enjoy three bottles each quarter (approx. $270 quarterly). Shipping is available to nearly 30 states, reaching more than 70% of the U.S. population, according to the 2019 U.S. Census Bureau.
"We are thrilled to welcome whiskey lovers from across the nation to The Westward Whiskey Club," said Thomas Mooney, founder and CEO, Westward Whiskey, in a press release. "For some time now, we have received requests from Westward enthusiasts – both those who have visited our distillery and those who enjoy our single malt in their home state – to engage with our brand and team on a deeper, more personal level.  We're excited to offer them a platform to join our community." 
Miles Munroe, head distiller and blender of Westward added, "We were founded by a desire to elevate and craft new flavors in American whiskey, to create something that inherently spoke of a sense of place, and our Whiskey Club has been an incredible vehicle to continue to showcase this ethos. From partnering with local breweries, winemakers, chefs, and culinary personalities to sharing a special single barrel with those who will appreciate it most, Westward is constantly reimagining single malt."
Other membership perks include The Westward Experience, a distillery tour and tasting offering an in-depth look into Westward's four-step production process of brewing, distillation, maturation and mingling and a guided tasting featuring several expressions of the brand's award-winning American single malt whiskies. Westward Whiskey Club members are also eligible to participate in exclusive custom mingle sessions hosted at the distillery, where they can purchase an entire batch of their very own whiskey blends. Explorer and Cask Club members receive exclusive distillery access to taste and purchase archived whiskey, rare whiskey the company has laid down in its vault from previous years.
Since its launch in 2019, the Club has shared 11 innovative releases with its membership in Oregon. Fan favorite bottlings — which reflect the distilling team's collaborative approach to whiskey making and dedication to honoring the culture, climate, and abundance of the American Northwest — have included:
WESTWARD AMERICAN SINGLE MALT OREGON TEMPRANILLO CASK. Westward Whiskey Club's inaugural release, which quickly became a collector's item and spawned a second, "sister" release earlier this year, drew inspiration from both Oregon's winemaking and brewing traditions. Once fully matured, the distilling team finished this whiskey for eight months in a puncheon that previously held Tempranillo wine from Dominio IV, a leading biodynamic winemaker from the Willamette Valley.
WESTWARD AMERICAN SINGLE MALT "KEN FORKISH SOURDOUGH" WHISKEY. Released in 2020, this unexpected and delicious expression of Westward whiskey was created via a collaboration with James Beard Award-winning baker and Portland culinary icon Ken Forkish. It was made from scratch using Northwest two-row malted barley and Forkish's sourdough levain, a blend of wild and local yeast.
WESTWARD AMERICAN TWO MALTS BRIDGEPORT BREWING CO. Introduced in 2021 and part of a Two Malts series of Club releases, this whiskey marked Westward's first-ever collaboration in which their team of distillers turned an iconic brewery's recipe into one of their whiskeys. Brewed alongside the Bridgeport team using their Kingpin Red Ale recipe, which boasts a relatively high rye content, the result is a complex and warm expression.
More details on club membership can be found here.