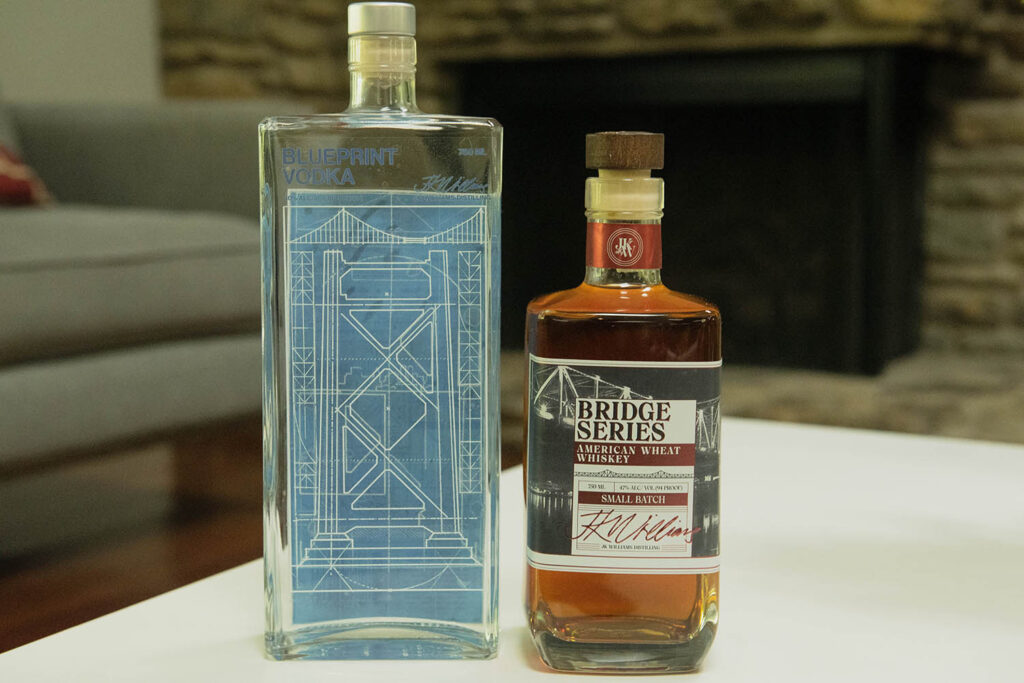 JK Williams Distilling of Peoria, Illinois, is releasing two new spirits, including its first American Wheat Whiskey, which will kick off the distillery's Bridge Series. In addition to honoring the Murray Baker Bridge in its hometown of Peoria, the series is also a way to celebrate recipes that bootlegger J.K. Williams created over 100 years ago while moving towards the future of JK Williams Distilling. 
"Each expression in The Bridge Series will consist of a blend between products we've kept in barrels over the years with a newer American Wheat Whiskey," said JK Williams's head distiller Jeff Murphy in a press release. "So, yes, we are bridging the gap between old and new with this series, all while we wait for our other products to continue to age."
The Distillery will also release its first clear spirits with Blueprint Vodka, an 80 proof vodka, that showcases the Peoria skyline and a blueprint of a local bridge.
"We're continuing to honor the heritage and rich history of Peoria, Illinois," said JK Williams President Andy Faris. "Everything we do ties back to a deeper story and furthers our goal of bringing the art of distilling back to the area."
About the new spirits:
The Bridge Series: American Wheat Whiskey is a 95% wheat whiskey with a nose that offers vanilla, cinnamon, and toffee, bringing forward the caramel, vanilla, and honey notes in the flavor. This whiskey has a medium finish with warm chocolate and spiced fruit. 94 proof. The Bridge Series retails for $49.99 and will be available for purchase at select Illinois retailers. The first iteration of the series is an American Wheat Whiskey and is the third product JK Williams Distilling has released since initially launching in the fall of 2020.

Blueprint Vodka: Distilled 6 times and then carbon filtered, Blueprint is a crisp and refreshing vodka that has a clean nose with hints of lemon peel. The flavor is crisp and clean with a creamy mouthfeel. The finish is smooth and citrusy making Blueprint Vodka perfect for martinis or with your favorite mixer.