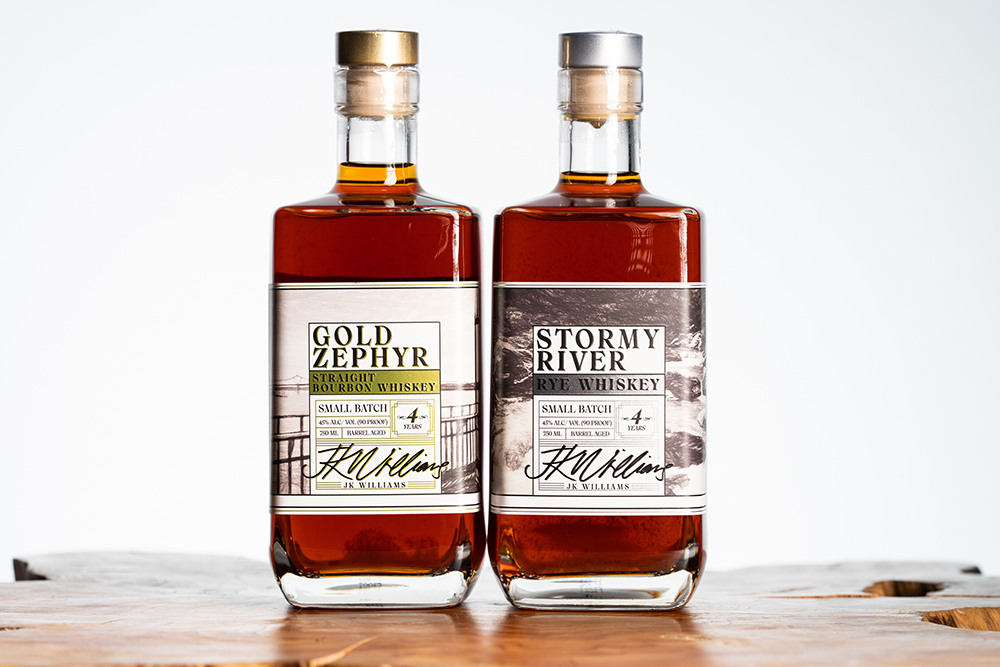 Owners Andy Faris and Stacy Shunk announced the purchase of the historic JK Williams Distilling brand last spring and are now ready to launch the next step of their journey—releasing whiskey at retail and opening a 20,000 square foot warehouse and production facility located at 8635 North Industrial Road, Peoria, Illinois. To carry on the legacy of Peoria's oldest continuously operating distillery, the new owners have hired Veteran Distiller Jeff Murphy to craft the JK Williams portfolio. Murphy, who worked on brands like Rebecca Creek Whiskey and Bayou Rum, recently moved to Peoria from Lake Charles, Louisiana, to take the role. 
"Peoria was once the Whiskey of the Capital of the World, and our namesake, J.K. Williams, was a bootician and Prohibition legend," said Faris. "We're excited to revive not only the brand but the culture of whiskey production in the area."
The first releases from the newly-owned JK Williams Distilling will tap into recipes that date back a century including Gold Zephyr Straight Bourbon Whiskey – a smooth bourbon barrel-aged in small batches for four years. Presented at 90 proof, Gold Zephyr is made from Williams' time-tested family recipe and has notes of dark cherries, light tobacco, and honeysuckle with fresh mint bursting through on the nose. The finish is long and warm with oak tannins and hints of berries.
J.K. Williams will also release Stormy River High Rye Whiskey—a rich, flavorful 90 proof whiskey with spice and hints of apple blossom honey and dried dark fruit towards the finish.
This full-bodied spirit is barrel-aged in small batches for four years and relies on a recipe passed down by J.K. Williams. The label and name pay homage to the nearby Illinois River.
"Our initial releases are a nod to J.K.'s history of distilling fine whiskeys, but I look forward to expanding the portfolio to a wide range of spirits," said Murphy.
Gold Zephyr Straight Bourbon Whiskey and Stormy River High Rye Whiskey will be available for sale at select retailers in the Peoria and Central Illinois region for $59.99 and $65.99 respectively. Whiskey fans will also be able to purchase bottles at the JK Williams warehouse, a former laundry facility that has been salvaged and repurposed.
"This production facility is the first step in creating an experience for JK Williams Distilling, but we have much more planned for the near future," said Faris.