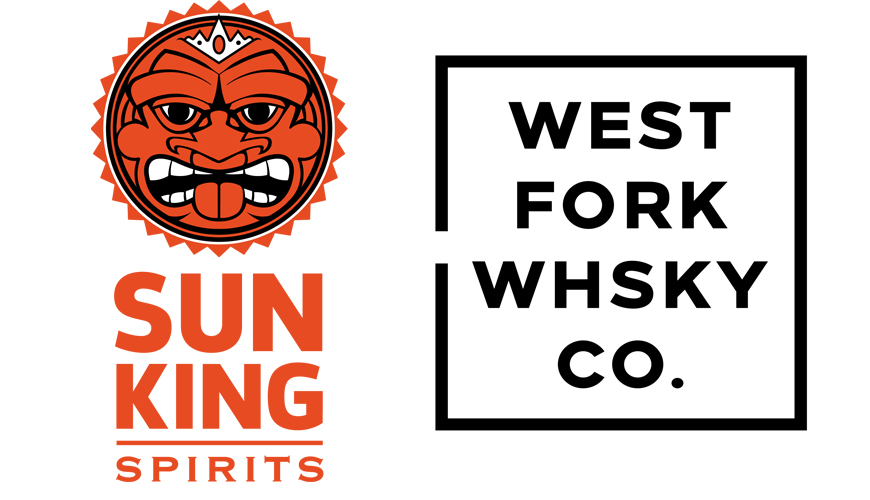 Craft whiskey distillery West Fork Whiskey Co. of Indianapolis has joined forces with Sun King Spirits to produce Sun King Vodka, a small-batch, handcrafted vodka available beginning Oct. 16 for purchase or to be enjoyed at Sun King locations, including its Downtown Indianapolis Tap Room, Broad Ripple Tap Room, Sun King Fishers Tap Room and Sun King Spirits Carmel. 
A shared collaborative spirit and limited production capacity led the team at Sun King to seek a collaboration with West Fork Whiskey to make the vodka available to a larger audience. This partnership was a natural fit, as the two local businesses have been working together for more than a year on several beer-related projects, with a few that are still in the works.
Committed to showcasing Indiana grains and ingredients, together they came up with a plan to produce Sun King Vodka at West Fork's downtown distillery. Since its opening in 2018, Sun King Spirits in Carmel has introduced several collaborations including four limited-release spirits that were produced in partnership with other area distilleries, including Hotel Tango, 8th Day Distillery, Cardinal Spirits and Copper & Kings.
"We developed Sun King Spirits in Carmel to produce a finite amount of spirits, but as our program has grown, we simply don't have the capacity to produce vodka," said Clay Robinson, co-founder of Sun King Brewery. "This presented a great opportunity for us to partner with our good friends at West Fork to create a unique product that both of our fans could enjoy."
"While we're focused on our whiskey portfolio and other projects coming down the pipeline, we are excited to branch out and help local businesses in their endeavors," said Blake Jones, co-founder of West Fork Whiskey Co. "This collaboration allows us to share our passion for our community and do what we love best – bring people together through good spirits and goodwill."
Produced at West Fork Whiskey, the newly introduced Sun King Vodka, 80 proof, is available in a 750mL size for $19.99. The grain-based vodka has a clean, classic finish and pairs well in a variety of classic cocktails, as well as Sun King's signature cocktails served in Tap Rooms such as the Monon Mule. Republic National Distributing Company plans to distribute throughout Indiana starting this November, and fans can find Sun King Vodka at Indiana retail and liquor stores.