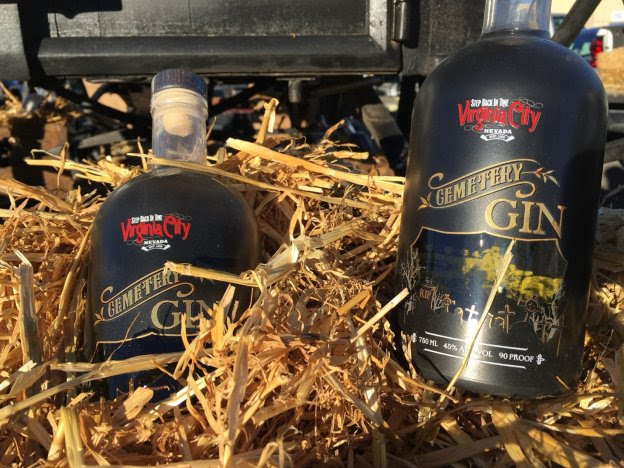 Cemetery Gin—the official spirit of Virginia City, Nevada—has a new home in Comstock Distillers. Based in Reno, Nevada, Comstock Distillers specializes in unique, handcrafted spirits that have become popular far beyond their local home base.
Born from the tall tales told on the Comstock for years, Cemetery Gin officially came to life fittingly on Nevada Day and Halloween in 2015. For the past seven years, the exclusive gin has been sold through the Virginia City Visitors Center, various retailers throughout northern Nevada as well as local watering holes in Virginia City.
"We see a lot of potential to expand the reach for our gin and get it in the hands of a lot more fans, especially beyond Nevada's borders," Deny Dotson, tourism director for Virginia City Tourism Commission, said in a press release. "The owner at Comstock Distillers, Jim Grimes, has a lot of industry experience and innovative ideas for getting the gin in more locations with the added possibility of online sales down the road. We're looking forward to seeing where we can take this."
A home-grown Nevada spirit, Cemetery Gin was spearheaded by the Virginia City Tourism Commission in 2015. Keeping it Nevada, the key ingredients include Nevada pine nuts, not something typically found in gin but creating a truly distinct flavor, making it a signature piece for the town of Virginia City. The gin holds a silver medal from the 2017 San Francisco World Spirits Competition and a silver award from the 2020 Sunset International Spirits Competition. The bottle design earned a gold medal from the 2017 San Francisco World Spirits Competition.
"We are thrilled to enter this partnership with Cemetery Gin and Virginia City," Jim Grimes, owner at Comstock Distillers, said. "We have a lot of passion for local products and especially those that are truly one of a kind. I can say, Cemetery Gin is that. Plus, all the great stories that come along with it. It's a win-win. We're excited to distill the product and get it out in the hands of gin fans."
As Comstock Distillers takes over the distilling process, there may be a slight delay in ordering bottles of Cemetery Gin. Bottles are available for purchase now at the Virginia City Visitors Center, located at 86 South C Street in Virginia City, and various retail locations in northern Nevada while supplies last. Once production is up to speed, bottles will be available for purchase online and shipping will be available throughout the United States.
"We've never been able to ship our product, so this is a game changer for helping get the Virginia City and Cemetery Gin brand out in the market," Dotson said. "We have people asking constantly if we can ship them a bottle, and soon we will finally have an answer. Folks from around the country will be able to purchase and enjoy our gin, and that's something we are proud of."
Get your chance to taste Cemetery Gin at Virginia City's Hunt for Spirits, Oct. 30 from 11 a.m. to 4 p.m. The event consists of a scavenger hunt through the historic town of Virginia City. Participants must solve clues to unlock a riddle and unscramble a secret of the town's past to win prizes. Along the way, participants sample a variety of spirits, including Cemetery Gin, at participating shops, saloons and restaurants. For details and tickets, visit online.
For a list of retail location, recipes and more, visit CemeteryGin.com.
For more information on Virginia City, Nevada, visit visitvirginiacitynv.com or call the Virginia City Visitors Center at 775-847-7500.