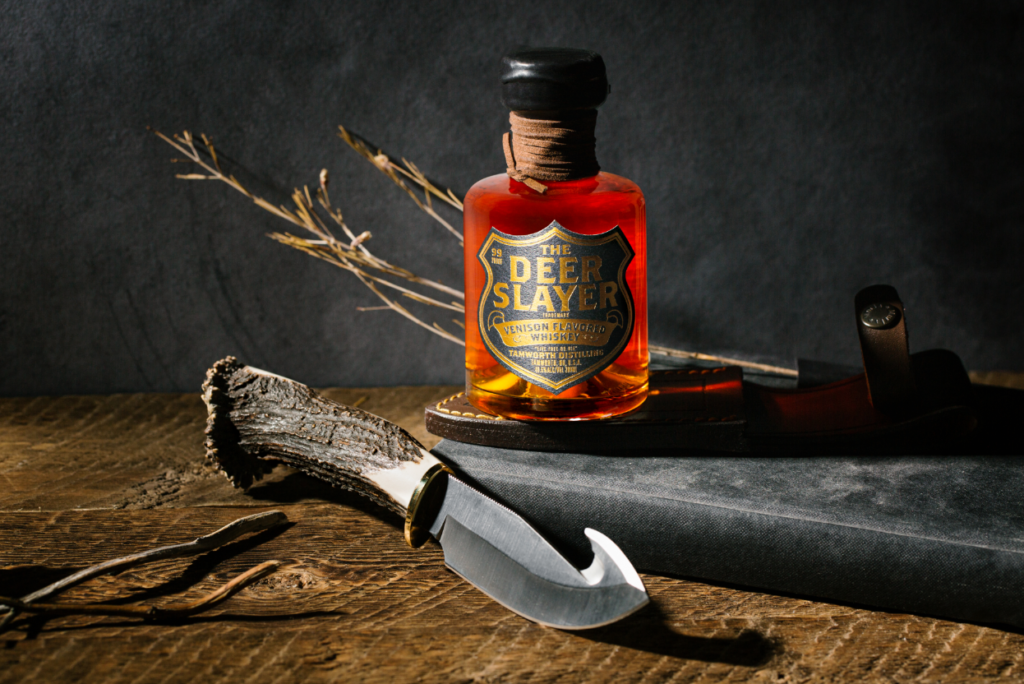 Tamworth Distilling of Tamworth, New Hampshire, announced the annual re-launch of two seasonal spirits ideal for sipping all autumn long: Graverobber Unholy Rye, a limited-edition rye whiskey infused with maple syrup extracted from unmarked graveside maple trees on Great Hill Farm in New Hampshire, and Deerslayer Venison Whiskey, the undoubtedly non-vegan, viral spirit infused with genuine, locally farmed venison.
Conceptualized by Steven Grasse, Graverobber Unholy Rye and Deerslayer Venison Whiskey are perhaps two of the most outrageous spirits borne from the experimental musings of innovative distillers at Tamworth Distilling; daring to showcase ingredients traditionally not considered in the production of small-batch craft spirits.
"There's few better ways to really dive in to spooky season than with Graverobber," said Steven Grasse, CEO and Founderof Tamworth Distilling and beverage branding agency Quaker City Mercantile, in a press release. "It is not just a wickedly delicious spirit, but it also tells a haunting story about tapping graveyard maples, a process that has long been feared for risk of disturbing the dead. And, I think the Deerslayer speaks for itself! Can you honestly say you've ever heard of someone drinking venison before?"
The essence of Graverobber Unholy Rye is that of the underworld, with a unique flavor profile sourced from a colonial era maple tree whose roots twist and grow throughout the unmarked gravesite of Great Hill Farm, located in rural New Hampshire. The practice of tapping graveyard maple trees has long been feared for risk of disturbing the dead, according to New England taboo – but that didn't stop the team of foragers and distillers at Tamworth Distilling. Alternatively, perfect for the risk-loving imbiber or avid hunter, the Deerslayer Venison Whiskey (99 Proof, 375 mL, $65) is a celebration of Tamworth Distilling's core mission of wilderness to bottle, and is infused with real venison as well as other locally-sourced produce and ingredients.
In addition to an array of other delicious, seasonal spirits found at Art in the Age and Tamworth Distilling, Graverobber Unholy Rye and Deerslayer Venison Whiskey is available for national purchase online at Seelbachs.com.
Additionally, the spirits are available for purchase and curbside pickup at the Art in the Age shop located in Philadelphia, as well on-site at Tamworth Distilling, located in Tamworth, New Hampshire.