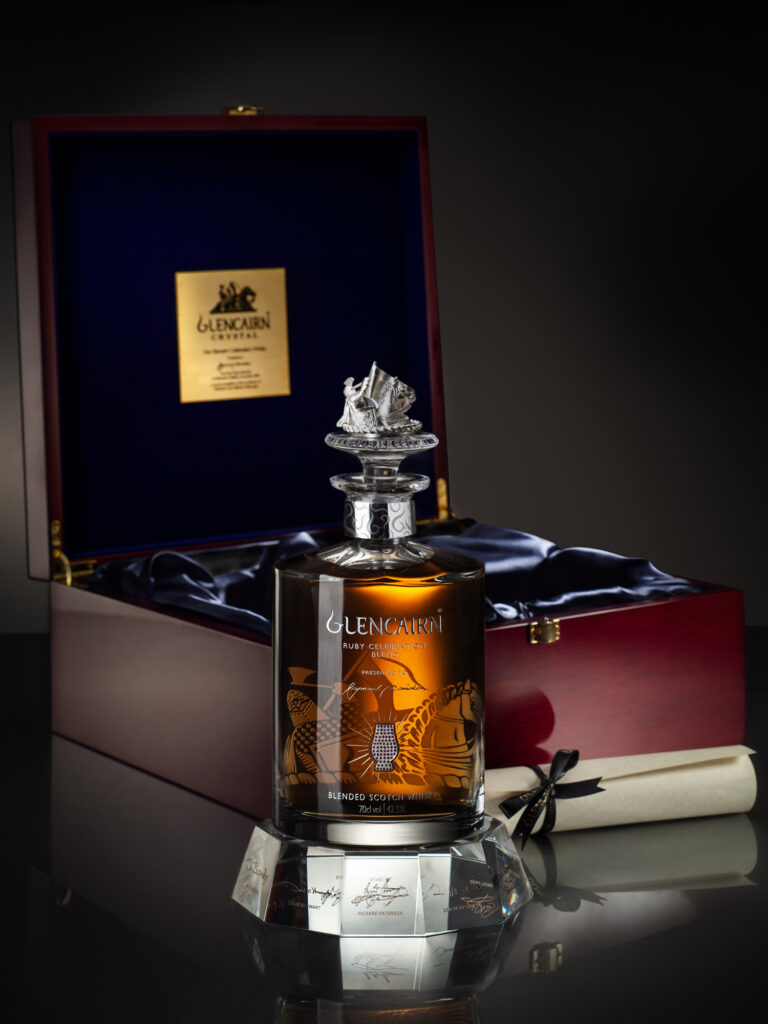 With contributions from some of world's most iconic master blenders, The Glencairn Ruby Tribute Blended Scotch Whisky uniquely captures a true moment of whisky history. And to mark the 40th anniversary of the family-owned and run Scottish glassware company, Glencairn Crystal, the Davidson family is auctioning this unique and special blend of aged whiskies in a stunning ruby-encrusted decanter to raise money for charity.
Founded by Raymond Davidson in 1981, the company has become a world expert in the design, creation and manufacture of high-end crystal decanters and glassware and is also known for creating the world's favourite whisky glass, the Glencairn Glass.
The story behind the whisky:
The Glencairn Ruby Tribute Blended Scotch Whisky was originally presented to Raymond Davidson at Fettercairn Distillery in December 2004, to celebrate the production of Glencairn's one millionth Glencairn Glass by the judges and friends of The International Spirits Challenge. In a surprise gathering organised by Whyte and Mackay's Richard 'The Nose' Paterson, a special assemblage of malt grain aged whiskies – all at least 18 years old – were blended together and filled into a miniature oak cask and gifted to Raymond.
Capturing an exclusive and private moment in whisky history, a number of legendary, highly-respected master distillers, blenders and industry figures attended the gathering and contributed their aged whiskies for this commemorative blend.
Over the past 17 years, the cask has been carefully stored at Glencairn's headquarters until recently, when the contents have been bottled into one of the most exquisite bespoke decanters the company has ever created.
This precious, rare decanter of malt whisky will be auctioned, accompanied by a handwritten scroll by Richard Paterson explaining the story behind the celebratory blend, tasting notes and the actual photograph capturing this incredibly special moment. The photograph features from left to right; Jim Beveridge (Diageo), Shin Natsuyama (Morrison Bowmore), Colin Scott (Chivas Bros), David Stewart (William Grant), Billy Leighton (Irish Distillers), Ian Grieve (Diageo), Raymond Davidson (Glencairn Crystal), Colin Bailey – Wood (Drinks International Magazine), Robert Hicks (Allied Distillers), Jim Cryle (Glenlivet Distillery), Seiichi Koshimizu (Suntory), John Ramsay (Highland Distillers), Richard Paterson (Whyte & Mackay) and David Doig (Fettercairn Distillery).
Richard Paterson, Master Blender at Whyte and Mackay, commented:
"Raymond Davidson had originally considered the concept of this special whisky glass – the Glencairn Glass – back in 1979 but it would not be until March 2001 at 'Whisky Live' London, when it was finally launched to great acclaim. In the two decades since their whisky glass was first unveiled, the celebrations continue with sales this year alone exceeding four million glasses. This indeed is a fitting tribute to the driving entrepreneurial spirit of the Davidson family."
The decanter
The one-of-a-kind crystal decanter which houses the commemorative blend has been hand-crafted by the highly skilled team of craftspeople at Glencairn Crystal. The whisky was presented to celebrate the sale of the millionth Glencairn Glass and to bring this to life, a sparkling red miniature Glencairn Glass embedded with over 70 rubies (the 40th year anniversary gemstone to mark 40 years of Glencairn Crystal) set in Britannia Silver – the purest quality of silver available – adorns the front of the decanter.
The decanter stopper is a three-dimensional representation of the Glencairn Crystal logo featuring a knight on a horse, also crafted in Britannia Silver. The base of the decanter incorporates the signatures of all the master distillers who contributed their aged whiskies for this exceptional blend.
Scott Davidson, Raymond's son and Glencairn Crystal's New Product Development Director said:
"We wanted to create a decanter that would do justice to this unique blend of scotch whisky which was specially created for my father, and to showcase all the skills that our talented team of craftspeople have to offer here at Glencairn Crystal.
This decanter of whisky marks a precious moment in time when all those original master distillers and blenders of malt whisky were there at the beginning of our journey with the Glencairn Glass and they have supported us ever since."
The auction
The Glencairn Ruby Tribute Blended Scotch Whisky will be auctioned as part of The Worshipful Company of Distillers' One-of-One Charity Auction, in partnership with Sotheby's.
The decanter will be presented in a beautiful rectangular rosewood box, alongside the handwritten scroll and tasting notes by Richard Paterson, as well as the photograph of the presentation by the master distillers.
The auction takes place on 3rd December at Barnbougle Castle on the Dalmeny Estate, near Edinburgh. 100% of the auction hammer price will go to The Distillers' Charity Youth Action Fund, helping to improving life chances of Scotland's young people.
Raymond Davidson, Founder and CEO of Glencairn Crystal said;
"The whisky industry has always been a major part of our business and indeed of my life. Over the years it's been a privilege to know, respect and enjoy the company of so many wonderful people in the whisky world and I have very fond memories of the day when I was presented with this commemorative whisky by my colleagues and friends.
These days, gatherings like this happen very rarely, so I hope that the auction will capture the imagination of someone who would like to own a piece of whisky history and will help us to raise money for this important charity".
Tasting notes
Tasting notes by Richard Paterson, Master Blender at Whyte and Mackay and widely acknowledged as one of the most experienced master blenders in Scotch whisky:
Colour – Satin wood, honeyed amber gold with a lustre of Autumn leaves.
Nose – Luscious, polished and appealing. This aged icon has been beautifully crafted to perfection as layers of enchanting nuances immediately arouse your senses; coffee mousse, soft liquorice, creamy caramel and marzipan take centre stage. Then another level of excellence follows on with inviting aromas of crushed almonds, Madagascan vanilla pod, black bitter chocolate, crème brûlée and baked wheat toast drenched in Manuka honey. A whisper of balsamic and succulent sultanas completes this harmonious bouquet.
Taste – Soft, graceful and beguiling on the palate as mouth-watering chocolate coated blood oranges, sun kissed raisins, over ripe pineapple and Black Forest fruits make their presence felt. Age, has truly nurtured this noble blend of unashamed pleasure. It therefore must be given all the reverence and respect it richly deserves by holding this unique blend long in the mouth. Just when you thought this treasure trail of flavour was over, an aftertaste of baked banana bread, Grande Champagne Cognac, cinnamon apple compote and Colombian coffee ebbs away gently in the background.
This indeed, is aged perfection at its best – something worth celebrating!
For details about how to register for the auction please visit: www.sothebys.com/en/digital-catalogues/the-distillers-one-of-one
For further details about Glencairn Crystal please visit: www.glencairn.co.uk