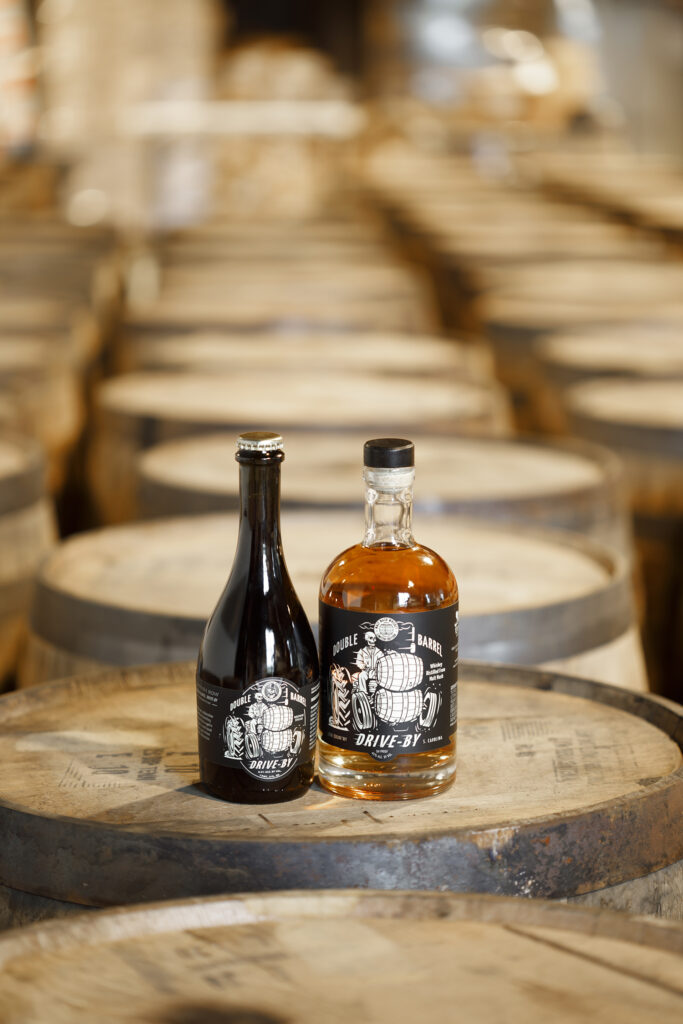 Firefly Distillery of North Charleston, South Carolina, is partnering with local craft brewery, Holy City Brewing to release Double Barrel Drive By, a new limited edition malt mash whiskey and barleywine ale pairing on Friday, November 26. An ode to the proximity of the brewery and distillery, Double Barrel Drive By brings together two of Charleston's best craft alcohol makers.
"We loved the idea of a collaboration with our neighbors," said Jay Macmurphy, head distiller at Firefly Distillery, in a press release. "The end result gave us a great depth of flavor in our malt mash whiskey by starting with Holy City's beer, aging in brandy and bourbon barrels." 
Double-Barrel Drive-By is a two-part collaboration between Holy City Brewing and Firefly Distillery. The beer is a barleywine-style ale aged in Firefly's brandy barrels while the liquor is a malt-based whiskey distilled from this beer, aged in those same barrels for one year. A truly Charleston collaboration for the beer and whiskey lover. 
"It started as an idea to use Firefly's barrels to age our beer and turned into an even stronger partnership," says Chris Brown, head brewer at Holy City Brewing. "The two products together offer a limited edition gift that's perfect for the season." 
Exclusively available at the respective brewery and distillery, this limited edition pairing makes for a unique, local holiday gift. To celebrate the release of the new whiskey and ale, Firefly Distillery is hosting a Black Friday celebration on Friday, November 26 starting at 12:00pm with food trucks, music, and spirits tastings. Local food trucks will include P&S New Jersey Philly Cheesesteaks, Bits 'n' Bytes, Miss Katie's Sweets, and Charleston Caribbean Creole with live music from local reggae band Urban Roots from 2 – 5pm. Holy City Brewing will also be hosting an oyster roast with tasting flights featuring the newest brew. 
For more information about the distillery, Firefly Spirits, events, tours and tastings, visit www.fireflydistillery.com.