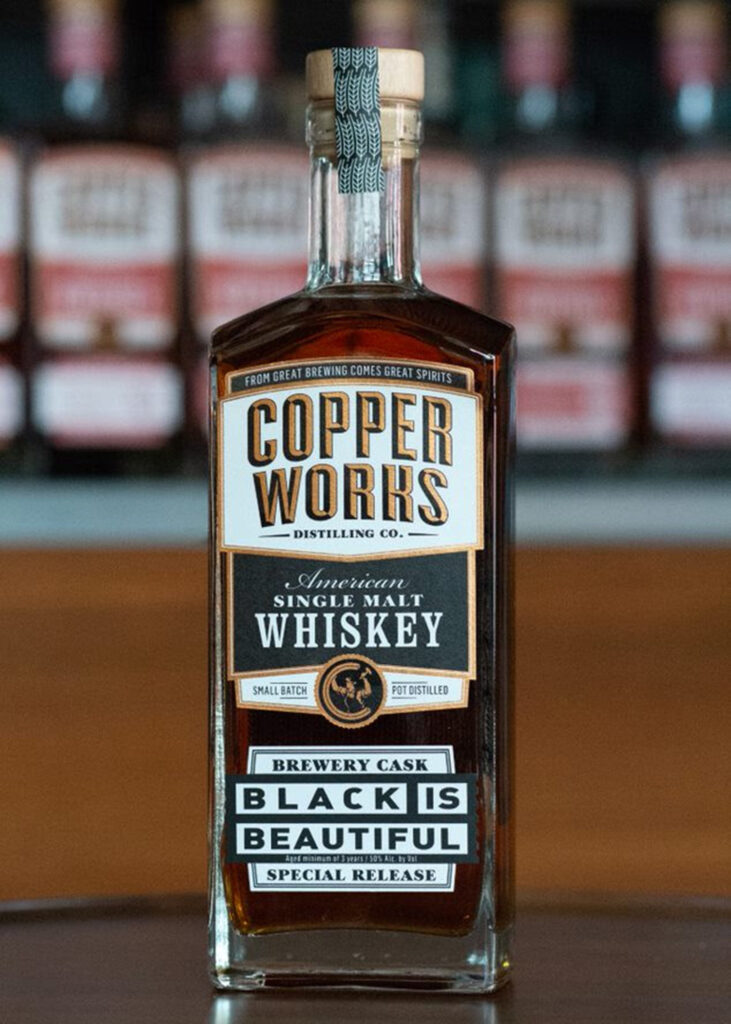 Copperworks Distilling Co. of Seattle is proud to join over 1,000 breweries in the fight for change and racial justice, with its Black is Beautiful Whiskey release. 
The Black is Beautiful initiative is a collaborative effort amongst the brewing community and its customers, to bring awareness to the injustices that many people of color face daily. Breweries were asked to brew a beer based on a recipe created by San Antonio-based Weathered Souls Brewery, with all proceeds then going to support African American communities and the continued fight for justice against police brutality. 
While this initiative started as a call to action specifically to brewers, Copperworks asked to join the cause. Garden Path Fermentation in the Skagit Valley brewed a mixed-fermentation Imperial Stout, part of which was aged in a Copperworks whiskey cask. That cask was then returned to Copperworks, and used to finish this whiskey for 105 days. The finished whiskey was initially distilled from Copperworks's pale malt recipe and matured for just over three years in charred new American oak.
As a company, Copperworks is committed to working toward equality in its distillery, tasting room and beyond. The Black is Beautiful collaboration is about understanding and supporting people of color and inclusion. Copperworks has joined Garden Path Fermentation and chosen to support the The NAACP Legal Defense Fund, with $40 from each bottle going to this premier legal organization fighting for racial justice. 
Tasting Notes
Slightly cloudy in appearance, thanks to the beer, the whiskey opens with aromas of grapefruit, pine, and hard cider. Hoppy citrus notes develop into delicious tastes of tamarind and raspberry, with a long finish of chocolate and sour cherry. Definitely try it neat, or in a citrus-forward classic whiskey cocktail such as a Whiskey Sour or Ward Eight.
Copperworks Black is Beautiful American Single Malt Whiskey
263 bottles produced
750ml, 50% ABV
$76.49 (not including tax or shipping)
$40 from the sale of each bottle will go to the NAACP Legal Defense Fund
Buy now.