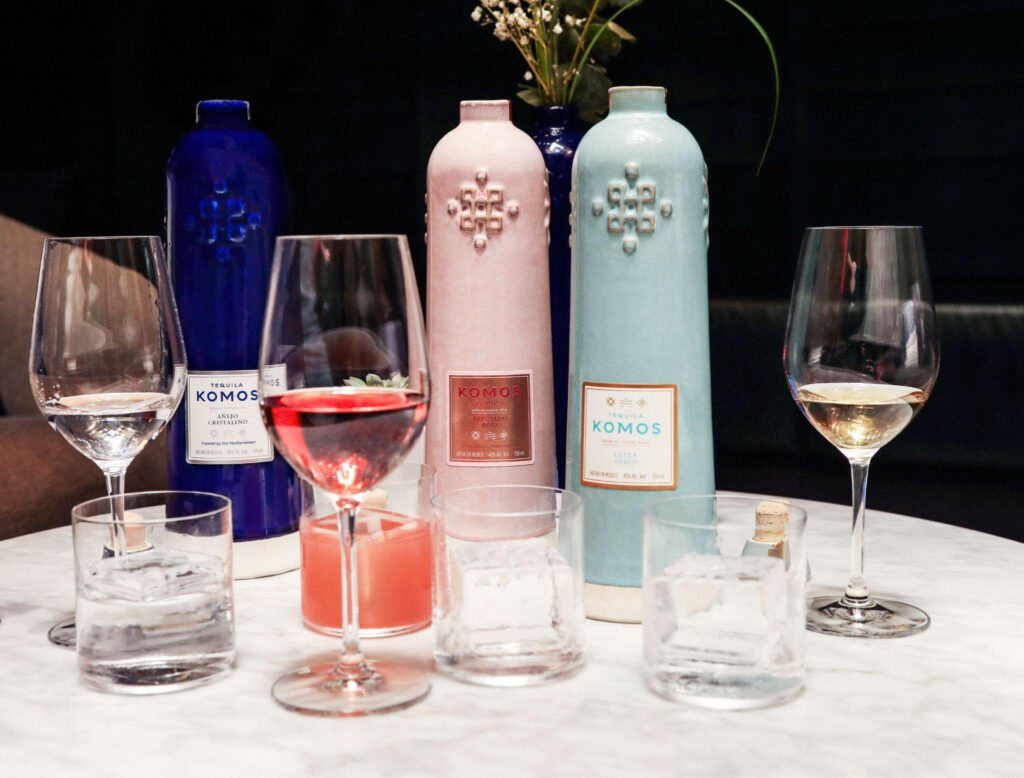 After launching Tequila Komos Añejo Cristalino in late 2020, CKBG (Casa Komos Brands Group) expands its line of ultra-luxury tequilas with the addition of Tequila Komos Reposado Rosa and Tequila Komos Extra Añejo. CEO & Founder Richard Betts continues to drive innovation, prioritize sustainability, and combine the highest artistry in tequila-making with inspiration from wine-making techniques.
Each Komos expression uses a premium specially crafted Blanco as its base. The best agave from the highlands and lowlands of Jalisco roasts in traditional stone ovens, marries with spring water, and the juice is then twice distilled in copper pot stills.
The handcrafted, one-of-a-kind Tequila Komos Añejo Cristalino is aged in French oak white wine barrels (instead of American oak bourbon barrels) and aerated in amphorae after a careful purification process that creates a crystal-clear, premium tequila. The result is a unique, delicate, light, and smooth tequila with superior taste. MSRP: $119.99
Tequila Komos Reposado Rosa is aged in luxurious French oak red wine barrels from Napa. After the tequila has rested for 65 days it mellows, softens, and picks up flavors and colors from the red wine barrels, giving it its vibrant pink hue. After ageing, it is stored and gently tumbled in amphorae to aerate and round out the finish. Each bottle is handmade porcelain glazed with a reactive pink glaze, making each bottle completely unique while preserving the delicate color and aromas within. Tequila Komos Reposado Rosa is round and plush on the palate, with notes of chocolate and dark fruits, and a bright agave freshness. MSRP: $109.99
The most opulent of all three expressions, Tequila Komos Extra Añejo is aged for a minimum of three years in a combination of French ex-white wine barrels and American oak whiskey barrels. The richness of American oak is masterfully blended with the refinement of French oak to make the most unique Extra Añejo, with notes of orange peel, candied ginger, and toasted pecans. The nose is delicate yet complex, with citrus, toffee, and a whiff of smoke unfurling from the glass. The finish is diaphanous and dry, with layer upon layer of complexity revealing itself. MSRP: $399.99
In addition to producing a premium line of high-end tequilas with Tequila Komos, CKBG is pioneering sustainability initiatives in the industry alongside the Orendain family, one of the four founding families of Tequila and the owners of the distillery where Komos is produced. This includes repurposing waste from production into bricks given to the people of Tequila to build infrastructure, working with the same farming families for generations to grow their agaves, and fabricating the one-of-a-kind handmade porcelain bottle in Mexico to reduce carbon footprint and to employ more local population.
Tequila Komos Añejo Cristalino and Tequila Komos Reposado Rosa are both available at on-and off-premise accounts and digitally, on ReserveBar. Tequila Komos Extra Añejo is currently rolling out in 20 states. For more information or to find Komos, please visit komos.com or follow @tequilakomos.