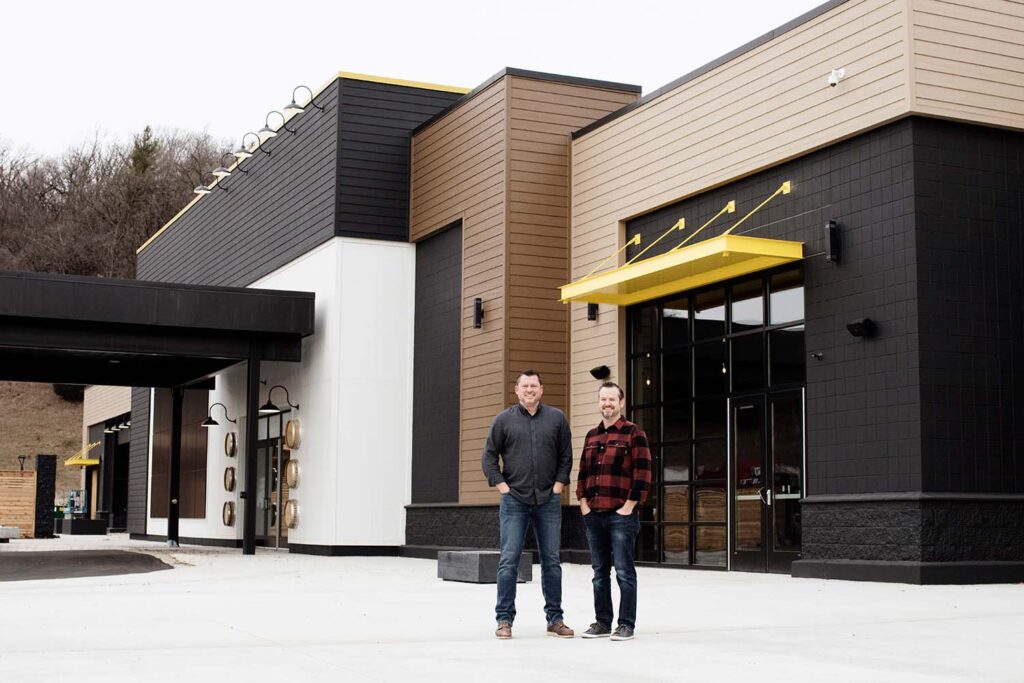 Minneapolis-based Tattersall Distilling announced its new destination distillery in River Falls, Wisconsin will open on Wednesday, December 1. The 75,000-square-foot facility has a strong focus on sustainability, houses its first-ever restaurant, features indoor and outdoor event spaces and a large retail market. The River Falls location allows Tattersall to produce up to 200,000 proof gallons of spirits with room for growth, while also maintaining production and its cocktail room in Minneapolis. 
"We couldn't be more excited to be a part of the River Falls community," said Jon Kreidler, founder and chief officer of Tattersall Distilling, in a press release. "With the river, trails and mountain biking in our backyard, we're aiming to make River Falls even more of a destination—both from the Twin Cities and beyond. The new facility is a perfect complement to what we created in Minneapolis and this is the logical next step in our evolution as a company. It allows us to really scale our production and accommodate more guests than ever, while putting a huge focus on sustainability." 
With a 405kW rooftop solar array, Tattersall says it now has the largest solar array of any craft distillery in the nation. Producing a yearly average of 477,900 kWh of electricity, this is equivalent to 373 tons of CO2 offset— the same amount sequestered by 415 acres of forest. Additionally, no water goes to waste. A water reclamation system recycles all production water, repurposing it into future distillations. Surplus spent grain is given to a local cattle and bison farmer, who feeds it to livestock that ends up on Tattersall's menu. Greens for the restaurant and herbs for cocktails are all grown hydroponically at the distillery as well. Sustainability is a core value of Tattersall's, aligning with Renewable River Falls, the city campaign that encourages and supports residents and businesses in going 100% renewable. 
Tattersall enlisted the help of River Valley Architects to create a similar industrial vibe and rickhouse feel as its Northeast location. The space is filled with brick, aged barn wood, black ceilings and vintage crystal chandeliers. The restaurant features a large, central bar lined with TVs to catch all of the latest sporting events. The venue offers guests a range of private event spaces that can accommodate occasions and groups of all sizes. Multiple experiential and interactive spaces overlook the distilling process with large windows. Year-round outdoor areas are equipped with indoor-outdoor bars, fire pits and lawn games. New to this location is a mill room, where local grains are freshly milled on-site, giving Tattersall's spirits even more robust flavor profiles.
For the first time, Tattersall will run an on-site restaurant, operated by Morrissey Hospitality. Executive chef Jonathan Newman joins Tattersall River Falls most recently from Chicago. A Midwest native, Newman has both national and international experience, developing restaurant concepts in Chicago, New York, California and Florida, along with attending culinary school in Japan and Italy. The menu focuses on approachable modern American cuisine with Tattersall spirits incorporated in a number of dishes. Menu highlights include trout dip with artisan flatbreads, pork belly candied with a Tattersall whiskey glaze, filet with a Tattersall orange crema butter sauce, and pancetta & blackberry neapolitan-style pizza. 
On the cocktail menu, co-founder Dan Oskey created new and noteworthy drinks such as the Clover Club, Kinni 75 and a Wisco Sour. The menu draws inspiration from its new location, with cocktails named after surrounding trails on the Whitetail Ridge Mountain Bike Trail and other local attractions. Additionally, guests can look forward to favorites from Tattersall's Northeast cocktail menu. A selection of local beers, including Lift Bridge and Swinging Bridge are on tap along with an exclusive collaboration beer from Surly, made with Tattersall's bourbon mashbill.
Market items line the shelves in the retail shop, including branded merchandise, shrubs, bitters and cocktail mixers. A number of new products include a house-made Bloody Mary mix, barrel-aged soy sauce and maple syrup. Unique one-off spirits are available including the recently released Port Barreled Rye and Tattersall Surly Darkness Barreled Rum. Guests can purchase up to four liters of spirits in the retail shop per person, per day. New to River Falls is a large tasting bar inside the retail market, giving guests the opportunity to sample spirits before buying.
River Falls location details include:
● Full-service restaurant and cocktail bar, 150 guests
● Outdoor patio with outdoor bar, 250 guests
● Outdoor amphitheater with two outdoor bars, 1200 guests
● Grand ballroom, 430 guests
● Private barrel room, 120 guests
● Private events classroom, 29 guests
● Retail market with central tasting bar
● Boardroom, 16 guests
● Two VIP hospitality suites
● Self-guided distillery tours available immediately, guided tours available next year
Tattersall Distilling River Falls opens to the public on December 1 and is located at 1777 Paulson Road, River Falls, Wisconsin. They are now taking restaurant reservations and serving dinner Wed-Sun.