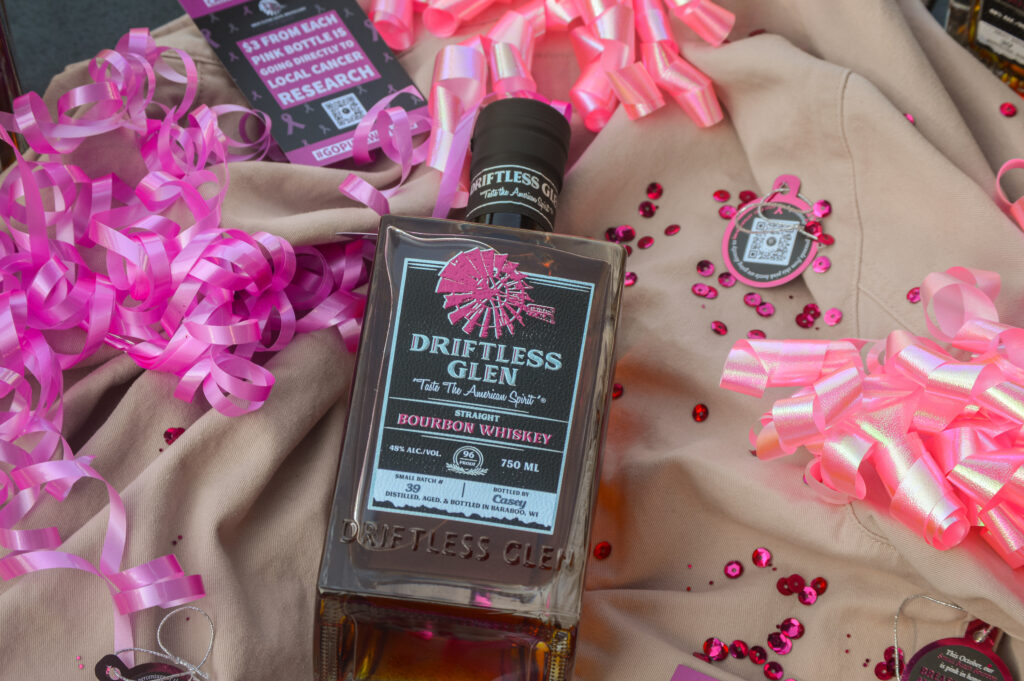 Donations from Baraboo, Wisconsin-based Driftless Glen Distillery's Pink Bourbon Campaign this October totaled $14,562. 
Driftless Glen Distillery released a limited-edition pink-label bourbon in October of 2021 for Breast Cancer Awareness Month. This was a joint effort to help raise awareness and funds for a cause near and dear to many hearts. Three dollars from each pink bottle of bourbon sold went directly to local cancer research. Each distributor selected a local cancer center to receive the funds.
Proceeds from the bottles sold at the distillery in Baraboo went to the UW Carbone Cancer Center (specifically the Breast Cancer Research Greatest Need Fund), while proceeds from bottles sold elsewhere around Wisconsin went to the distributors' choice of foundations. 
A complete list of the cancer centers where the funds went and more information is available on their website at: https://driftlessglen.com/2021/11/11/donations-from-pink-bourbon-campaign-total-14562/
The inaugural year of Driftless Glen's #GoPinkWithDG campaign was a successful starting point and they look forward to making it an annual event. Look for pink bottles again next year, in October of 2022, with new labels that have an even larger pop of pink. 
Driftless Glen sends their heartfelt thanks to those who participated in this year's pink bourbon campaign. They are proud to make these great donations to local cancer research. 
Driftless Glen Distillery is an award-winning craft distillery located at the edge of the Driftless Area. In addition to bourbon and rye whiskey, they have a full range of products that include brandy, vodka, and gin. Most recently rated by Whisky Advocate with a "90" for their Bourbon Whiskey, the company has been named "Wisconsin Distillery of the Year" by New York International Spirits Competition and shared as a "Top Ten US Spirits Brand You Must Try" by London Spirits Competition. Share their dream and "Taste the American Spirit."