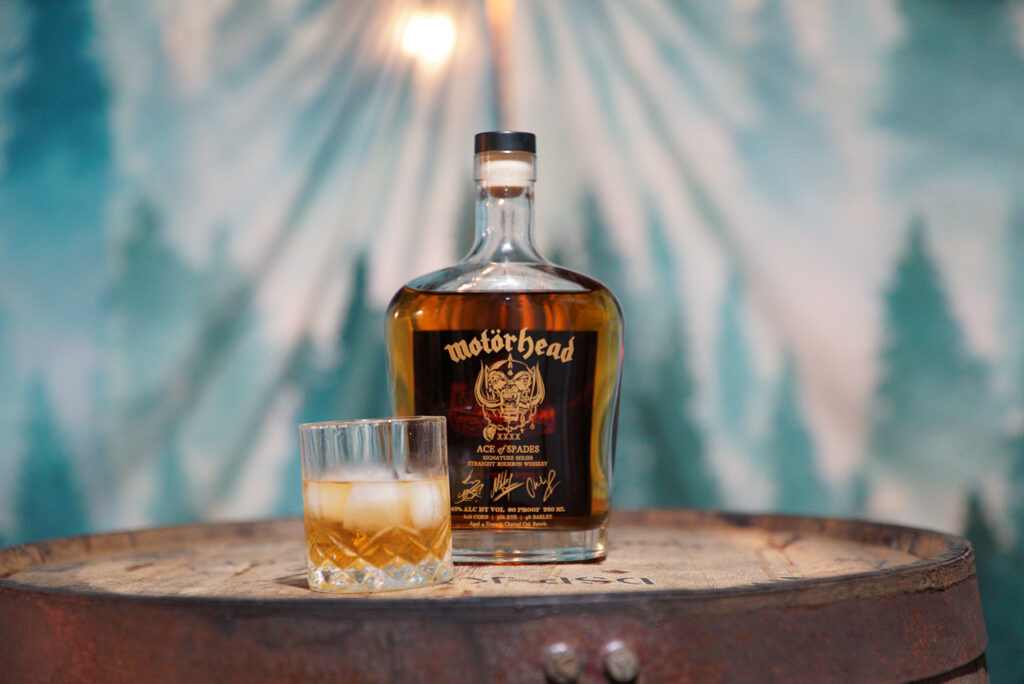 Brew Pipeline recently announced the launch of Motörhead Ace of Spades Straight Bourbon, its latest collaboration with rock legends, Motörhead. The bourbon initially had a brief debut in August in limited edition Sturgis bottles around the rally. Due to popular demand, Brew Pipeline is now fulfilling orders across the U.S. This includes Brew Pipeline's distribution in California and Rhode Island as well as online orders via Craft Shack, shipping to 41 states. 
"We're honored to develop this fantastic American Bourbon Whiskey in concert with Motörhead," says Joel Kath, founder of Proof Artisan Distillers. "Following input and feedback from the band, we aimed for a loud tasting profile. With a high-rye mash, four years of aging, slow gradual dilution and final conditioning with no-chill filtering, we're extremely proud of the result." 
Aged four years in charred oak barrels, the bourbon is a blend of 60% corn, 36% rye and 4% barley. With notes of vanilla on the nose, this bourbon has a balanced combination of spicy and sweet flavors with cinnamon, rye, black pepper and mint. Full-bodied and complex, it tastes of oak, caramelized brown sugar, tobacco and cocoa with a strong cinnamon finish. The Motörhead approved bourbon is produced and bottled by award-winning small-batch distillery, Proof Artisan Distillers in Fargo, North Dakota. 
Product specs include:
● Suggested retail price, $49.99-60.99
● 750ml bottles
● 90 proof, 45% abv
Following the success of Motörhead Röad Crew, an American Pale Ale released last fall, Brew Pipeline once again teamed up with Motörhead and Global Merchandising Services to bring this spirit to life. Band members Mikkey Dee and Phil Campbell have contributed to the development of the bourbon's flavor profile with frequent tastings throughout the process. Named for their hit album, Ace of Spades, the bottle features artwork from the album cover along with signatures from band members Lemmy Kilmister, Phil Campbell and Mikkey Dee. 
Motörhead Bourbon is now available for year-round distribution by Brew Pipeline. Online orders are now available direct-to-consumer via Craft Shack here. For more information regarding distribution and retail, email info@brewpipeline.com and visit drinkmotorhead.com. Additionally, look for launch parties in the coming weeks in West Hollywood, CA and Providence, RI.