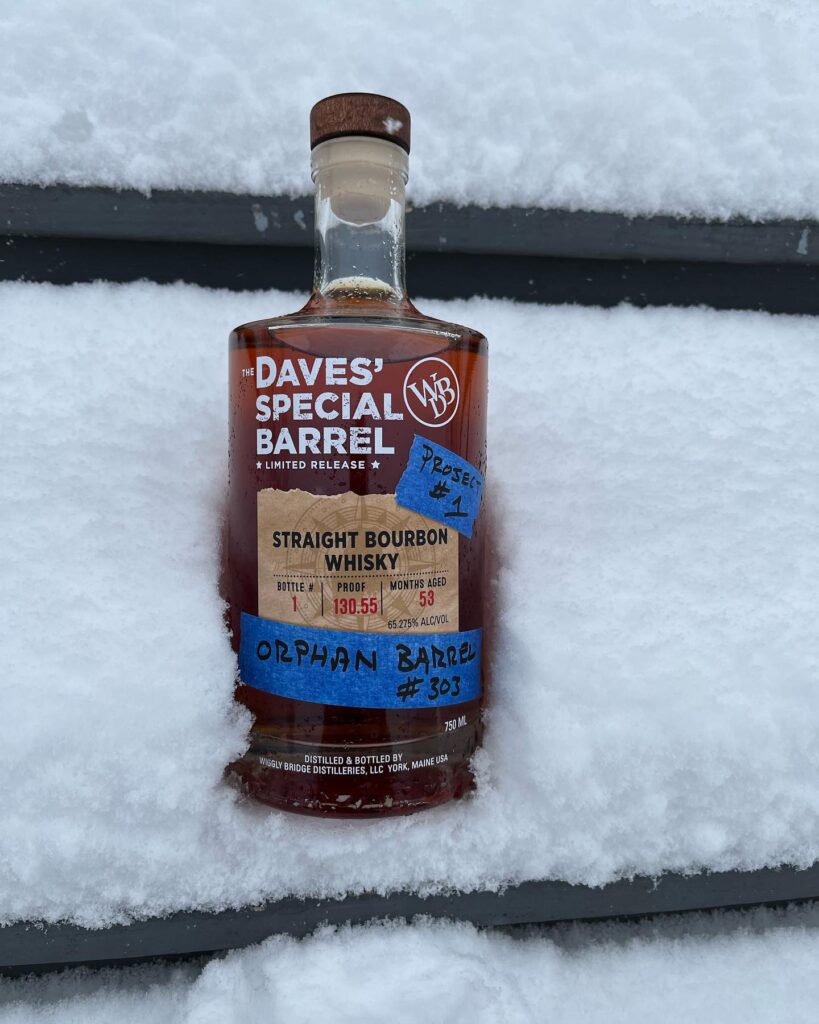 Wiggly Bridge Distillery can thank a forgotten barrel for its latest special release.
Earlier this month, the York, Maine-based distillery released Project #1 of its Daves' Special Projects Series. The distillery quickly sold out of the 118-bottle release.
Below is the story, from the distillery, of how this release came about.
We lost this barrel for a while. We think the bourbon Gods had something to do with it because by losing it, it has become one of the most delicious, smooth, and unbelievable barrels that has come out of Wiggly Bridge Distillery. 
How does a barrel get "lost"? Here's the story.
Barrel #303 had an entry proof of 107.2 and is made from our mash bill of 58% corn, 37% rye, and 5% malted barley. Two years went by from the date we filled it (6/2/17) and it was in a grouping of barrels that would be our next batch of Small Barrel Bourbon to be dumped in 2019.
When we tasted barrel #303 at that time, to our disappointment, it was disgusting, bitter and with a lot of heat. Not pleasurable at all. So, we didn't include it in that batch and decided to skip over it and leave it out on the second floor of the rickhouse. 
For the next few months or so we got tired of tripping over it. A slot opened up in the ricks and we just put it there to get it out of the way. A month or two later we were barreling rum and we needed that slot that we had temporarily put barrel #303. Remembering it's unpleasant taste we pushed the barrel all the way to the back slot and we forgot about it.
Another two years went by which is the period of time that we age our small barrel rum and we pulled all the barrels to make our next batch of rum. Barrel #303 came up to be tasted and to our surprise that barrel was not rum! We had to go back and pull the logbooks to find out what it was and to our surprise it was 131 proof and the taste was unbelievable and it was extremely smooth. Pure delight to say the least.
It was so incredible that we decided it needed its own bottle separate from our Small Barrel Bourbon batches – so would begin The Daves' Special Barrel Projects. We decided to call this one an orphan barrel (as the story goes) and would be Project #1 of the Daves' Special Projects series. Project #1 is bottled at 130.55 proof. 
The label has significance and if you follow us on social media you see that we use blue painters tape to label and make notes behind the scenes. We wanted to incorporate it in our bottle design to bring you as close to our behind the scenes process as possible. I guess you could call it Wiggly Bridge's Blue Label – small batch style.
We wanted this bottle to be something that brings you as close as you could be to being in the rick house with the Daves' sampling our barrels without actually being here with us.
It is unfiltered so if you see a bit of char from the barrel in there it's supposed to be there. So we guess you could say that barrel #303 is actually a barrel in a bottle.