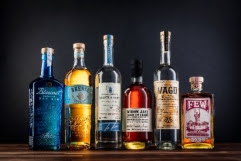 Heaven Hill Brands today announced that it has acquired Samson & Surrey, including its portfolio of brands and facilities.
Under the leadership of Robert Furniss-Roe and Juan Rovira, Samson & Surrey has built a portfolio of highly differentiated premium brands growing at 60% per annum, tracking $40 million in sales and present in over 30 markets worldwide. Included in the acquisition are Tequila Ocho, Widow Jane American Whiskey, Few Spirits, Brenne French Whisky, Bluecoat Gin, and Mezcal Vago. The company will continue to operate as an independent division of Heaven Hill lead by Robert and Juan.
"Over the last five years we have enjoyed unprecedented success thanks to the talents of our team, the truly remarkable award-winning liquids we make, and the engaging consumer stories we tell. The combined talent, scale, and resources of Heaven Hill now present a unique opportunity to provide a long-term home for Samson & Surrey and to further accelerate our growth," says Robert Furniss-Roe, co-founder and CEO, of Samson & Surrey.
"We believe strongly in the potential of our brands which are perfectly positioned to capitalize on the key spirits market trends," adds Juan Rovira, co-founder and COO of Samsono & Surrey. "We could not be more delighted to join Heaven Hill and work together to continue building a strong portfolio in the premium and super-premium segments.
Perella Weinberg Partners LP acted as exclusive financial advisor to Heaven Hill with respect to the transaction. RBC Capital Markets, LLC acted as exclusive financial advisor to Samson & Surrey.
"Throughout our 86-year history, our focus has been building a business with a portfolio of great brands sold through a great team," says Max L. Shapira, president, Heaven Hill Brands. "The Samson & Surrey portfolio strategically enhances our portfolio with emerging brands in strong growth categories. Together with their team, Heaven Hill is poised to leverage the tremendous potential of these exciting brands."