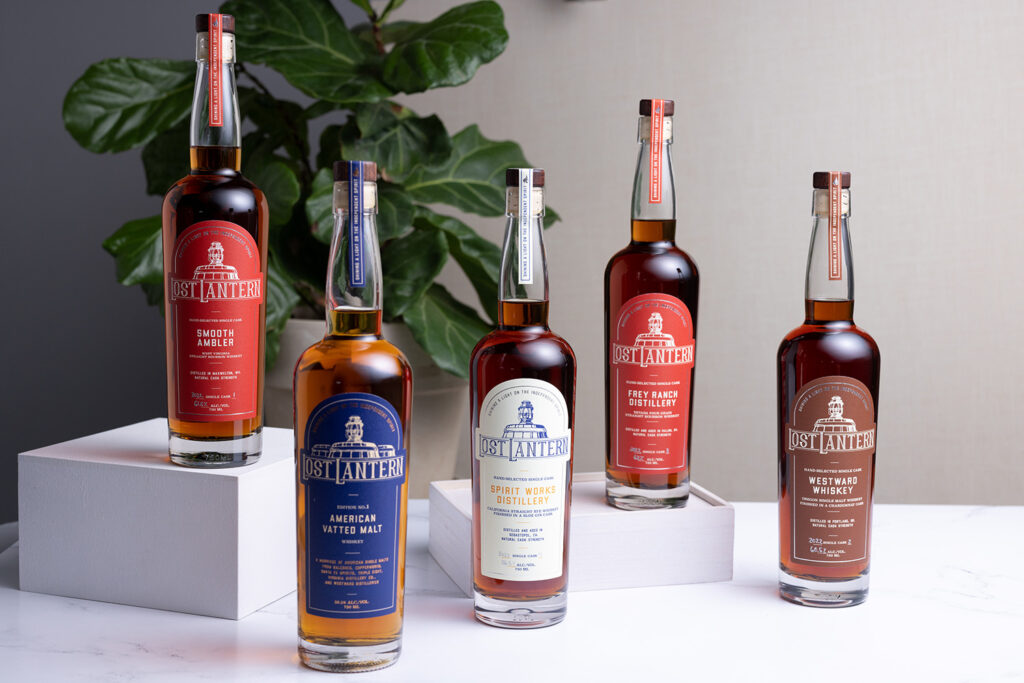 Lost Lantern, the new independent bottler of American whiskey that launched less than 18 months ago, is pleased to announce its spring 2022 collection, featuring four limited edition single casks from four celebrated distilleries: Smooth Ambler in West Virginia, Westward in Oregon, Frey Ranch Distillery in Nevada and Spirit Works in California.
Beginning March 9, the spring 2022 single cask collection will be available for sale on LostLanternWhiskey.com and Seelbachs.com. All offerings are bottled at cask strength, are non-chill-filtered and have natural color.
2022 Single Cask #1: Smooth Ambler West Virginia Straight Bourbon Whiskey (195 btls): SRP, $80
2022 Single Cask #2: Westward Oregon Single Malt Whiskey Finished in Chardonnay Cask (272 btls): SRP, $130
2022 Single Cask #3: Frey Ranch Distillery Nevada Four Grain Straight Bourbon Whiskey (188 btls): SRP, $100
2022 Single Cask #4: Spirit Works California Straight Rye Whiskey Finished in a Sloe Gin Cask (207 btls): SRP, $100
Lost Lantern's Spring 2022 Single Cask Collection showcases American whiskey's simultaneous embrace of tradition and innovation. "This group of distilleries is continually pushing the boundaries of American whiskey and exploring new ways of making whiskey in many different forms," commented Lost Lantern co-founders Nora Ganley-Roper and Adam Polonski in a press release. "The spring collection includes our first single casks from Frey Ranch, one of the only estate distilleries in the country, and Westward, one of the creators of modern American single malt, as well as our second Smooth Ambler West Virginia wheated bourbon and a unique sloe gin-finished rye whiskey from Spirit Works in California."
Single casks are an essential piece of the Lost Lantern model, inspired by the long tradition of independent bottlers in Scotland. These highly limited, one-of-a-kind single casks consist of unique and deeply expressive whiskies produced by some of the finest distilleries in the United States. Since their debut in October 2020, Lost Lantern has released 22 single casks from Santa Fe Spirits (NM), Cedar Ridge (IA), New York Distilling Company (NY), Ironroot Republic (TX), Whiskey Del Bac (AZ), Balcones (TX) Watershed (OH), Boulder Spirits (CO), Spirit Works (CA), St. George Spirits (CA), McCarthy's (OR), Smooth Ambler (WV), Starlight (IN), Westward (OR), and Frey Ranch Distillery (NV).
In addition to the single cask releases, Lost Lantern's flagship blend, American Vatted Malt Edition No. 1 (SRP $120) is available. Recently named 'Best American Blended Malt' at the 2022 World Whiskies Awards, it was created with some of the biggest names in American single malt (Balcones in TX, Copperworks in WA, Santa Fe Spirits in NM, Triple Eight in MA, Westward in OR, and Virginia Distillery Co. in VA). American Vatted Malt represents collaboration and community amongst distillers and crafters who share the vision of bringing American whiskey into the light it deserves.