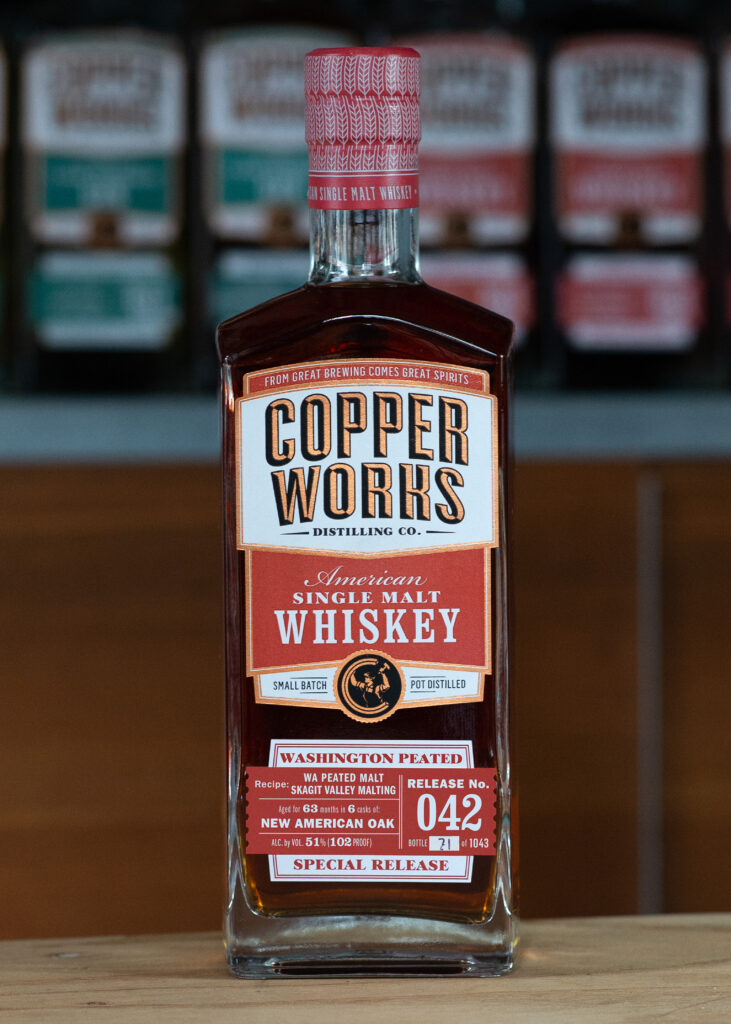 Seattle-based Copperworks Distilling Co. unveiled its third release of Washington Peated American Single Malt Whiskey this week, and announced that it will be crafting the whiskey on an annual basis.
Made with the first domestic peated, malted barley produced entirely from ingredients sourced in Washington State by Skagit Valley Malting, Washington Peated American Single Malt Whiskey Release 042 is available online and in the tasting room on Thursday.
Release 042 was created from six casks of Washington State peated whiskey that were matured for more than five years. Each cask was brewed and distilled with 100% of the Copeland variety of barley that was grown in the Skagit Valley and then smoked during the malting process with peat from a lakebed on the Olympic Peninsula.
Peat is decomposed organic plant matter that has been compressed in the ground for thousands of years. Because plant matter differs in different parts of the world, peat flavors vary significantly as a result.
"The Washington State peat burned during the malt drying process imparts a distinctive smoky flavor to the barley yielding for unique, earthy flavors in our peated whiskey releases," said Jason Parker, co-owner and president of Copperworks Distilling Co., in a press release. "No one in the U.S., that we're aware of, is making domestic peated malt except for Skagit Valley Malting. We recognize our good fortune of having local access to the this unique malt, and we're thrilled to announce that we brewed our 2022 batch a couple of weeks ago!"
Skagit Valley Malting produced the malt for all three of Copperworks' Washington Peated American Single Malt Whiskey releases.
Copperworks released its first peated whiskey Release 034 in December 2020, and in late 2021, it released a single cask, cask strength version—Release 040.
"Copperworks and Skagit Valley Malting share the same vision, to use local ingredients to make world-class products," said Erik Youngren, vice president of sales and marketing for Skagit Valley Malting. "Our peated malt is our most unique offering, and Copperworks has taken it and made something special, much like the region where the whiskey, the malt, and the barley all originate. The whiskey is the embodiment of terroir because it's made with the very soil from our area. There's nothing quite like the PNW, and these offerings are no exception."
Copperworks Washington Peated American Single Malt Whiskey – Release 042
1,063 bottles (750ml) produced; 51% ABV
$76.49 (not including taxes or shipping)
Link: https://store.copperworksdistilling.com/products/copperworks-wa-peated-american-single-malt-whiskey-release-042-750ml.
Tasting notes: Aromas present a rich tapestry of vanilla bean paste, ripe passion fruit, and pineapple, enhanced by a subtle smokiness. The barrel influence shines through first in the flavor notes with an early entry of candied almonds and salted caramel, later developing into a complex of oak and tannins. The finish is long and intricate with notes of pine sap, bread crust, and white pepper that trail into a delightful fig jam and fruit leather memory of your first sip. Repeat sips bring even more enjoyment!