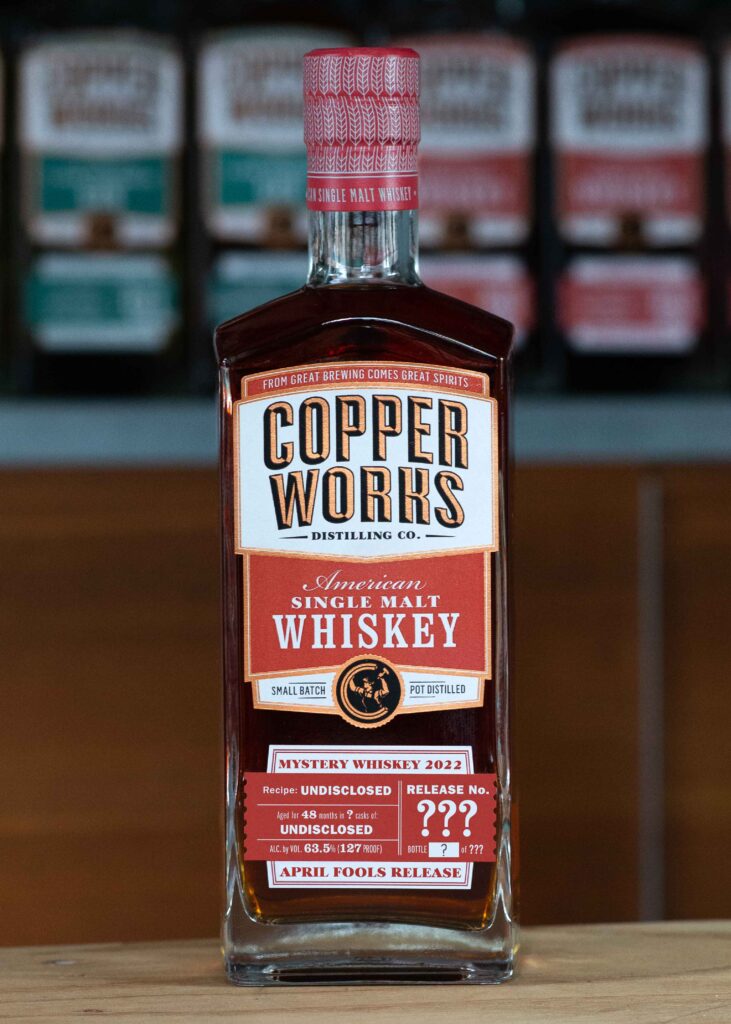 This April Fools' Day, Copperworks Distilling Co. becomes opaque.
Known for extreme transparency, the award-winning craft distillery, tasting room, and retail store in downtown Seattle's waterfront district is releasing a first-of-its-kind Copperworks Mystery Whiskey—and the team is not sharing any further details upon release.
"We are information geeks who love sharing the details of how we make our whiskey. In fact, we publish the full recipe and process for each release we make. But not this time," said Jason Parker, co-owner and president of Copperworks Distilling Co. "We thought that this April Fools' Day it'd be fun to poke fun at one of the practices we generally take quite seriously: transparency, and instead adopt the industry's standard level of opacity."
"We aren't telling how many bottles this batch has, the variety of malts used, the number or type of casks included, or the age of the whiskey. Nor are we offering up our usual detailed tasting notes– we aren't divulging much at all—except that this whiskey is absolutely delicious," said Jeff Kanof, co-owner and vice president of Copperworks Distilling Co.
The whiskey is available for purchase on April 1 in the tasting room* and online https://store.copperworksdistilling.com/products/copperworks-mystery-whiskey-2022-750ml.
"We expect this latest whiskey to sell out in a week or two," said Kanof.
"And when it does, we will release all of the details," Parker added. "We can't help ourselves."
*Tasting room address: 1250 Alaskan Way, Seattle, WA 98101