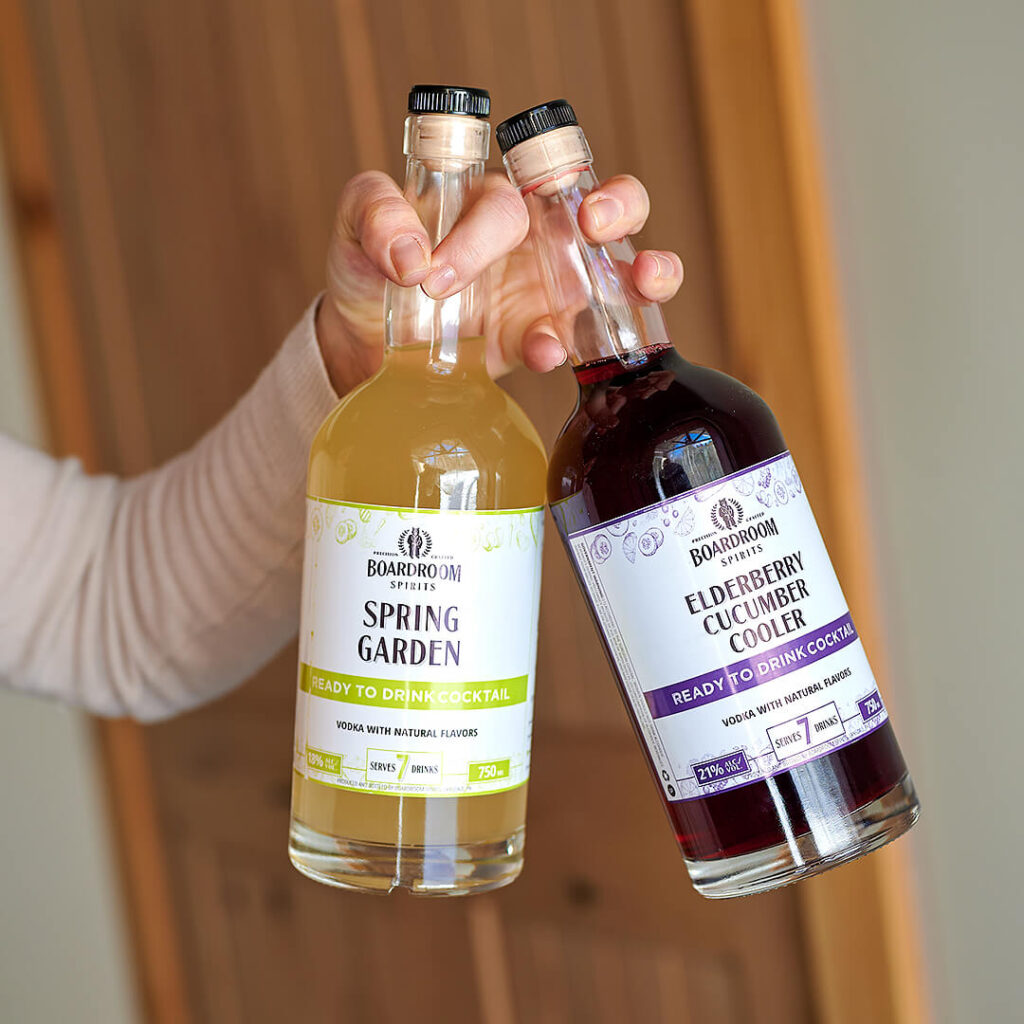 Boardroom Spirits of Lansdale, Pennsylvania, recently announced the addition of new flavors to its ready-to-drink (RTD) cocktail collection. The distillery is rolling out four 750 ml ready-to-drink bottled cocktails just in time for spring, as well as two new vodka and soda flavors.
Lansdale Lemonade, Spring Garden, Elderberry Cucumber Cooler and Bourbon Punch are gluten-free, made with all-natural ingredients, and available for purchase now. Each bottle provides six to eight delicious cocktails.
The distillery's signature Lansdale Lemonade (ABV 20% $38) is a warm-weather staple featuring Boardroom's award-winning vodka and refreshing and crisp lemon taste to welcome warm days ahead. The Spring Garden (ABV 18% $38) is an invigorating combination of Boardroom's FRESH Citrus Vodka, FRESH Ginger Vodka, and the distillery's unique C, Carrot Spirit, along with cucumber and citrus notes to create a buzzy and refreshing cocktail ideal for soaking in the sun. The Elderberry Cucumber Cooler (ABV 21% $38) blends Boardroom Spirit's premium vodka and elderberry syrup with refreshing cucumber and lemon to create a bright and full-flavored cocktail. A new addition to the spring lineup, is the Bourbon Punch (21% ABV $38) which marries the distilleries' bourbon and rye whiskeys, cinnamon honey whiskey, Firebear, orange liqueur, and citrus resulting in a perfectly balanced cocktail.
"Spring is a great time of year to experiment with bright citrus and cucumber cocktail flavors and juicy berries to embrace the warmer and brighter days. In contrast, whiskey is a great vehicle to highlight the zest of orange and citrus flavors, perfect for cool nights around a fire pit. The brightness of the season is the inspiration for our spring ready-to-drink cocktails, and we're excited to bring back favorites and introduce a new seasonal cocktail," says Mike Podlogar, Director of RTD Program for Boardroom Spirits.  
On March 30, 2022, Cherry Berry Vodka & Soda and Pineapple Mango Vodka & Soda will spring to life with label designs featuring the Chairman hiking, paddle boarding, roller skating, and power walking. In addition, the new artwork highlights the portability of the canned cocktails. Boardroom's line of vodka & soda canned cocktails, including original Cranberry Lime and Grapefruit Citrus, are available for $12.99 for a 12-ounce, four-pack with a 4.5% ABV and only 99 calories per can. 
Boardroom's entire menu of ready-to-drink bottled cocktails, vodka & soda canned-cocktails, and a complete portfolio of premium spirits are available online for pickup, delivery (including Philadelphia), or shipped throughout Pennsylvania.