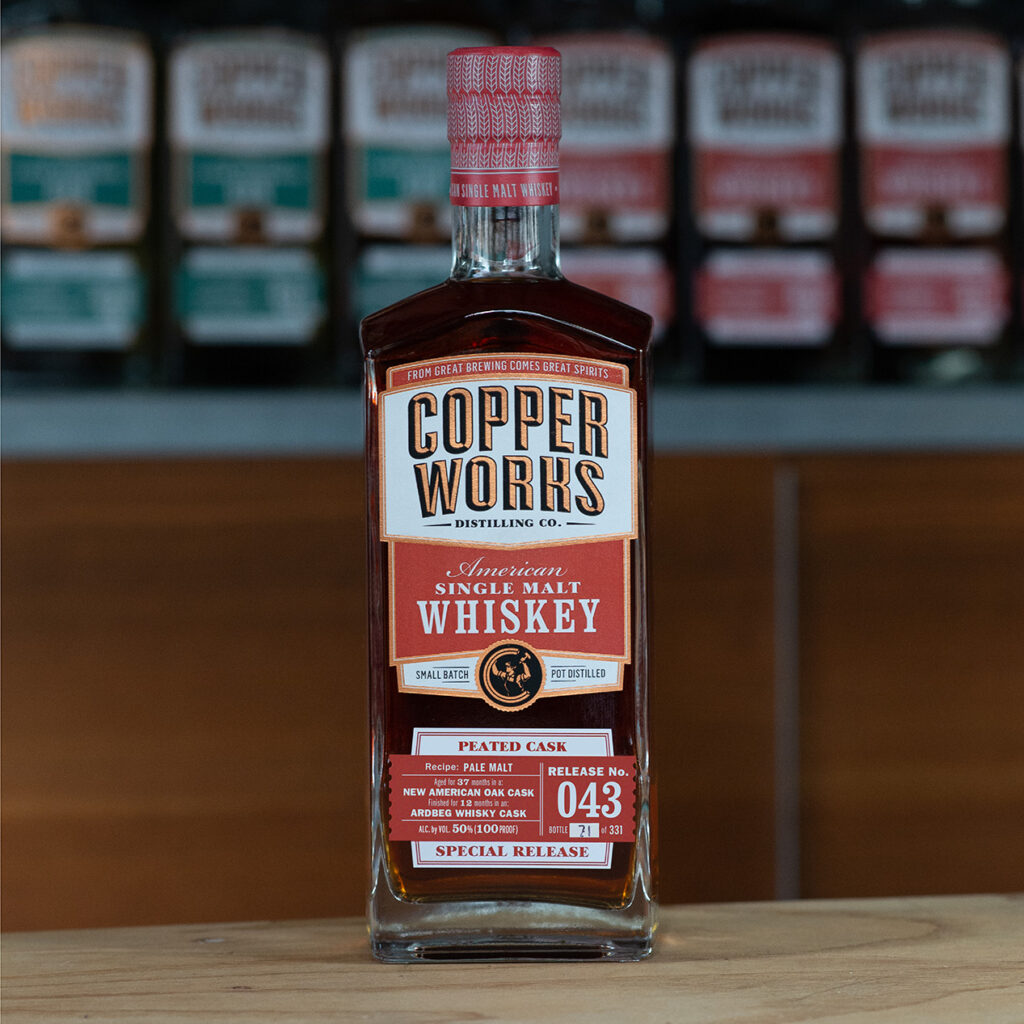 A pale malt whiskey that matured for three years in a charred new American Oak barrel was transferred into an Ardbeg Scotch Whisky cask for one year to create Copperworks Distilling Co.'s  Peated Cask American Single Malt Whiskey Release 043.
The latest single cask release from the award-winning craft distillery, tasting room, and retail store in downtown Seattle's waterfront district delivers a combination of classic Copperworks whiskey flavors and the heavy smoke flavors of Islay Scotch.
"If you enjoy rich smoky whiskeys, this one's for you," said Jason Parker, co-owner and president of Copperworks Distilling Co. "Although this release only gets its smoky flavor from the cask (not the barley we used to brew it), it has a much more heavy smoke flavor than our recent double gold award-winning Washington Peated Whiskey Release 042."
Islay Peat vs. Washington Peat
Copperworks Washington Peated Whiskey Release 042 has more savory and earthy notes, whereas this release has more of the traditional Islay Scotch smokiness, said Parker.
"As Ardbeg uses some of the highest levels of peat smoke in the Scotch whisky industry, the flavor really shines through, even though it is only the residual flavor of the cask," said Jeff Kanof, co-owner and vice president of Copperworks Distilling Co. "However, the whiskey's sweetness from the primary maturation balances the heavy smoke from the Ardbeg cask."
"We'd encourage people to taste this new Release 043 and our Washington Peated Whiskey Release 042 side-by-side to experience the unique differences of each release," said Parker.
Tasting notes: Toasty aromas abound, with roasted marshmallow, pie crust, and morning campfire mingling with blackberry and balsamic. Flavors of roasted apples, caramelized sugars, dried fruit, and vanilla dominate, with a finish of brisket, iodine, red vines, and cigar. A real sipper, this one. Or pair with smoked salmon, dried apricots, and roasted pecans.
Copperworks Washington Peated American Single Malt Whiskey – Release 043
331 bottles (750ml) produced; 50% ABV
$76.49 (not including taxes or shipping)