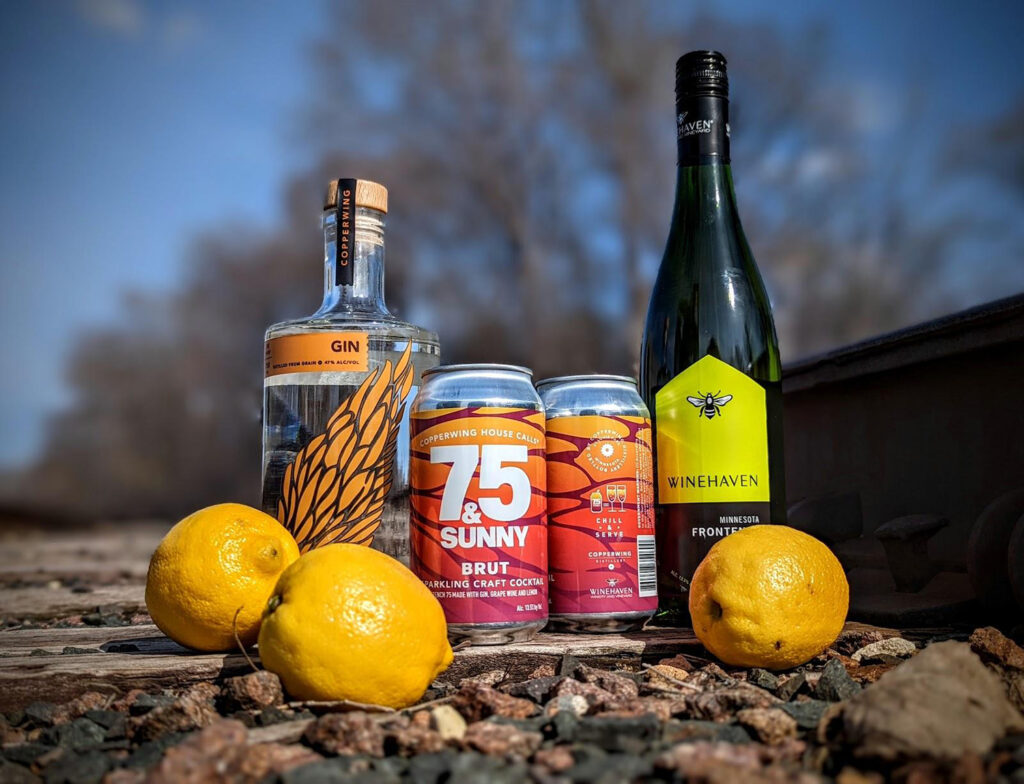 Copperwing Distillery of St. Louis Park, Minnesota, announced their latest summer product: 75 & Sunny. Inspired by the classic French 75, this version utilizes Minnesota products and makers in three ways. The cocktail features Copperwing's gin, handmade in small batches in Saint Louis Park, along with wine produced by Winehaven Winery in Chisago City, which is made with Frontenac Gris, a cold hearty grape developed by the University of Minnesota's Horticultural Research Center. 
This Brut version of the cocktail is crisp and extra dry, with a good acidic balance, herbal juniper gin notes, and a pleasant hint of lemon. "It's very refreshing and crushable," according to master distiller Kyle Kettering, "but its drinkability can be misleading since it has an alcohol content of 13.5% … so it's a good idea to share with a friend!" Indeed, the packaging notes that each 375-mL can contain two standard cocktails.
Since variations of the French 75 have always been amongst the Cocktail Room's most popular offerings, it has long been on beverage director Toph Heubach's future product to-do list. He explains that the idea with this iteration was to create an RTD summer sipper that was both lower in sweetness and more complex in flavor than the current canned RTD offerings, "so many of these RTD products are just too sweet! Many drinkers are leaning away from sugary cocktails and towards seltzer-like products, I saw an opportunity for something that splits the difference, something that is dry and complex … a real cocktail that you can enjoy simply without guilt or compromise."
The dryness also creates a blank slate for unique modifications. Those seeking to customize can experiment with adding a half-ounce of shrub (vinegar preserved fruit juices) or flavored syrups to make 75 & Sunny their own signature cocktail, with almost zero effort and minimal additional sweetness. Copperwing bartenders regularly modify their in-house version with local small-batch shrubs made by Shareb Shrubs and Sweethaven Tonics.
75 & Sunny Brut will be available in 375-mL cans at select liquor stores and Winehaven Winery very soon. They will first be available to buy at the distillery on May 21, during the release party at Copperwing's cocktail room, located at 6409 Cambridge St, St. Louis Park. Winehaven Winery will also be having a separate release event.