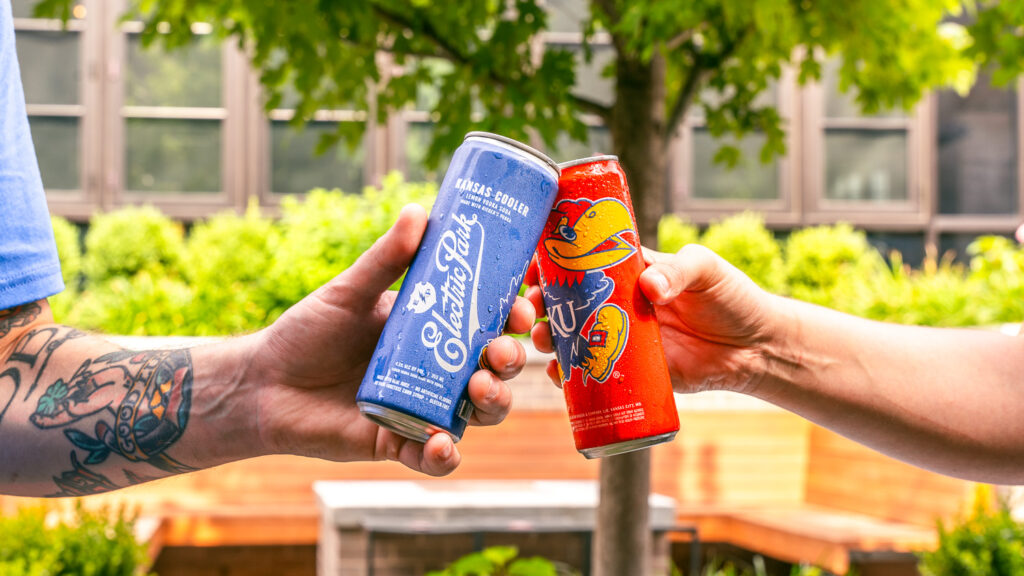 J. Rieger & Co. of Kansas City, Missouri, launched a new brand of ready-to-drink canned cocktails: Electric Park Canned Cocktails. Electric Park, which refers to the historic neighborhood where the distillery sits, will debut with two flavors of vodka soda created in partnership with the University of Kansas: Beak 'Em Berry, with a robust mixed berry flavor, and Kansas Cooler, featuring a subtle lemon flavor. Both are made with Rieger's Vodka and flavored with real fruit juice. A portion of sales will go to support responsible drinking programs for the KU campus community.
J. Rieger & Co. is well known for its elevated and innovative cocktail program. Now the same bar and spirits professionals who create those cocktails have turned their expertise to the ready-to-drink category, and brought that same attention to detail and quality expectations to these canned cocktails.
Beak 'Em Berry pops with a juicy mix of tart and sweet berries without being cloying, and Kansas Cooler features a subtle lemon flavor that clears the palate quickly. The two flavored vodka sodas are perfectly light and refreshing, coming in at 4.5% ABV, created for summer BBQs and picnics, the pool, lake, and the coveted KU tailgate as football season starts in the fall. 
A majority of the eye-catching cans are adorned with the current KU Jayhawk, but select cans will spotlight one of six vintage Jayhawk designs. KU superfans will want to collect all eight iconic designs, with the limited-edition cans featuring vintage Jayhawk designs from 1912, 1920, 1923, 1929, 1941 and 1946. Electric Park Canned Cocktails come in 4-packs of 12-ounce slim cans, available now at select retail locations in Kansas and Missouri, as well as at the J. Rieger & Co. Distillery. 
J. Rieger & Co. president and co-founder Andy Rieger said: "I am a huge fan with deep family connections to the University of Kansas, and am so proud that our new Electric Park brand of canned cocktails is kicking off under our KU partnership. As a spirits brand with a focus on perfecting cocktails, we created these two light, refreshing vodka soda cocktails with a very specific occasion in mind: perfect for social gatherings and tailor-made for KU tailgating."