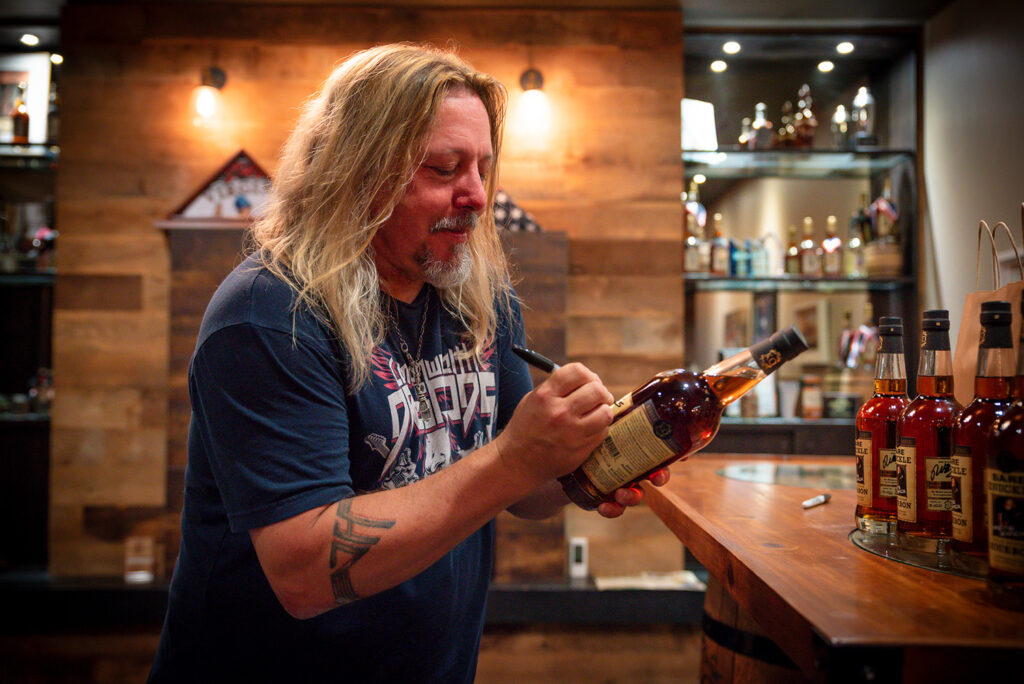 Pete Evick—a Manassas, Virginia native, music director for the Bret Michaels Band and author—has teamed up with Manassas craft distiller KO Distilling to release Bare Knuckle Evick Edition Bourbon.
"This has been a deeply personal process to produce MY bourbon," said Evick. "We are bottling this bourbon at 98 proof to represent the year I signed my first record deal, and the barrels I chose from were filled during the month of August, the month I was born. But the most important part is that the Evick Edition is produced in my hometown of Manassas, Virginia."
Bare Knuckle Evick Edition Bourbon is hand-crafted from 70% corn, 20 % wheat and 10% malted barley—all sourced from local Virginia farms. It was double distilled and aged on-site at KO in charred new American Oak barrels from Kentucky.
"There's no shortage of celebrity brands these days, and the only way we would consider such a partnership was to find a connection that is truly authentic," said Bill Karlson, co-founder and CEO of KO Distilling. "Both KO and Pete Evick are 100% Virginia made and both have deep ties to Manassas. And, the longer we worked together, we could see how engaged Pete was in the art of our craft."
"I did not drink [one] single drop of alcohol till my 25th birthday, the day I signed my first record deal," said Evick. "For a lot of years after that, my band and I were rock and roll party animals. But as I grew older, I grew to love bourbon. This collaboration is a celebration of a more mature me and about drinking responsibly! This is about promoting the art of making bourbon with some amazing people."
"We had a great Bare Knuckle Evick Edition Bourbon release at KO on July 8th. Many of Pete's friends, family and fans from across the country showed up to celebrate this new Single Barrel bourbon featuring an image of Pete playing his guitar on the label," said Karlson. "Pete personally signed all the bottles sold. It has been a pleasure working with him on this project."
Facts
Bare Knuckle Evick Edition Bourbon
4.8 years old; 49% ABV
Hand-crafted from 70% corn, 20% wheat and 10% malted barley – all sourced from Virginia farms
SRP: $62.99(750mL)
This new release joins an ever-expanding portfolio which today includes three American-style gins and eleven small batch American whiskeys. The Evick Edition will initially be sold at the Distillery Store and can be shipped to Virginia residents. Future Evick Edition Barrel Select bottles will also be sold by an on-line retailer so others across the nation can enjoy this Single Barrel bourbon. So stayed "tuned."