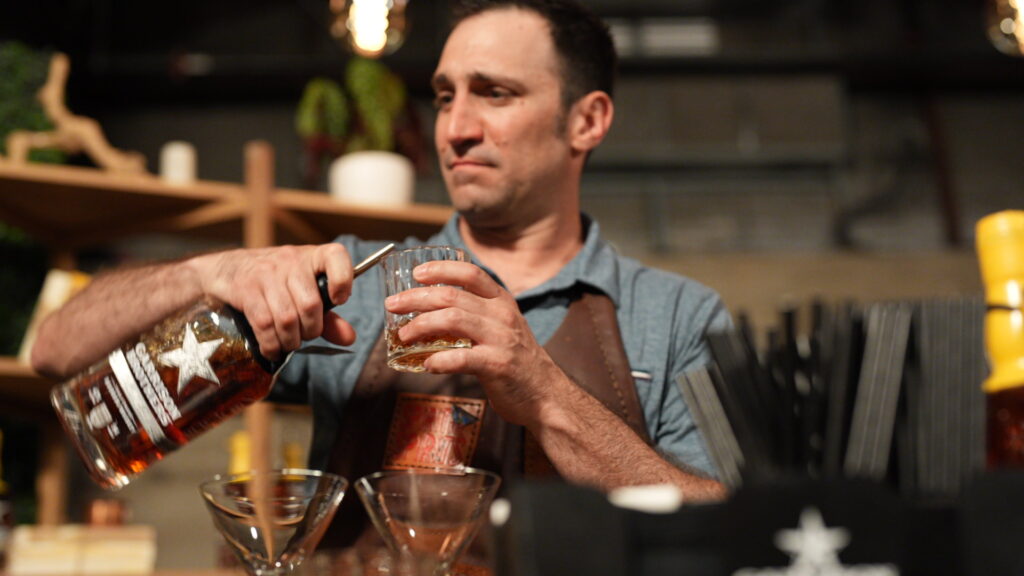 Hye, Texas-based Garrison Brothers Distillery and Texas Monthly have announced that the winner of the 2022 Bourbon Brawl Bartender of the Year is New York-based Albert Pero III. 
Pero III (Albie) is the founder and creator of Spirit for Spirits, a bartending battle You Tube show that highlights all the amazing things people in the spirits industry are doing, both behind the bar and behind the bottle. Albie's winning cocktail at The Bourbon Brawl Finale in Austin on June 30 was the BD4.
"It brings me such pride and joy to see our nation's finest bartenders come together to make magic with our Garrison Brothers bourbon. There is nothing better than watching talented artists display their mastery. The finalists and their cocktails this year were so incredibly creative. Albert's winning BD4 is true excellence!" shares Dan Garrison, founder of Garrison Brothers Distillery.
Pero III's winning cocktail, BD4, is a twist on a Manhattan inspired by Albert's childhood trips to Yankee Stadium. He mixes Garrison Brothers Small Batch Bourbon with vermouth, Earl Grey tea syrup, chocolate and cherry bark vanilla bitters and garnishes with ground cinnamon. Bourbon Brawl partner Cocktail Courier will be offering this winning cocktail as the 2022 Garrison Brothers Bourbon Brawl Cocktail Kit, available for order and shipping nationwide from July 7 – August 7.
"This cocktail is a Manhattan twist with a nod to my dad and I taking trips to Yankee Stadium," says Pero III. "We'd eat chocolate and vanilla twist ice cream out of little baseball helmets together and this is a story of those flavors. The three trains that will take you from Manhattan to Yankee Stadium in the Bronx are the B,D, and 4!"
Each year, Bourbon Brawl seeks to award the person who displays the best in total breadth and aptitude as a professional bartender, encompasses notable knowledge of Garrison Brothers Distillery, has the ability to understand and create balanced cocktails, demonstrates technical skill, maintains cleanliness and bar-side manner, and has an overall impressive presentation style mixed with genuine hospitality.
This year's seven judges were: Garrison Brothers founder, Dan Garrison; Garrison Brothers Master Distiller, Donnis Todd; 2021 Bourbon Brawl Winner, Josh Davey (The Blind Pig); Elisabeth Forsythe (Republic National Distributing Company); Lisa Marie Selman (Breakthru Beverage); Vincent Lavayen (Epicurean Hotel); Michael Pernicano (Union Square Café); and Charles Antony Abou-Ganim (The Modern Mixologist).
The five finalists that competed in Bourbon Brawl Finale in Austin on June 30th were Albert Pero III (New York), Graham Comstock (Tampa), Rachel Keeney (Orange County), Ryan Smith (Houston), and Zachary McMahon (Chicago).
The 2022 Bourbon Brawl Finale, held in Austin and attended by over 500 cheering fans and bourbon lovers, consisted of three rounds. The first, featuring batched cocktails from each bartender's online submission using Garrison Brothers Small Batch Bourbon. The second, presenting a new cocktail using Garrison Brothers HoneyDew Bourbon. The third had the top two scorers facing off to create a final cocktail from a table of mystery ingredients for the judges to critique with the top scoring bartender named the Garrison Brothers Bourbon Brawl Bartender of the Year.
"It's true what they say: Everything is bigger in Texas, including our love of bourbon whiskey. Made in Texas by Texans, Garrison Brothers is imbued with the spirit of our great state from barrel to bottle, making it the finest bourbon in Texas and beyond. We were excited to work with them on another successful Bourbon Brawl cocktail competition and share their great taste with our fellow Texans." Shared Jalaane Levi-Garza, Chief Revenue Officer for Texas Monthly.
The Bourbon Brawl 2022 Finale also included a silent auction with items available from Good Bourbon For a Good Cause as well as a special pop-up shop booth from another Texas icon: Kendra Scott. The beloved Austin-founded brand offered a fine selection of their jewelry with 20% of sales from the event being donated to Good Bourbon For a Good Cause as well as a donation match of $1000. Overall, the silent auction raised $13,500.
Bourbon Brawl is an annual competition that was created by Garrison Brothers in 2019 to connect and cultivate community within the hospitality industry as well as reward and amplify the talented creatives within craft cocktails world. Garrison Brothers is sold throughout the Continental U.S and across the world in seven other countries including Japan and Canada. For more information on Garrison Brothers and to shop online, go to www.garrisonbros.com
For the competition's complete rules and regulations, go to
To purchase BD4, the 2022 Bourbon Brawl winning cocktail kit on Cocktail Courier, go to http://garrisonbros.com/BB22-CocktailKit
Albert Pero III as 2022 Bourbon Brawl Bartender of the Year won:
• Cash prize of $10,000
• Single Barrel (15-gallon) for personal consumption only
• Judging position in the 2023 Bourbon Brawl Bartender Competition
Prizing is provided by ShakeStir.com, the world's largest online community for spirited professionals.