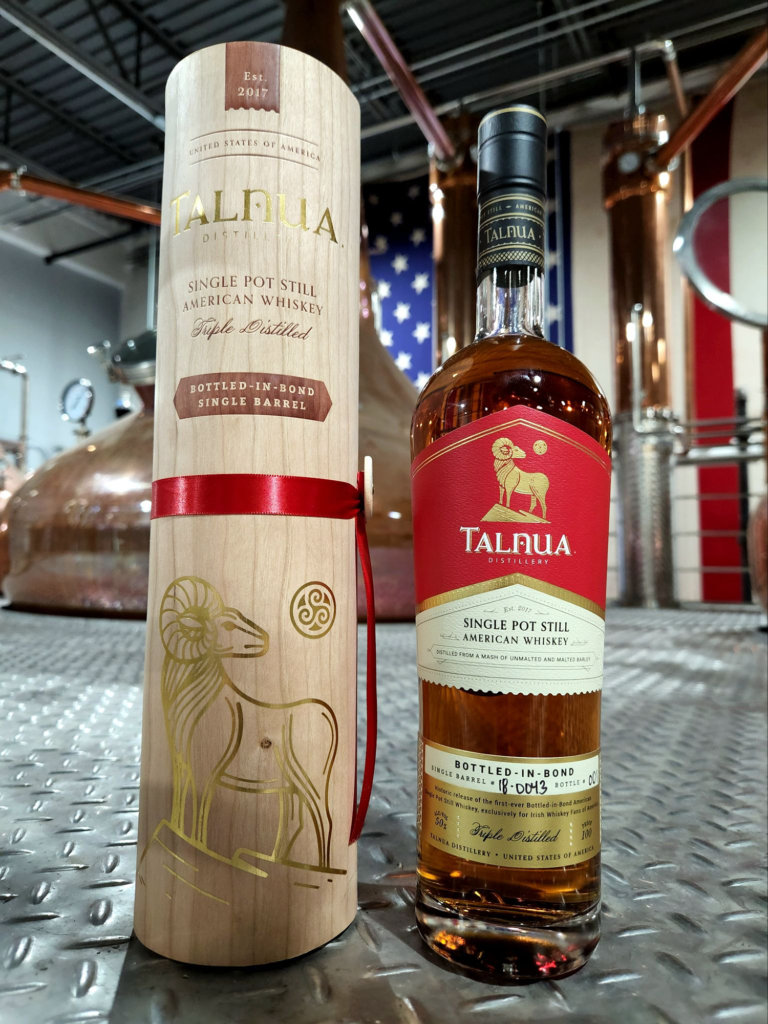 Talnua Distillery of Arvada, Colorado, released its Bottled-in-Bond American Single Pot Still Whiskey on Independence Day weekend. The distillery says it is the world's first bottled-in-bond American single pot still whiskey. The release was a single barrel presented exclusively at the Irish Whiskey Fans of America meetup which was hosted at the distillery. 
The release marks a hallmark moment in the revival of Single Pot Still Whiskey. The important bond between Ireland and America that has lasted for centuries inspired this release and the collaboration with Barry Chandler, who is the creator of Irish Whiskey Fans of America and the Stories and Sips whiskey club.
As a friend of Talnua, Chandler was asked to help select the single barrel that would be the first representation of bottled-in-bond single pot still whiskey in America.
The whiskey from a select few casks crossed the Atlantic to the ancestral home of single pot still whiskey where one was hand picked for its unique qualities.
This release is a milestone in American whiskey and was immortalized on the weekend of our nation's Independence Day in accordance with the Federal Bottled-in-Bond Act of 1897.
The whiskey features a mash bill of un-malted and malted barley, which was triple distilled following old world customs, and aged four years in charred virgin American white oak casks. The release was bottled at 100 proof (50% ABV) in sophisticated gold foil labels, paired with certificates of authentication, and enclosed in attractive birch tubes secured with red ribbon.
Supply of the single barrel was limited to less than 250 bottles, a handful of bottles remain at the distillery post-event and are available for pickup only at the distillery. No online sales or shipping available.