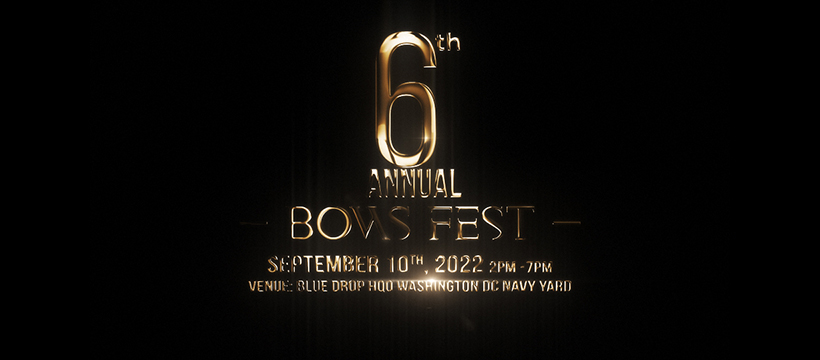 The Black Owned Wine And Spirits, a fully immersive wine and spirits festival dedicated to the elevation and awareness of Black-owned brands will make its return to Washington D.C. on September 10th, 2022 at the Blue Drop HQO (1385 Canal Street SE, Washington, DC 20003). Founded in 2016, the event has garnered national attention through its collaboration with all-star spirits partners, renowned artists and local talent, as well as stellar food pairings. This year, the event will return bigger and better.
Featured brands joining the 2022 festival include: Uncle Nearest Whiskey, TCapri Tequila, Equiano Rum, Sorel, FOU-DRE Vodka and Greenwood Whiskey.
Since its inception, the Black Owned Wine And Spirits Festival has worked to redirect consumer spend from mainstream brands to craft Black-owned wine and spirits brands, considering growth ownership in an industry that has capitalized off the labor and intellect of African Americans for centuries. "We as African Americans continue to spend unprecedented amounts of money on mainstream products without knowledge of the many products that are made from African Americans striving to create their own legacies," says Black Owned Wine And Spirits Festival Founder Chanel Turner. 
The festival has helped generate more than $200,0000 for the Black-owned spirits community in 2021. "We're excited to build on the success of last year with a new venue, elevated experiences and additional entertainment," says Turner. "We're creating a fun, family friendly event and a memorable experience while positively impacting our community and businesses."
"It is my hope that Black Owned Wine and Spirits Festival will continue to evolve not only make the public aware of the many high-quality brands often overlooked, but will inspire future generations to become entrepreneurs and creators of their own right."
Even better, the event phenomenon will be expanding to additional major cities in 2023, expanding its economic impact nationwide.
"With the growing success of D.C. over the last several years, we knew the time was right to expand," says Turner. "Cities such as Oakland and Houston are always evolving, growing, and looking for the next big thing, and we can't wait to see how they show up for what we believe will be one of the hottest and most anticipated events of 2023 and beyond."