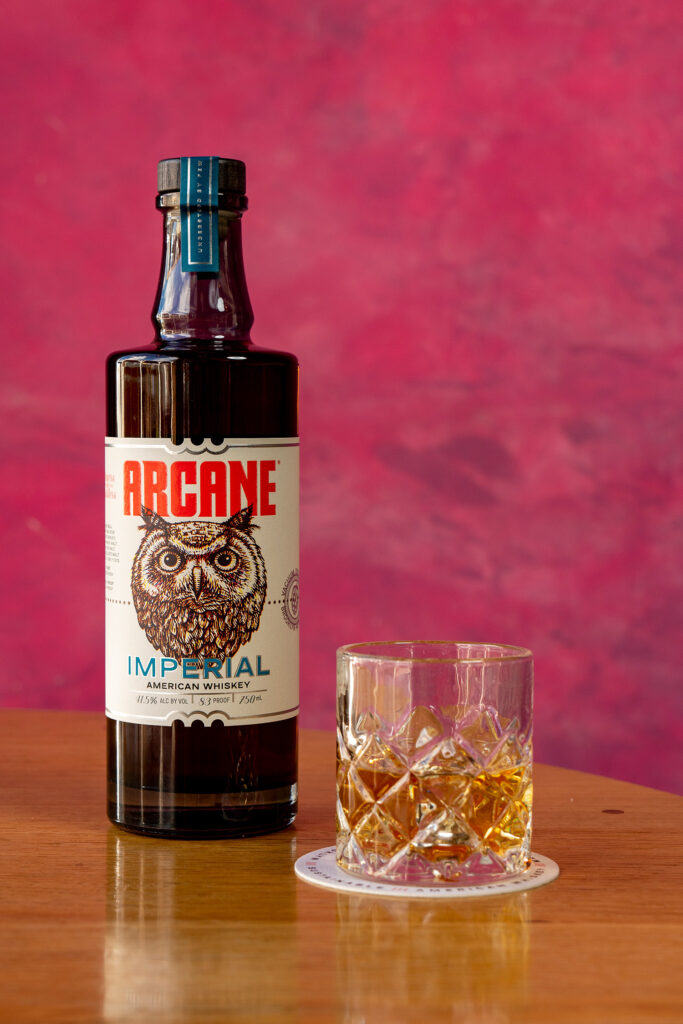 Created in Brooklyn, New York, by beer people with a passion for whiskey and an eye towards sustainability, Arcane Distilling introduces its second flagship whiskey, Arcane Imperial. Distilled from an Imperial Stout, Arcane Imperial is a bold, full-bodied whiskey that is ideal for both classic whiskey cocktails or enjoying neat. Arcane Imperial joins Arcane Alpha in the portfolio, a whiskey distilled from a triple IPA loaded with bright, citrusy hops, which launched earlier this summer. Together they offer two distinctly flavorful experiences that appeal to both the whiskey lover and beer aficionado.
Arcane is a new type of distillery that lives at the intersection of beer and whiskey. Though complicated in practice, the Arcane approach is simple: make great beer and distill it into great whiskey. Their whiskeys combine the vibrant culture and innovative flavors of craft beer with cutting edge distillation technology that create unique and extremely smooth, nuanced, and environmentally responsible final products.
The result is a whiskey with rich, dark chocolate aroma, with notes of caramel and toffee. Dried fruit, subtle smokey phenols, caramel, Dutch-process cocoa, roasted malts and orange peel appear on the palate, accompanied by a bold, rich and complex finish. It is bottled at 83 Proof (41.5% ABV) and retails for $45.99 for 750ml.
"Arcane Imperial's vacuum distillation process captures and preserves the exact malt flavors and aromas of our Imperial Stout, delivering a complex and flavorful American whiskey unlike any other," said Brian Thompson, CEO, Arcane Distilling. "It is infinitely more complex than other whiskeys and a perfect example of the whole being greater than the sum of its parts."
THE ARCANE WAY
Beer is at the core of Arcane's process, and as such, they take great care to source specific ingredients that produce precise flavors every step of the way. The entire approach to brewing differs greatly from a traditional whiskey distiller, where the goal is often to maximize the alcohol content in their 'distiller's beer.' Rather, the Arcane approach is to make the most flavorful craft beer possible to produce the most flavorful whiskey possible. Using only premium malted barley and hops – the same ingredients you would find at a craft brewery – and fermenting with a particularly flavor-forward yeast called kviek, they brew beers that not only transform into great whiskey, but also taste great on their own.
Because so many of the aromas and flavors of beer are delicate and volatile, traditional distillation would all but destroy them when boiling beer to evaporate the alcohol. Under vacuum, however, alcohol evaporates at a much lower temperature. Arcane's custom-designed vacuum still operates at room temperature, allowing the system to preserve and collect those volatile aroma and flavor compounds. Further, Arcane's still is equipped with three auxiliary condensers, one of which operates at -30 degrees Celsius, and is designed to capture exceptionally flavorful but extremely volatile compounds that cannot be captured in a traditional still.
Arcane's whiskeys are clean, vibrant, and flavorful with a finishing process designed to ensure those delicate malt and fruity flavors are preserved and carry through to the final product while trying to avoid barrel waste. Arcane rests in large oak foudres to add mouthfeel and warm, spice notes, without overwhelming the beer flavors and aromas with too much wood character.
SUSTAINABILITY
Arcane makes world-class whiskey in the most responsible manner possible – by focusing on energy, water, and raw material inputs. The company's goal is to reduce these inputs by minimizing waste and creating more efficient processes without sacrificing quality or flavor. Through its highly efficient mash filter press, which separates the wort from grain solids in the brewing process and is largely unheard of within the world of distilling, Arcane uses 15% less grain than traditional whiskeys, and 30% less water. As a result, Arcane's spent grain is also much drier following this process, requiring fewer trucks and significantly less fossil fuel to haul. Likewise, Arcane's electric vacuum still dramatically concentrates flavors and aromas while using ⅓ of the energy of traditional distilleries, which usually rely on gas steam boilers.