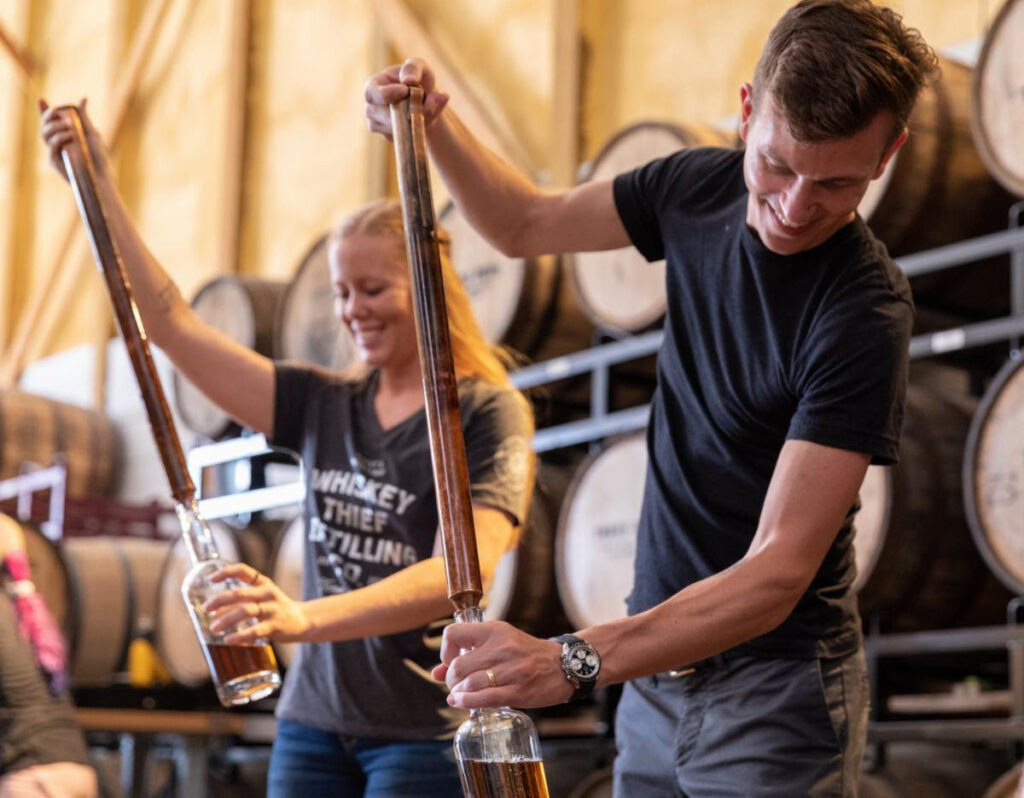 The Kentucky Bourbon Trail Craft Tour, now celebrating its 10th anniversary, continues to grow rapidly with the addition of Whiskey Thief Distilling Co. in Franklin County as its 24th stop. 
The Kentucky Distillers' Association created the statewide journey in 2012 as the nation's first attraction to feature the burgeoning boutique distilling movement. Its partner attraction, the Kentucky Bourbon Trail tour, was founded by the KDA in 1999. 
Also in 2012, Whiskey Thief Distilling was founded, operating more recently under the name Three Boys Farm Distillery. The new owner, Walter Zausch, acquired the Franklin County site at 283 Crab Orchard Road two years ago and set his sights on joining the KBT Craft Tour.
"We're ecstatic to welcome guests into our 10-year-old distillery," Zausch said. "We offer a unique and unforgettable experience celebrating single barrel Bourbons at barrel-strength, uncut and unfiltered. And we will keep making Bourbon and Whisky using our very traditional processes. We are ready to share the next decade of Whiskey Thief Distilling as part of the Craft Tour."
Visitors to Whiskey Thief Distilling Co. enjoy an informative and casual Bourbon experience, sampling from several barrels of uncut and unfiltered Bourbon, and can even bottle their favorite to take home. The back patio and cocktail bar, surrounded by the corn grown and used in the Bourbon, allows guests to relax and enjoy the scenic Kentucky landscape.
Mandy Ryan, the KDA's Director of Kentucky Bourbon Trail® experiences, said the growth and popularity of the Kentucky Bourbon Trail Craft Tour® over the past 10 years has been phenomenal.
"Our Kentucky Bourbon Trail experiences continue to expand as interest in our signature spirit soars," Ryan said. "We are thrilled to welcome Whiskey Thief Distilling Co. and encourage visitors to seek out this and the other incredible KBT Craft Tour distilleries."
Coupled with the 18 larger-scale distilleries on the Kentucky Bourbon Trail® tour, the KDA now boasts a record 42 immersive experiences for Bourbon and spirits lovers to enjoy when visiting the Bluegrass State.
Attendance at the Kentucky Bourbon Trail® and Kentucky Bourbon Trail Craft Tour® experiences continue their rapid rebound from COVID and closures, up 160% in total attendance from last year and expected to exceed record numbers in 2022.
The KBT Craft Tour has tallied over 2 million distillery tours since its inception. 
The KBT Craft Tour is divided into four regions — Northern, Central, Western and Bluegrass — with unique challenge coins commemorating the finish of each upon completion. After finishing all four regions, guests are awarded a collectible barrel stave tray to display their coins.
The 24 participating distilleries are:
NORTHERN REGION
New Riff Distilling, Newport
Second Sight Spirits, Ludlow
The Old Pogue Distillery, Maysville
Boone County Distilling Co., Independence
Neeley Family Distillery, Sparta
CENTRAL REGION
Copper & Kings American Brandy Co., Louisville
Kentucky Artisan Distillery, Crestwood
Kentucky Peerless Distilling Co., Louisville
Jeptha Creed Distillery, Shelbyville
Log Still Distillery, Gethsemane
Limestone Branch Distillery, Lebanon
Preservation Distillery, Bardstown
WESTERN REGION
The Bard Distillery, Graham
Boundary Oak Distillery, Radcliffe
Casey Jones Distillery, Hopkinsville
Dueling Grounds Distillery, Franklin
MB Roland Distillery, Pembroke
BLUEGRASS REGION
Barrel House Distilling Co., Lexington
Bluegrass Distillers, Lexington
Whiskey Thief Distilling Co., Franklin County
Castle & Key Distillery, Frankfort
Hartfield & Co., Paris
James E. Pepper Distillery, Lexington
Learn more at kybourbontrail.com/distilleries/kentucky-bourbon-trail-craft-tour/.