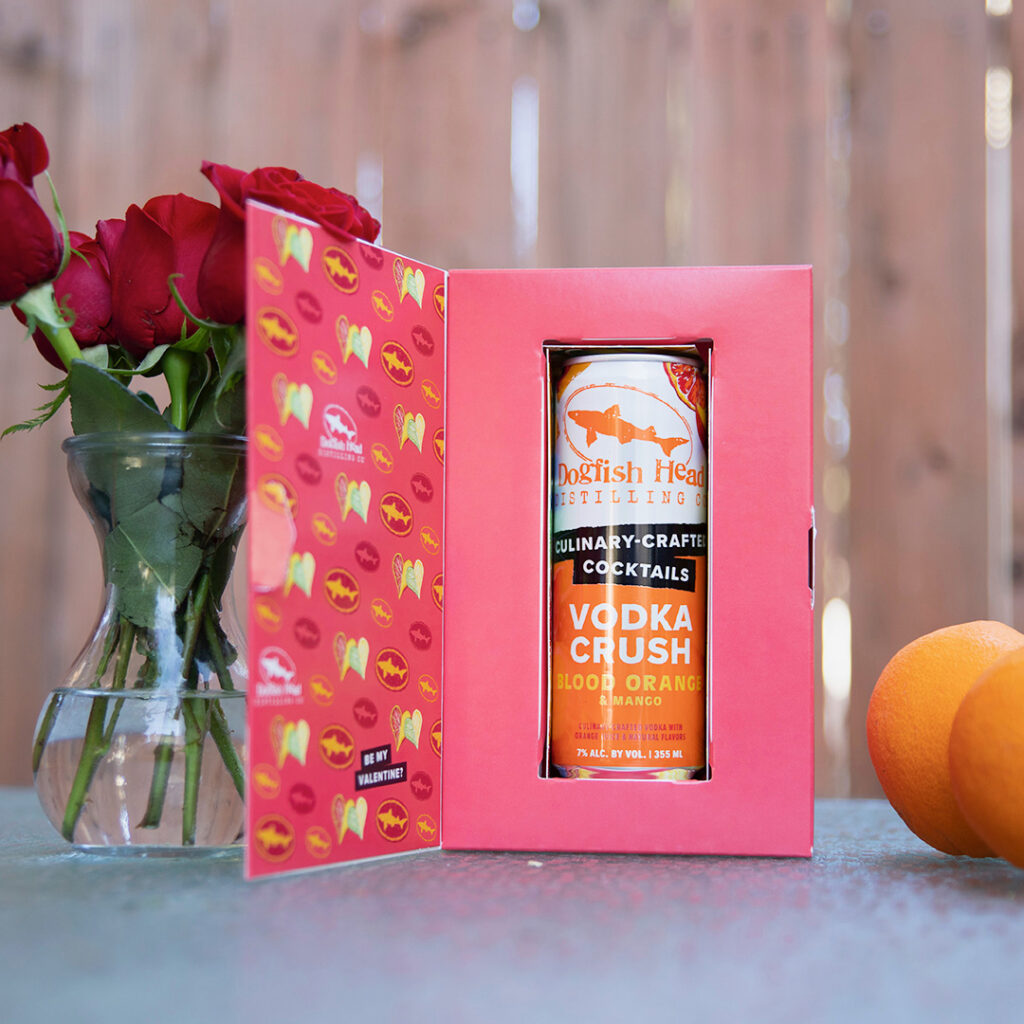 In celebration of Valentine's Day, Milton, Delaware-based Dogfish Head is teaming up with NIPYATA!, a company best known for drinkable greeting cards and boozy piñatas, to launch limited-edition adult Valentines, each featuring a 12-ounce can of Dogfish Head's ready-to-drink Blood Orange & Mango Vodka Crush Canned Cocktail.
Vodka distilled over real blood oranges and mangos, then blended with orange juice, mango juice and a touch of lime, Dogfish Head's Blood Orange & Mango Vodka Crush is sure to make any crush blush! Bursting with juicy sweet and tart flavors of orange rind and dried mango intermingled with citrusy aromas of grapefruit and orange make this Canned Cocktail light, refreshing and totally crush-able. As a bonus, each Canned Cocktail contains two full-proof shots of Dogfish Head Distilling Co. vodka, providing just enough liquid courage to let those sparks fly.
"Whether you're confessing your feelings to your new main squeeze or reminding your longtime love just how much you care, there's really no better way to sweep your crush off their feet than with a Crush Canned Cocktail from Dogfish," said Dogfish Head founder and brewer, Sam Calagione. "I know my wife, Mariah, and I will be sharing some this Valentine's Day as we reminisce on our decades-long love story."
Dogfish Head's drinkable adult Valentines are available for $29.99 each via the NIPYATA! e-store. Order by Friday, Feb. 10, to receive in time for Valentine's Day. For those local to Dogfish Head's Delaware locations, limited quantities will also be available at the brewery's Tasting Room & Kitchen in Milton and Off-Centered EmPOURium in Rehoboth Beach.
The icing on the cake to an unforgettable Valentine's Day gift, Dogfish Head encourages folks to write their crushes an old school love letter. Feeling brave? The brewery will amplify drinkers' heartfelt words by sharing them on its Instagram channel – @dogfishhead. After all, there's nothing more romantic than a public declaration of love! Simply submit a love letter through this form, sign it to and from (or don't), and Dogfish Head will take it from there.
For more on Dogfish Head and its 20+ years of distilling expertise or to track down some Crush Canned Cocktails, visit www.dogfish.com To learn about NIPYATA!, check out www.nipyata.com.