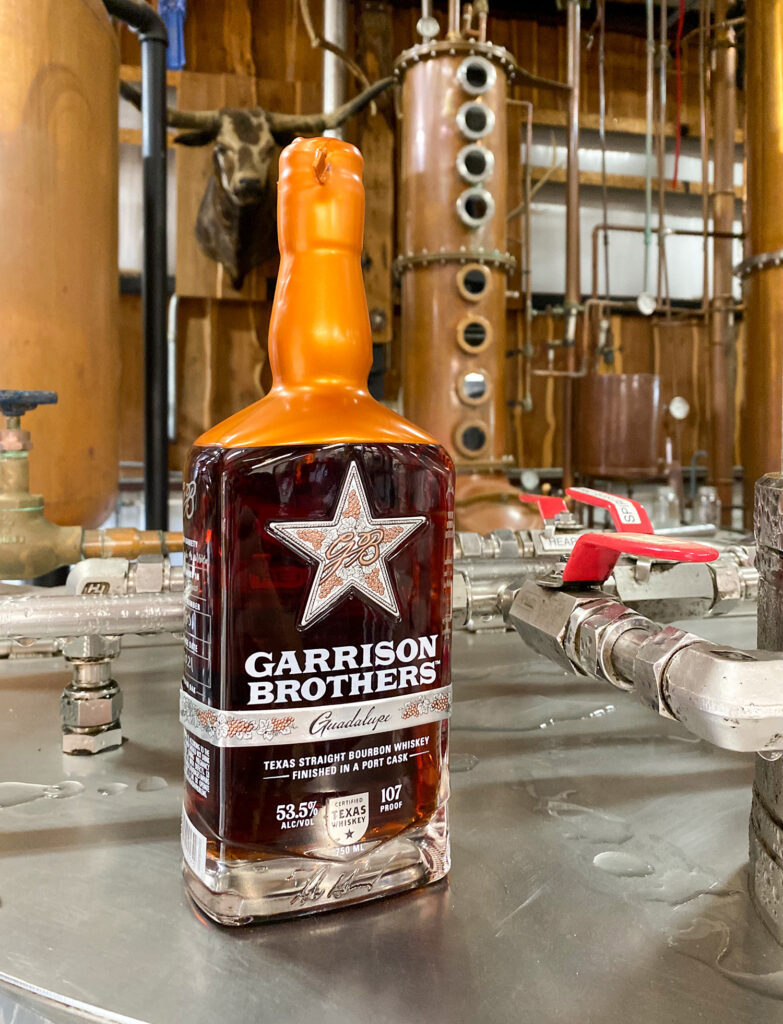 Garrison Brothers Distillery of Hye, Texas, has released Guadalupe 2023. Guadalupe Texas Straight Bourbon Whiskey is port-cask finished bourbon named after one of the Lone Star State's most beautiful rivers and is bottled at 107 proof. This limited release includes only 16,098 bottles for his year, 1,002 of which were sold at the distillery release event in Hye, Texas on February 4, 2023.
This special expression is one of Garrison Brothers' lineup of Texas straight bourbon whiskies to sweep the awards circuit. In 2022, Guadalupe won Double Gold, Best of Class and Best Straight Bourbon at the 2022 Craft Distillers Competition; Platinum at the 2022 ASCOT Awards; Gold at the 2022 International Spirits Competition; Best Small Batch Whiskey at the LA Invitational Spirits Challenge; Platinum at the 2022 Las Vegas Global Spirits Awards; Spirit of the Year and Platinum at the 2022 Monterey International Wine & Spirits Competition; Double Gold at the 2022 New York International Spirits Competition.
As with every expression of Garrison Brothers bourbon, Guadalupe is handcrafted made from grain to glass at the distillery in Hye, Texas. Each step of the process, from corn to cork, is made authentically by Master Distiller Donnis Todd and his team.
A sensuous, creamy liquid Guadalupe is considered a dessert bourbon and is encouraged to be paired with one's favorite chocolate or decadent treat. Flavor notes include berry fruit, ripe plums, strawberry butter on flaky morning biscuits, chocolate and cinnamon, and lavender honey.
"This round of ports exceeded all expectations I had. Guadalupe 2023 will easily replace chocolates for your valentine, you're welcome," shares master distiller Donnis Todd.
Working directly with winemakers across Portugal, Todd was able to find the exact flavor characteristics he was seeking for a perfect port cask finished bourbon. After much trial and error, he discovered his magic maturation combination to be four years in white American oak casks followed by two years in tawny port casks.
The story of Guadalupe began in 2015 when Garrison Brothers teamed up with beloved Texan winemakers Llano Estacado. After using the winery's decades-old port casks to craft Garrison Brothers' 2019 limited Texas straight bourbon whiskey release Estacado, Master Distiller Donnis Todd began sourcing exclusive port casks from Portugal.
Garrison Brothers 2023 Guadalupe Texas Straight Bourbon Whiskey will be available for purchase at fine liquor and spirits retailers across the nation with a suggested retail price of $149.99, and will be served at select restaurants and bars beginning mid-February 2023.
For more information and to find Guadalupe, go to www.garrisonbros.com.