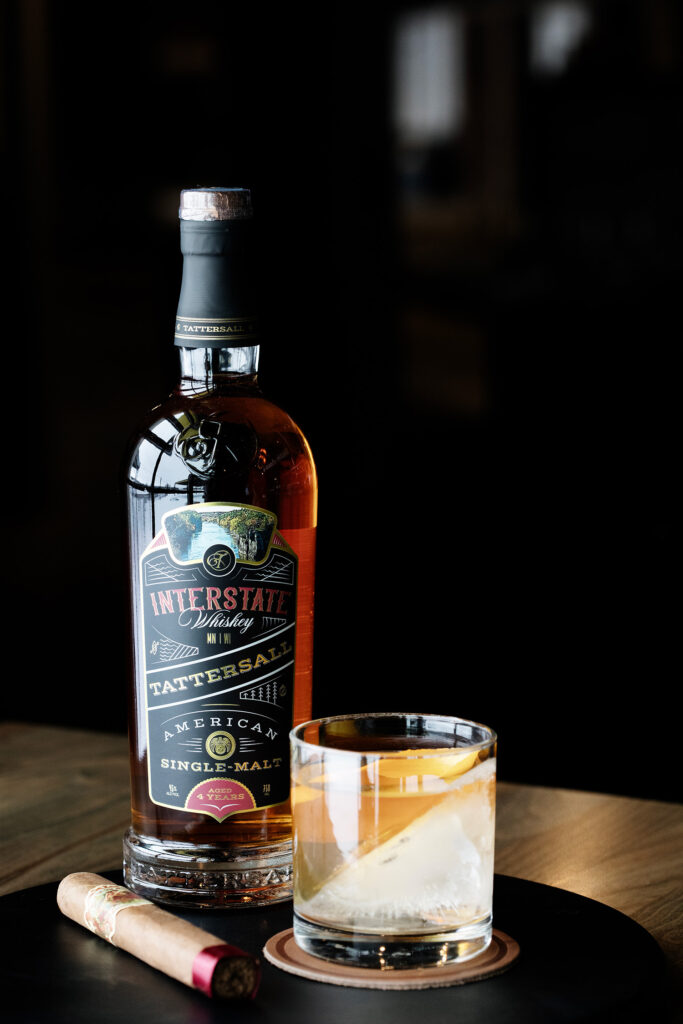 Tattersall Distilling of River Falls, Wisconsin, announced the launch of Interstate Whiskey. Inspired by the first interstate park in the nation, Tattersall's first American single malt whiskey has been in the making for more than five years and is set to be released this week. It is available for purchase in Minnesota and Wisconsin.
"As a member of the American Single Malt Whiskey Commission, we have been anxiously awaiting the federal government's approval of the American single malt whiskey designation," says Jon Kreidler, founder and chief officer of Tattersall Distilling. "While distillation was completed in our Minnesota distillery, all of the grains were sourced from Wisconsin, and the aging took place in both locations. Interstate Whiskey bridges the two states, much like its namesake park."
Aged for four years in virgin oak barrels, Interstate Whiskey is distilled from a blend of 100% malted barley including Wisconsin cherrywood smoked and dark roasted malts. The result is a complex sipper with rich notes of chocolate and cherry with a hint of coffee. Enjoy it neat, on the rocks, or in your favorite whiskey cocktail — and always with your outdoor adventure companions.
Product specs include:
* 90 proof / 45% abv
* 750 ml bottles
* MSRP $45
Tattersall Distilling ensured Interstate Whiskey complies with the American Single Malt Whiskey Commission requirements found here.
To celebrate the launch of Interstate Whiskey, Tattersall Distilling in River Falls is hosting a party in collaboration with Bourbon+ Magazine on Saturday, February 11. Enjoy a tasting of the new American single malt whiskey with heavy appetizers and a panel discussion about whiskey production in the Midwest. Tickets are $75pp. Please visit the event page for details.
Interstate Whiskey is now available for purchase in select retail stores, restaurants and bars across Minnesota and Wisconsin. Please visit www.tattersalldistilling.com for more information.