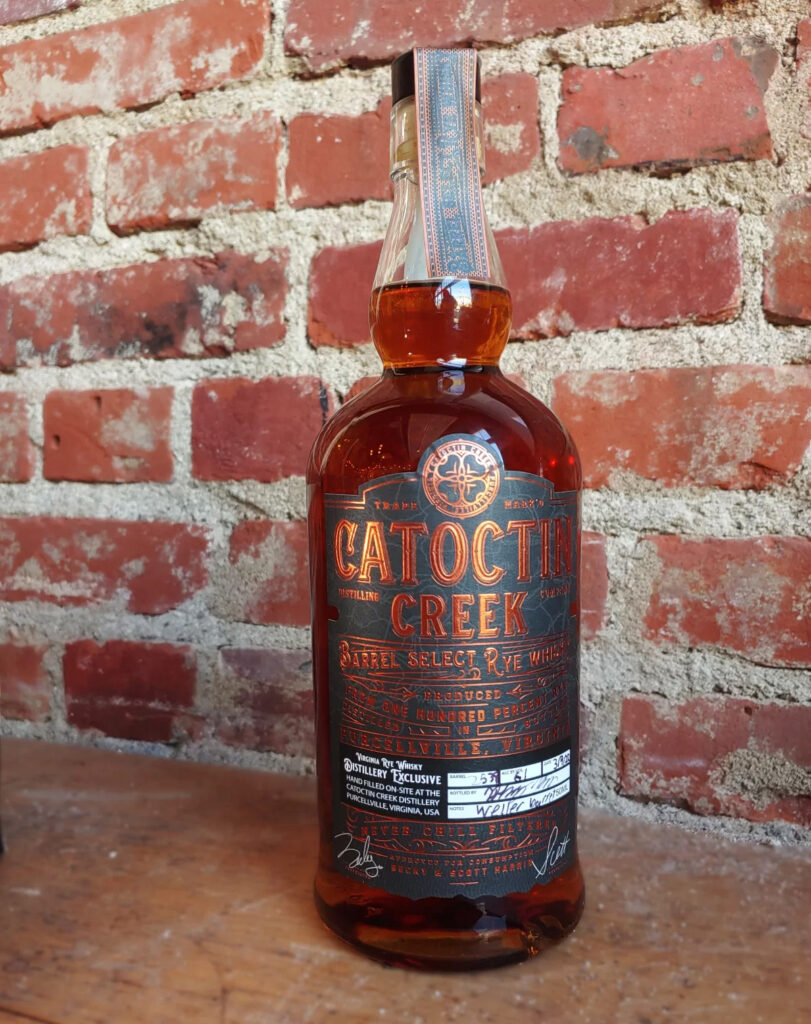 Catoctin Creek Distilling Co. is offering a new experience for visitors to the Purcellville, Virginia, distillery.  In addition to touring and enjoying flights of spirits and cocktails, visitors will now have the option to fill their own bottle from their new Catoctin Creek Filling Station.
Barrels with unique profiles and collaborative stories will be chosen from the distillery's inventory and offered for hand filling at the station.  Visitors will be instructed how to apply the label, cork the bottle, seal it and then they can write the special batch information upon each bottle with their own signature, making this a unique bottle found nowhere else in the world.
The distillery is running a poll on social media which will allow the Catoctin Creek audience to select which barrel will be first in the lineup.  The first barrels that president and chief distiller Becky Harris has chosen for this poll are:
1) #2899 – Roundstone Rye finished in a Buffalo Trace Bourbon (Weller) barrel that was used for maple syrup and then stored an Adroit Theory stout. One year in new oak, one year and 10 months in the finish barrel (around 57% abv)
2) #1559 – Very leaky Rabble Rouser barrel (concentrating the flavors), four years in Virginia oak 53 gallon barrels (~64% abv)
3) #2981 – Roundstone Rye finished in a Pinot Noir barrel , one year new oak, one year and 6 months in the finish barrel (~58%)
"We're really excited to offer this program to our customers," said Becky Harris.  "Usually, these rare barrels would be set aside for commercial customers, but we thought it would be nice, from time to time, to offer them to our visitors.  I've seen fill-your-own experiences at other distilleries in the USA, and people really enjoy that process and getting a truly unique bottle."
The Barrel Select Premium whisky, as it will be called, comes in a beautiful Italian glass bottle, with a gorgeous black and copper label. All offerings from the program will be unfiltered at natural cask proof, 750mL and $129.99 per bottle. These bottles will not be available for purchase outside of the Catoctin Creek tasting room.
For more information, or to cast your vote for the starting whisky, please visit https://catoctincreekdistilling.com/vote-barrel.