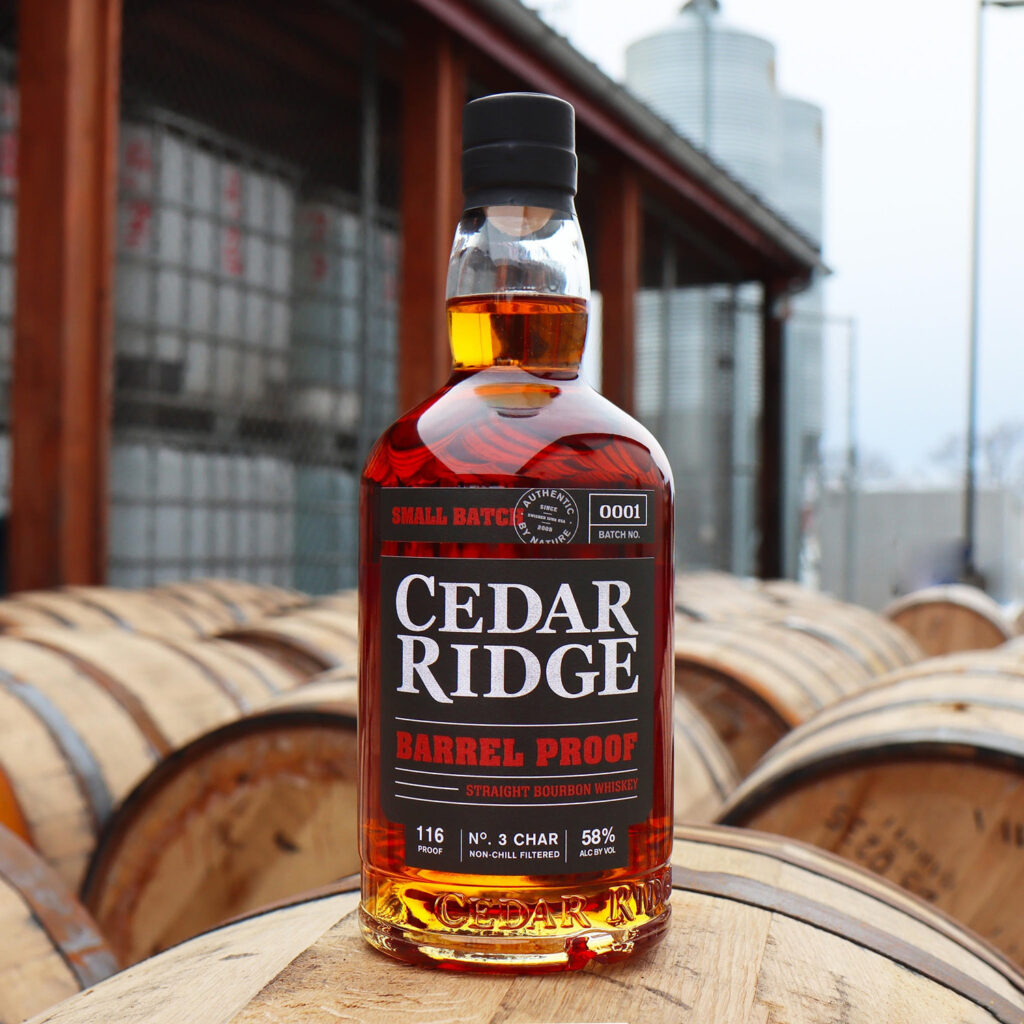 Cedar Ridge Distillery of Swisher, Iowa, has launched its latest expression, Barrel Proof Straight Bourbon Whiskey. Crafted from 74% corn, 14% rye, and 12% malted barley, the whiskey is then aged in char No. 3 barrels and non-chill filtered. All of the barrels are aged in non-climate controlled rick houses, exposing them to temperature swings of over 100 degrees each year, resulting in a unique flavor profile particular to Iowa's climate. Fans of Cedar Ridge's "Original 86" Bourbon will love this bolder, 116 proof whiskey.
Cedar Ridge was voted the #1 bourbon brand from a native Iowa distiller by the Alcoholic Beverage Division of the State of Iowa in 2022. Head distiller Murphy Quint states, "Iowans have been in our corner ever since we first opened our doors back in 2005. Without their support, we wouldn't even be in business, let alone continue to be the #1 selling bourbon in the state." Additionally, Cedar Ridge sold more standard .75L bottles of straight bourbon whiskey in Iowa than any other brand in 2022, beating out both Woodford Reserve and Makers Mark.
Another highlight of their portfolio, The QuintEssential Signature Blend, is one of the highest awarded American Single Malt Whiskeys in the country. In 2022 alone, The QuintEssential received:
Best American Single Malt of the Year, John Barleycorn Awards
95 Points & Top 8 Whiskey to try in 2022, Wine Enthusiast
Double Gold & Best of Category, American Single Malt, Spring 2022 John Barleycorn Awards
Platinum, ASCOT Awards
Silver winner, NY International Spirits Competition
Along with the Straight Bourbon Whiskey and The QuintEssential, Cedar Ridge Distillery continues to build its portfolio of whiskey, which includes limited releases of award winning Bottled-In-Bond Bourbon and Double Barrel Bourbon.
Bagger Vodka, also crafted by Cedar Ridge Distillery, donates $1 for every bottle sold to the Iowa Natural Heritage Foundation (INHF) and is distributed to trails across the state. Over $24,000 has been donated to the improvement and maintenance of Iowa Trails since the launch of Bagger Vodka in 2020.