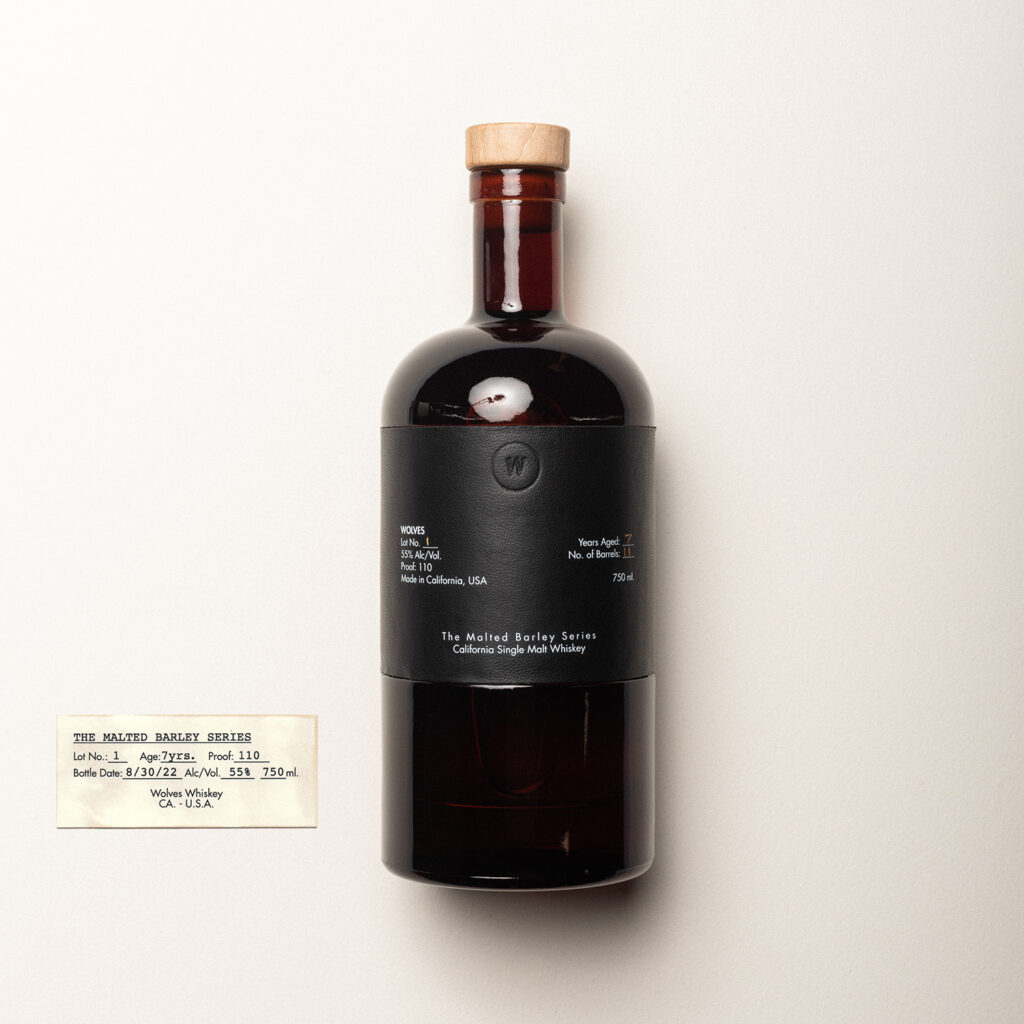 Los Angeles-based Wolves Whiskey announced that its first-ever American single malt whiskeys, "Lot One" under the brand's Malted Barley Series banner, will be available on April 6.
Wolves acquired a very limited supply of single malt and malted barley whiskeys that were put down in eight to 12 barrel lots starting in 2011. Thirteenth generation master distiller Marko Karakasevic distilled each lot over a 10-day period in a small alembic pot still imported from Cognac, France in 1983. While far less efficient than a column still, the slow, antique pot still yields whiskey with more body, flavor, and viscosity. During distillation, Karakasevic slept in four hour shifts so that he alone could make each cut, selecting 'the heart of hearts' for double distillation.

"Marko is an artist … this could be his opus," noted co-founder Jon Buscemi about the single malt. "This library of whiskey is insanely good."

Lot One was distilled in 2015. Eleven of the twelve barrels were blended together by Wolves and bottled at 110-proof (55% ABV). A nose of honey, grapefruit, vanilla, oak, and sandalwood gives way to notes of maple syrup, currants, leather, orange cake, and warm vanilla. The medium-length finish is consistent front to back with steady resolution.

The 12th barrel (barrel #574) was selected as a single barrel release, and bottled at 125-proof (62.5% ABV). The heavy toast cask with Hungarian heads imparted a dark amber color and the darkest of chocolate notes, with a sharpness on the back palate.

"We believe this could be the richest and most complex American Single Malt whiskey ever produced," noted Wolves CEO Jeremy Joseph. "ASM is an emerging category within the domestic whiskey landscape, and this is a best-in-class example of craftsmanship and flavor within it."

Sheepskin Labels
As has become a calling card for a brand built by fashion and culture iconoclasts, each bottle in the Wolves Malted Barley Series will be hand-numbered and wrapped by hand in a laser-cut, embossed, sheepskin label printed with UV light, and laid flush on heavy, French-cut glass.

Allocation
All 228 bottles of Wolves' Lot One single-barrel expression ($350) will be offered privately to certain members on its Allocation List.

The 375 6-packs of the Lot One blended single malt expression (MSRP $289) will be made available through select retailers, as well as through pre-sale to the Wolves Allocation List beginning March 30. Visit www.wolveswhiskeyca.com to register.  Not available in all 50 states.

Focusing on American Single Malt – A New Still
Wolves will continue to offer its signature blend whiskeys, which are uniquely driven by whiskeys made from craft beer, and include American Single Malt in its focus moving forward.

In addition to rolling out its first Single Malt, Wolves has also announced it is erecting a new still in partnership with Marko Karakasevic at its home distillery in Northern California. The new still will allow Wolves to continue its line of unique beer whiskeys and single malt whiskeys into the future and at scale.