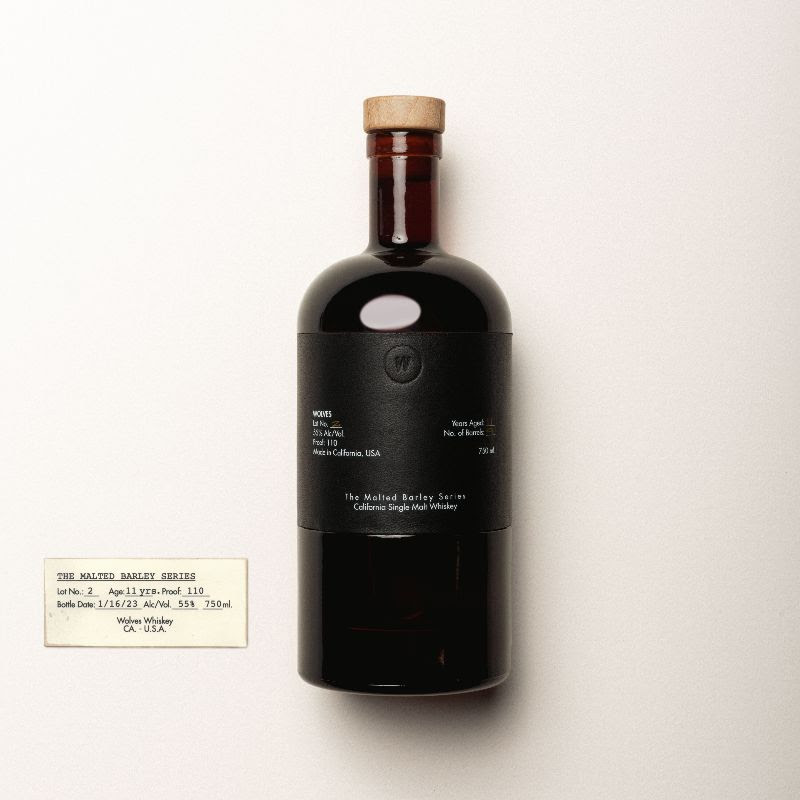 Los Angeles-based Wolves Whiskey announces that a limited allocation of Lot Two, the second American Single Malt release under the brand's Malted Barley Series banner, will drop at wolveswhiskeyca.com, Thursday, August 31.
Lot Two, an 11-year-old American Single Malt, was distilled and barreled in 2012 by 13th generation distiller Marko Karakasevic using imported Irish malts with a California Ale and bottled at a robust, though deceptively approachable 110-proof (55% ABV).
During the distillation process, Karakasevic lived an almost hermetic existence deep in the Yokayo Valley of Mendocino County, California, sequestering himself 10 days at a time alongside his imported Alembic pot still in the fanatical pursuit of perfection.
The result is an exceptionally balanced whiskey delicately poised between  influences of both old-world and new. Lot Two is meant to be savored slowly; allowed to open up over time spent in the glass before revealing notes of honey, caramel apple, dried fig, toasted oat, and oak with a creamy, viscous mouthfeel.
Fast becoming a signature of Wolves American Single Malt whiskeys, each bottle of Lot Two is wrapped by hand in a supple, bespoke Italian sheepskin label dyed a rich, matte black, a finish that is incredibly hard to achieve due to the texture of the hide. The skins are painstakingly individually die-cut into label form, before being printed with UV light, hand-numbered, embossed, and laid one-by-one on the custom-made French-cut glass that required four months just to achieve the perfect color.
The process of hand-labeling alone took four weeks to complete and further illustrates the unflinching  attention to detail lavished on every bottle of Wolves Whiskey.
"From the whiskey to the labels to the glass we use for our bottles, no one in their right mind would make the decision of their own free will to build a whiskey brand the way we're doing it," said co-founder Jon Buscemi. "But this is the way [co-founder] James [Bond] and I have always done things. There's absolutely no way the steps between distillation to blending to lips should make financial sense – and it doesn't."
An additional 335 6-packs of the Lot Two American Single Malt whiskey (MSRP $305) will be made available through select brick-and-mortar and e-commerce retailers. Not available in all 50 states.
And as Lot Two debuts, Karakasevic returns to the newly erected Wolves still, to the weeks-long distilling marathons and the intermittent sleep, before laying down the next small batches bold enough to become Wolves.
For more info, visit www.wolveswhiskeyca.com and follow on IG @wolveswhiskeyca