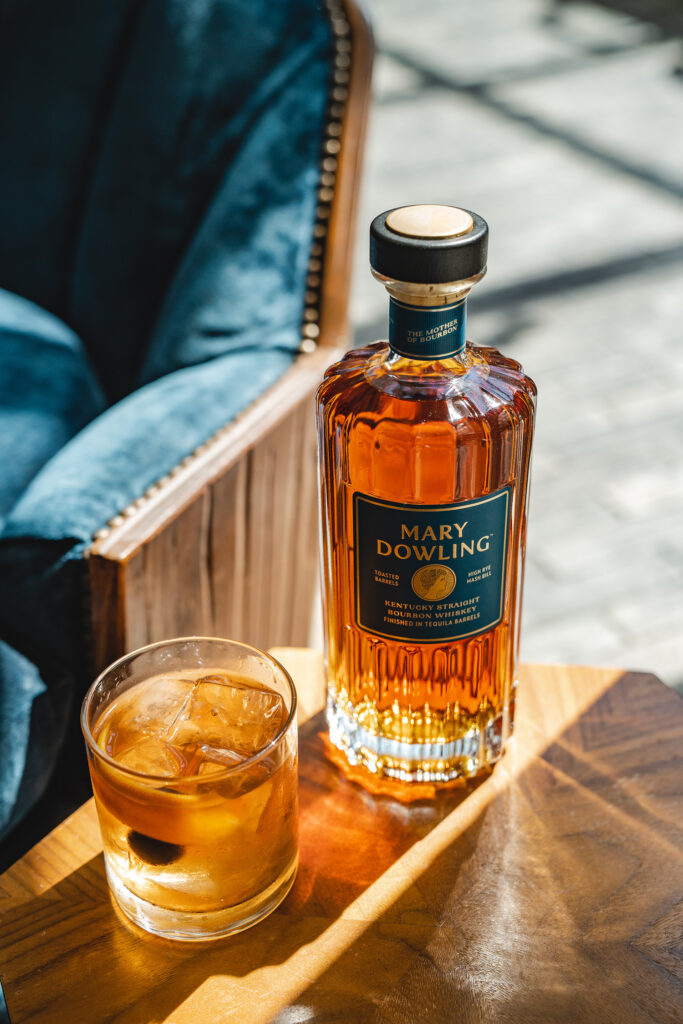 Mary Dowling Whiskey Co., a new Kentucky bourbon brand, announced the debut of its premiere whiskey lineup, featuring two distinctive expressions. Inspired by one of the greatest American stories never told, the boldly original bourbons, one finished in tequila barrels and another finished in second oak barrels, embody the spirit of determination, paired with a beautiful amber liquid that expresses exceptional and unique flavors and aromas.
Mary Dowling was the most successful and influential female distiller in the male-dominated world of pre-prohibition bourbon. Her legacy, which led directly to bourbon's designation as America's native spirit, earned her the moniker of "Mother of Bourbon." Her whirlwind, awe-inspiring story — filled with various life-altering events, including the death of her husband, a distillery fire, the founding of a bank, furious legal battles and shifting production to Juárez, Mexico, during prohibition — had been unknown by many and lost for decades until now. Today, the Mary Dowling Whiskey Co. is on a mission to share her untold story with the world through two whiskeys that pay homage to her boldness and legacy.  
"Long obscured by the mists of time, Mary Dowling's story is one of the most motivational and compelling in the annals of whiskey-making," said Kaveh Zamanian, Kentucky Bourbon Hall of Fame whiskey maker and co-founder of Mary Dowling Whiskey Co. "We wanted to create a whiskey to honor her extraordinary character, celebrate her legacy and her iconic distillery, Waterfill & Frazier. We are excited to finally share two original expressions, which are meant to be savored while toasting to the unstoppable spirit of Mary Dowling."
The Mary Dowling Whiskey Co. lineup includes two remarkable whiskeys that commemorate the 100th anniversary of Mary's ultimate triumph over the dry laws and her instrumental role in keeping the Kentucky whiskey industry alive. Both are a true testament to Mary's extraordinary journey.
Tequila Barrel is a Kentucky Straight Bourbon Whiskey finished in tequila barrels to honor Mary's distillery in Juarez. The Tequila Barrel finish exudes a surprisingly balanced palate of fruit flavors and earthy, smoky tones, completed by a black-peppery finish. 
Double Oak Barrel is a Kentucky Straight Bourbon Whiskey presented at double oak cask strength. It boasts bolder flavors and higher proofs than its counterpart, while retaining an incredibly smooth finish. The rich wheated bourbon expresses memorable notes of tobacco, cherry and oak, accompanied by wide, lingering short and dry spices.
"I am thrilled that my great-great-grandmother's remarkable life story is finally being told. Her journey inspires us to embrace challenges, to find solutions where others see obstacles and to celebrate the indomitable spirit within us," said Cathy Brown, a direct descendant of Mary Dowling. "Thank you to the entire team behind Mary Dowling Whiskey Co. for honoring her through this exciting new brand, with two incredible whiskeys that she would be proud of."  
"One hundred years ago, here in Lawrenceburg, the Dowlings and the Beams got together and hatched a plan to move her distillery to Juarez," said Bruce Beam Phillips, great grandson of distiller, Joseph L. Beam, at the brand's launch party in June. "And this evening, about 100 years later, we have the Dowlings and the Beams, sitting around a table getting ready to release a Mary Dowling whiskey and we'll add one more name to that, and that's Zamanian."  
Mary Dowling Whiskey Co.'s new expressions are available for purchase at select retailers in KY, NJ, MD, DC, FL, GA, TX, IL, CO, MI, MO and LA. Tequila Barrel is 46.5–47.5 ABV (93% PROOF) and retails for $75. Double Oak Barrel is 53.5 ABV (107% PROOF) and retails for $130.
To learn more about Mary Dowling Whiskey Co.'s latest offerings, alongside Mary's remarkable life and legacy, visit www.marydowling.com and follow @marydowlingwhiskey.