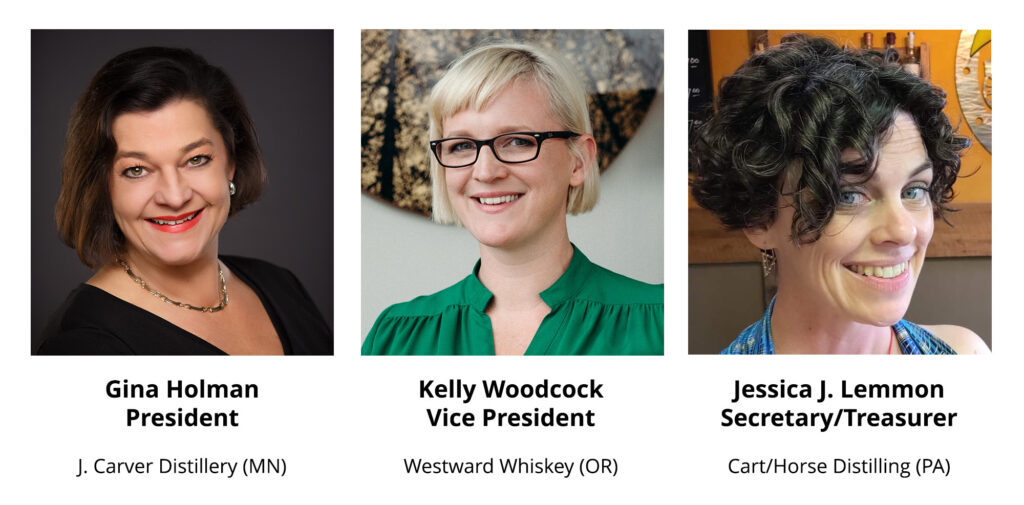 Gina Holman, Kelly Woodcock, and Jessica Lemmon Elected President, Vice President, & Secretary/Treasurer, Board of Directors, Along with New Board Appointments
WASHINGTON, DC (March 30, 2023) – The American Craft Spirits Association (ACSA) today announces the election of Gina Holman of J. Carver Distillery (MN) as the President of the Board of Directors. She has served as a member of the organization's Board of Directors since 2020, and as Vice President since 2022. Kelly Woodcock of Westward Whiskey (OR) has also been elected as the organization's Vice President and Jessica J. Lemmon of Cart/Horse Distilling (PA) has been re-elected as Secretary/Treasurer. Together, Holman, Woodcock, Lemmon and the current and newly-appointed Board of Directors will work with CEO Margie A.S. Lehrman to address the key issues facing the craft distilling industry, including the organization's continued push for direct-to-consumer (DtC) shipping. The elections will usher in the second consecutive year during which an all-women-identifying-led board will steer a national trade association. Additionally, women currently make up more than half of the elected Board members. ACSA is also proud to announce the results of its national election for Board of Director members, adding four new members with one returning.
"It is a tremendous honor to be leading the ACSA Board of Directors as president, and it is a responsibility that I do not take lightly," said Gina Holman, Founding Partner at J. Carver Distillery (MN) and President, ACSA. "As we usher in ACSA's second decade as a leading industry trade association, I look forward to serving our growing craft spirits community and building on the organization's remarkable accomplishments thus far. We've certainly got our work cut out for us, but I'm excited to be working alongside such an esteemed group of fellow Board members to make great things happen for our vibrant industry."
Margie A.S. Lehrman, CEO, ACSA, added, "As a woman in drinks, particularly at a trade association level, I'm thrilled to announce that for a second year, our women-led Board will steer our organization to support our growing community of craft distillers. Though ACSA remains focused on critical industry issues such as postal shipping reform, trade, fair competition, and direct-to-consumer shipping, we continue to pour our hearts and efforts into the STEPUP Foundation, the 501(c)3 non-profit immersive internship program we helped create two years ago. Through STEPUP, our work is narrowly focused on an important mission: to change the face of the drinks industry, one intern at a time. While we still have so much work to do—particularly within the communities that have been most marginalized historically—we are beginning to see a shift in drinks. Our 2023 Board of Directors is proof that our industry continues to move in the right direction."
Following these elections, the ACSA Board of Directors will also be appointing leadership to its governing committees. Those committees include Membership, Ethics, Convention, Education, Elections, Safety, ACSA PAC, Mentorship, Judging, Government Affairs, State Guilds, Technology, Finance, DtC and Development.
The 2023 Board of Directors, representing the craft spirits industry nationwide, is comprised of the following individuals:
EAST
Becky Harris, Catoctin Creek Distilling Co. (VA) *re-elected
Jessica J. Lemmon, Cart/Horse Distilling (PA)
Tom Potter, New York Distilling Co. (NY)
Colin Spoelman, Kings County Distillery (NY) *newly elected
Jaime Windon, Windon Distilling Co. (MD) *newly elected
CENTRAL & MOUNTAIN
Alex Castle, Old Dominick Distillery (TN) *newly elected
Gina Holman, J.Carver Distillery (MN)
Colin Keegan, Santa Fe Spirits (NM)
Amber Pollock, Backwards Distilling Co. (WY)
Mark A. Vierthaler, Whiskey Del Bac (AZ)
Thomas Williams, Delta Dirt Distillery (AR) *newly elected
PACIFIC
Lucy Farber, St. George Spirits (CA)
Jake Holshue, Spirit Works Distillery (CA)
Jeff Kanof, Copperworks Distilling Co. (WA)
Kelly Woodcock, Westward Whiskey (OR)
EX OFFICIO
Thomas Jensen, New Liberty Distillery (PA)
The national digital election was administered over the past month with the help of the Election's Chair, Renee Bemis, Driftless Glen Distillery (WI) and Jeff Wuslich, Cardinal Spirits (IN).
About ACSA
The American Craft Spirits Association is the only national registered nonprofit trade association representing the U.S. craft spirits industry. Its mission is to elevate and advocate for the community of craft spirits producers, and membership in ACSA is open to anyone.
ACSA is governed by a Board of Directors elected by the eligible voting members of the Association. Voting members must be independent licensed distillers (DSPs) annually removing fewer than 750,000 proof gallons from bond (the amount on which a Federal Excise Tax is paid.) For information about ACSA, call 202-669-3661.