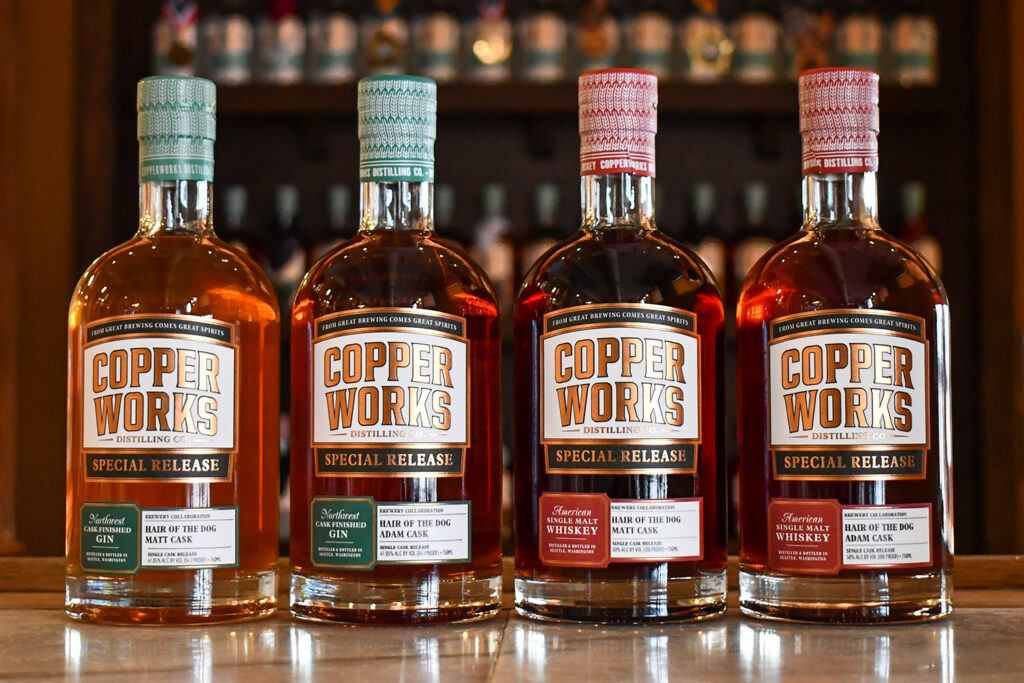 Seattle-based Copperworks Distilling Co. is unveiling its Hair of the Dog Brewing Cask Finished Collection on National Beer Day (April 7) at a special release party at one of Seattle's top craft beer destinations, Brouwer's Café.
Founded by craft brewers Micah Nutt and Jason Parker (the first brewer back in 1989 at the renowned Pike Brewing Co.), Copperworks was built to answer the question, "How would spirits taste if they were distilled from superior craft beer (without the hops) instead of the typical methods of ingredients of conventional distilleries?"  
The answer led Copperworks to become a pioneer in producing American single malt whiskey. Today, Copperworks remains guided by its founding principle: "From great brewing comes great spirits." 
In early 2022 after nearly 30 years in business, the legendary Portland brewery, Hair of the Dog Brewing Co., announced its closure.
Brouwer's Café manager Nat Pellman, and long-time industry friend of Jason Parker, heard that Hair of the Dog had casks available.
"I cast a wide net to see who was interested in using them and Jason responded that he wanted them for Copperworks," said Pellman. "We were thrilled as Brouwer's is a beer-centric destination that has been a supporter of Hair of the Dog for many years and we've collaborated with Jason previously, so hosting the cask collection release event here at Brouwer's is really a full circle moment."
"Hair of the Dog was known for creative, richly flavored brews and was barrel aging beers long before it was cool," said Parker. "When we learned they were shutting down, we knew it was our first (and likely last) chance to acquire casks from this renowned pioneer in craft beer. Considering our origins as brewers, we knew we couldn't miss out on the opportunity."
"This special cask collection celebrates the possibilities of flavor when craft brewing and distilling come together," said Jeff Kanof, co-owner and vice president of Copperworks Distilling Co.
"It features two single-cask American Single Malt whiskeys and two cask-finished gins. Each product was finished in a cask previously used by Hair of the Dog Brewing."
PRODUCT DETAILS
Copperworks received four casks to create this collection: two casks that previously aged Hair of the Dog's "Matt" ale, and two casks that previously aged Hair of the Dog's "Adam" ale.
The spirits in this collection were named after these beers, respectively.
What's in a name?
Below are snippets of the origin stories from how those beers first earned their names, according to Pellman.
Adam
"Adam" was the first beer produced by Hair of the Dog Founder Alan Sprints.
The name has two references: 1) a nod to Adam and Eve (first creation) and 2) a nod to Adambier, an old-world style of beer. The story goes that renowned beer writer Fred Eckhardt gave Sprints the ancient recipe for Dortmunder "adambier." Thus, the name and the beer were born.
Matt
"Matt" was crafted for the tenth anniversary of craft beer shop Bottleworks in 2009 and named after two Matts– Bottleworks and Brouwer's Owner Matt Vandenberghe and the late Matt Bonney (early employee of Bottleworks and well-known in the beer community.)
Both American Single Malt whiskeys were crafted from a single variety of barley called Genie, grown on a single farm in Athena, OR. They matured for three years and three months in new American Oak casks from Canton Cooperage with char #2 and 36-month seasoned staves prior to finishing in their respective Hair of the Dog casks.
Both gins were crafted from Copperworks' Small Batch Gin recipe prior to finishing in their respective Hair of the Dog casks.
AVAILABILITY
Beginning April 7, 2023, the Hair of the Dog Brewing Cask Finished Collection will be available exclusively at Copperworks' Seattle Distillery and Tasting Room and its online store.
TO PURCHASE
RELEASE PARTY
WHEN | Friday, April 7, 2023, from 4:00 pm to 7:00 pm.
WHERE | Brouwer's Café, 400 N 35th St. Seattle. WA 98103
WHAT | Sample the Hair of the Dog Brewing Cask Finished Collection | Meet Copperworks' Co-Founder, Co-Owner, and President Jason Parker, Head Distiller Thomas Paessler, and Distiller Matt "Skinny" Roberts.
Brouwer's will also have Hair of the Dog's 2019 "Matt Ale" on draft + "Adam Ale" and other Hair of the Dog products in bottles available for purchase – a perfect complement to the new cask collection!
EARLY ACCESS!
For those who wish to purchase this special cask collection before release day on April 7, become a Copperworks' First Cut 2023 member for early access to this new collection, plus all special releases in 2023. More information here.