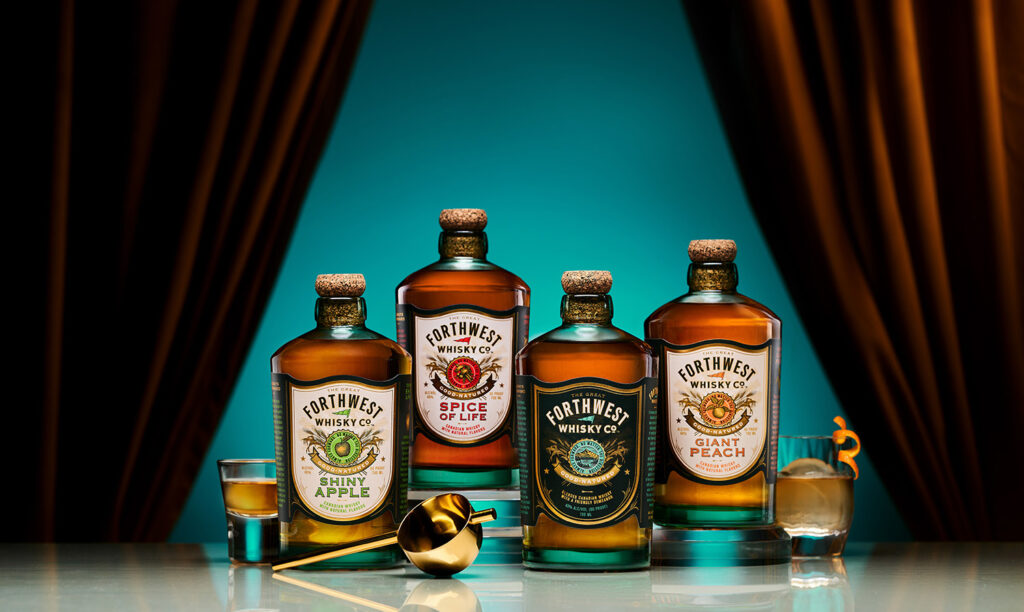 Hood River Distillers (HRD) of Hood River, Oregon, has launched a new whisky portfolio—Forthwest Whisky. 
"Hood River Distillers has been making spirits which have endured for generations," said David Ballew, president and CEO. "While this means perfecting old standards, it also means innovating. And, making more than just great products, it means making powerful, provocative brands that have the potential to move their category in a new direction. Forthwest Whisky exemplifies this vision." 
The Forthwest Whisky portfolio includes four products: three flavored whiskies crafted using proprietary natural flavor blends – Shiny Apple, Giant Peach, Spice of Life; and one five-year-old blended Canadian whisky. Unlike most flavored whiskies, the Forthwest Whisky flavors are bottled at 80 proof, as is the five year old.
"Whisky is often positioned as introspective, traditional and largely looking to the past," said John Russell, chief marketing officer. "Forthwest is a timely and powerful energy about moving forward, regardless of the direction. Particularly after the last several years, consumers are craving optimism, fun and an embrace of the fabulous. The Forthwest portfolio is made up of serious whiskies for light-hearted occasions, that bring unexpected, big, bold flavors. We couldn't be more excited about their potential."   
"Blending flavors with whisky is hardly new," said HRD master distiller Joseph O'Sullivan. "And we're certainly not the first to do so, but we are leading the charge to take flavored spirits to a new level. While the whisky is an integral component, it's the unique and custom flavor blends that elevate Forthwest Whiskies. These are not 'off the shelf' ingredients; but proprietary blends of natural flavors that combine with an exceptional three-year-old Canadian whisky to craft an exciting portfolio of flavored whiskies that challenge the whole category in flavor and quality." 
The Forthwest Whisky portfolio also includes a non-flavored expression. "When we started, our mission was to create the best tasting flavored whiskies available," added O'Sullivan. "But we also realized that some people prefer the flavor of their whisky to be … whisky. We believe the finished product rivals even the most famous of Canadian whisky blends."
O'Sullivan worked closely with a Canadian supplier to achieve the traditional smoothness expected from a premium Canadian whisky, while also providing notes of wheat and red fruit worthy of the Forthwest. The whisky was then brought to Hood River, Oregon where it was finished with glacier-fed spring water from Mt. Hood, Oregon's highest mountain peak. The result is a delicious five-year-old blended Canadian whisky that is worthy of standing next to its perfectly flavored sisters.
"Everything about the portfolio – from the distinctive and fun product names, to modern packaging and label design – was a deliberate decision to empower whisky drinkers with the freedom to shake off tradition and embrace the Forthwest," said Senior Brand Manager Korrie Dodge. "Even our tagline, 'Embrace a Flavorful Life,' is one we believe will resonate with a new group of spirits drinkers who are looking to pass on the conventional flavors and safe choices of yesterday and join us as we head Forthwest."
The Forthwest Whisky portfolio includes:
Forthwest Shiny Apple Whisky
Tasting Notes: A brilliant green apple nose is followed by the complexity of warm brown sugar, grapefruit, floral notes and vanilla on the palate. It's a juicy masterpiece of flavors.
ABV: 40%
SRP: $29.95 (700ml)
Forthwest Giant Peach Whisky
Tasting Notes: The scent of peach fruit nectar, burnt sugar, honey and hints of oak on the nose are followed by a burst of peach skin tang, a light citrus twist, vanilla and baking spices on the palate. It's music for your mouth.
ABV: 40%
SRP: $29.95 (700ml)
Forthwest Spice of Life Whisky
Tasting Notes: Orange peel and ginger on the nose followed by flavors of nutmeg, clove, cinnamon and butterscotch on the palate. A light, approachable spirit that always finishes with a soft touch. Classically Canadian whisky up front with a lively flavor parade throughout.
ABV: 40%
SRP: $29.95 (700ml)
Forthwest Whisky (Aged 5 Years)
Tasting Notes: Notes of vanilla, sarsaparilla and brown sugar mingle within a smooth, approachable and optimistic whisky attitude. A forward-facing whisky blended to establish and confirm rumors of deliciousness.
ABV: 40%
SRP: $29.95 (700ml)
In keeping with the brand's fresh and forward-looking perspective, Forthwest is embracing environmentally responsible practices, including using a bottle made with 100% recycled glass. Additionally, Hood River Distillers and Forthwest Whisky are proud partners of the Freshwater Trust, a non-profit whose mission is to preserve and restore freshwater ecosystems, including rivers, streams and creeks across the west.
Forthwest Whisky will launch in the Pacific Northwest during the Spring of 2023 with plans to be available nationally. In addition to POS, it will be supported by an aggressive marketing program that includes sampling programs, events, advertising, social media and public relations.