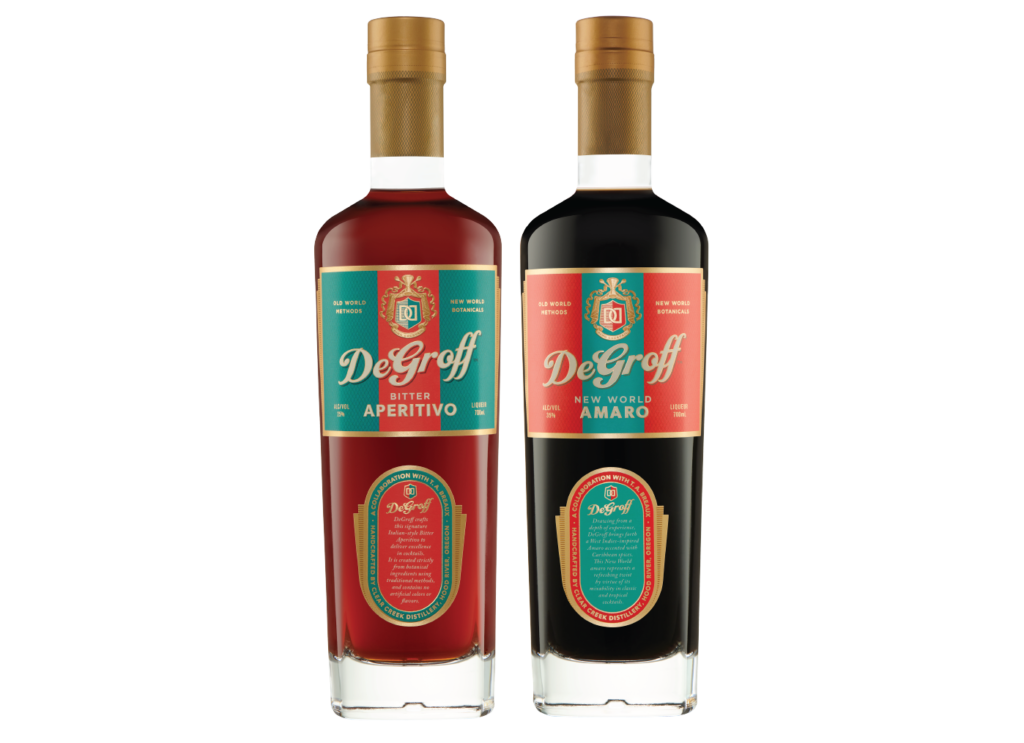 Dale DeGroff has released his second collaboration with renowned absinthe distiller T.A. "Ted" Breaux—DeGroff Bitter Aperitivo and DeGroff New World Amaro.  
The two products are hand-crafted only from natural ingredients at Hood River, Oregon-based Clear Creek Distillery, one of the first craft distilleries in the United States, and are expected to be available in early May. 
"Dale DeGroff is synonymous with cocktails, and no one blends botanicals better than Ted Breaux," said David Ballew, President and CEO, Hood River Distillers, parent company of Clear Creek Distillery. "The opportunity to partner with this dynamic pair to create DeGroff Aperitivo and Amaro is truly amazing, and we look forward to unlocking the brand's huge potential."
"I had an aperitivo behind my bar in the 90's, but that was the decade of neon colors and powdered drinks mixes… consumers had no interest in such a strong, bold flavor. Now things have clearly changed and consumers want and expect complex, bold flavors in their cocktails," said DeGroff. I could have created a single spirit, but my passion is cocktails. By creating these products, I get to play across the board."
In releasing his version of an aperitivo and an amaro, DeGroff again collaborated with his friend, chemist and noted Absinthe Master T.A. 'Ted' Breaux. Five years in the making, what began as a quest to create artisanal spirits with their own botanical identity and real craft cocktail potential, the two have released a DeGroff Bitter Aperitivo and DeGroff New World Amaro.
"Ted is master of botanicals who played a key role in convincing the TTB that the United States should bring authentic absinthe back to the fold," said DeGroff. "There is no one better qualified to create the taste that we wanted — unique in the category as well as complex and delicious."
"Our goal was to create unique flavors that would appeal to mixologists – a select blend of botanicals – fruits, roots, flowers and leaves – but absolutely no artificial ingredients or colors. These are big flavors with rich colors – the way nature intended," said Breaux.
Also contributing to the launch of this exciting portfolio was the team at Clear Creek Distilling. With more than 30 years of combined distilling and craft spirit experience, Distillers Joe O'Sullivan and Caitlin Bartlemay specialize in using old world methods to create new world spirits. And, like all Clear Creek products, an important ingredient is glacier-fed spring water from Mount Hood, Oregon's highest mountain peak.
"I've known and worked with the team at Clear Creek and Hood River Distillers for years, there is no team I'd trust more than Joe and Caitlin," added Breaux.
Product details:
DeGroff Bitter Aperitivo
This signature Italian-style Bitter Aperitivo delivers excellence in cocktails. It is handcrafted entirely from natural botanical ingredients using traditional methods with no artificial flavors or colors.
A masterful balance of flavors with a bold, yet sultry profile that provides bartenders and cocktail enthusiasts with an exciting new option for classic cocktail mixology.
Excels in the classic Negroni or Americano, as a Spritz with soda and Prosecco, or wherever an Italian-style bitter aperitivo is called for.
25% ABV/ 50 Proof
$29.99 (700ml)
DeGroff New World Amaro
This West Indies-inspired Amaro is accented with Caribbean spices and represents a refreshing twist by virtue of its mixability in classic and tropical cocktails.
Delivers a rich, bittersweet complexity characteristic of the finest traditional Italian spirits, but features a New World botanical twist that offers bartenders and cocktail enthusiasts excellent versatility in cocktail mixology.
Excels on its own as a stimulating digestive in the traditional fashion, but also adds layers of complexity to a vast palette of craft cocktails and tropical drinks. Add richness to the classic whiskey Manhattan with the Midnight Manhattan, spice up a rum punch or a Mai Tai and bring the early 19th century Sherry Flip into the new Millennium.
35% ABV / 70 Proof
SRP: $39.99 (700ml)