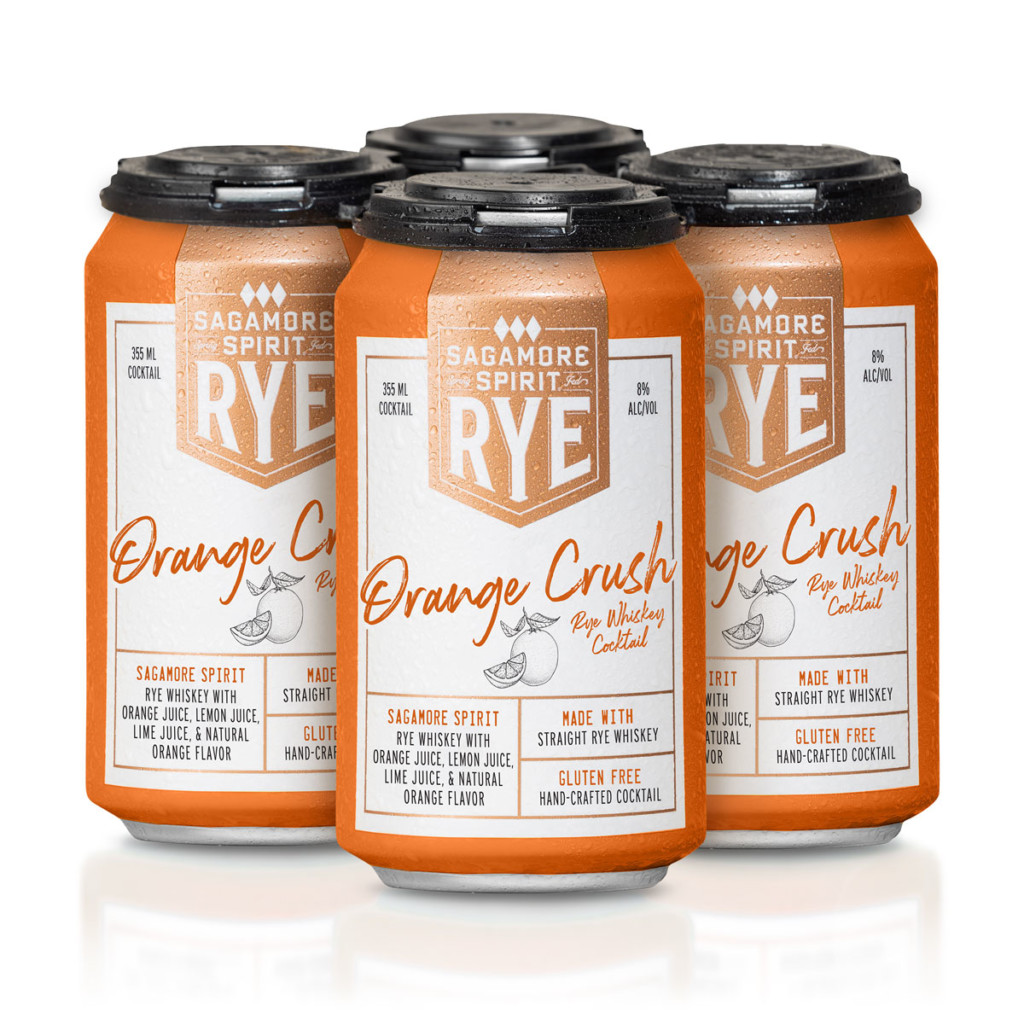 Sagamore Spirit is bringing a hometown classic cocktail to the masses as the award-winning distiller announced today the national release of its Orange Crush Craft Canned Cocktail.
Inspired by the original Orange Crush cocktail made famous in Ocean City, Md., Sagamore Spirit Orange Crush Canned Cocktail is a premium take on a nearly thirty-year-old recipe. Made with orange juice, lemon juice, lime juice, and natural orange flavor paired with the distiller's straight rye whiskey, replacing the traditional vodka and adding richer character, Sagamore Spirit Orange Crush is a zesty, refreshing 8% ABV beverage meant to be enjoyed wherever the day takes you.
Like all of Sagamore Spirit's canned cocktails, its Orange Crush was crafted in partnership with the innovative mixology minds of Baltimore-based CAnE Collective and showcases the best of Maryland-style rye – approachable, versatile, yet full-bodied.
"We welcomed the challenge of creating something with our rye whiskey that is both new and familiar at the same time," said Ryan Norwood, VP of Distillery Operations at Sagamore Spirit. "The Orange Crush cocktail was a natural choice to translate to cans not only because it originated in our home state, but also because of how well the citrus and honey notes hold up to our rye whiskey. It's a genuine taste of Maryland summer."
Sagamore Spirit launched its first canned cocktails during summer 2021 in select few markets before launching nationally in May 2022. In addition to Orange Crush, the line features three other widely available, vibrant flavors: Pineapple Ryegarita, Honey Paloma and Lemon Tea Fizz. Fans can also find exclusive canned cocktail flavors at Sagamore Spirit's Baltimore distillery, such as Ginger & Rye and Night Brunch Punch.
Sagamore Spirit's Orange Crush Canned Cocktail will be available in 4-packs throughout the distillery's national distribution footprint at a suggested retail price $14.99.
Orange Crush Cocktail Fun On Premise
While fans everywhere will be able to enjoy Sagamore Spirit Orange Crush at just the crack of a can, lovers of the cocktail in select markets will soon get a taste of the freshly-made version that inspired the canned recipe. The brand will be holding its first-ever "Orange Crush Week" at participating accounts beginning May 15. Those who order a hand-crafted Orange Crush cocktail will be encouraged to post a photo of their #OrangeCrushSmile for a chance to win the Ultimate Mixologist Gift Pack: ingredients to craft their own Orange Crush cocktails at home, complete with a premium juicer, branded barware, and Sagamore Spirit swag.
Additional support for Orange Crush Week will include a total Orange Crush takeover of Sagamore Spirit's website, original video content highlighting the cocktail streaming at select on-premise accounts, and more. For those in the Baltimore area, Sagamore Spirit will also be serving the cocktail in its Nineteen O'Nine whiskey bar throughout the week.
To find a pack of Sagamore Spirit's Craft Canned Cocktails and check out the list of accounts participating in the Orange Crush Week activation, visit www.SagamoreSpirit.com.