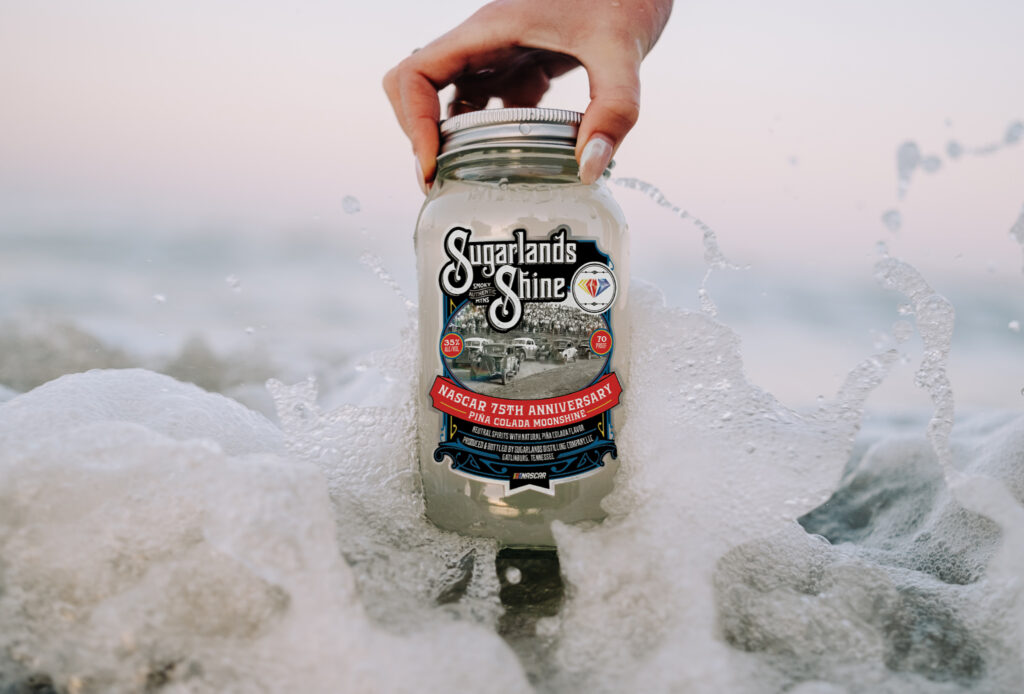 Sugarlands Distilling Co., an award-winning craft distillery in Gatlinburg, Tennessee, and NASCAR today announced the release of an officially licensed limited-edition moonshine to commemorate NASCAR's 75th anniversary. The Sugarlands NASCAR 75th Anniversary Moonshine will make its debut at Bristol Motor Speedway during the Food City Dirt Race weekend April 8-9. It will be available at the Sugarlands 360 Bar inside the track that weekend and also available for purchase at retailers nationwide while supplies last.

Moonshine played a pivotal role in the birth of NASCAR, which was founded by Bill France Sr. in Daytona Beach, Fla., in 1948 and has since grown into the No. 1 motorsport in America. A moonshine still on display at the NASCAR Hall of Fame tells the story of how many of NASCAR's early stars got their start running moonshine.
Tying together both elements of NASCAR's beginnings, the Sugarlands NASCAR 75th Anniversary Moonshine boasts a tropical piña colada flavor as a subtle nod to the sport's beachside start. The label features a photo from a July 10, 1949, NASCAR race in Daytona along with NASCAR's official 75th-anniversary diamond logo.
"Few products provide a more authentic homage to NASCAR's roots than a commemorative moonshine," said Megan Malayter, managing director of licensing and consumer products at NASCAR ."We're thrilled to collaborate with Sugarlands to give fans a taste of the sport's origins with a modern twist and provide a fun, fitting toast to NASCAR's milestone 75th anniversary."
Sugarlands has a history of supporting NASCAR and collaborating with the racing industry, including currently serving as the "Official Moonshine of Bristol Motor Speedway." Since launching in 2014, Sugarlands has released limited-edition products to commemorate anniversaries at Bristol Motor Speedway, Daytona International Speedway and Talladega Superspeedway. Earlier this year, Sugarlands announced a season-long partnership with JTG Daugherty Racing and Ricky Stenhouse Jr., driver of the No. 47 Camaro ZL1 and 2023 Daytona 500 champion. Sugarlands also partners with NASCAR Hall of Famer Dale Earnhardt Jr. and his wife Amy Earnhardt to produce High Rock, a premium, handcrafted vodka. High Rock recently announced a partnership with JR Motorsports and Josh Berry, making High Rock the "Official Vodka of JR Motorsports."
"Moonshine and NASCAR go hand-in-hand, both born from a spirit of rebellion and ingenuity," said Ned Vickers, Sugarlands president and founder. "We have a deep appreciation and respect for motorsports, due to the deep-rooted history moonshine shares with NASCAR, and it's an honor to help them commemorate this significant milestone for the sport by producing a 75th–anniversary moonshine."
Sugarlands produces a full line of craft moonshines and Appalachian Sippin' Creams with flavors like Dynamite Cinnamon, American Peach, Dark Chocolate Coffee and Butter Pecan. Sugarlands also produces Roaming Man Tennessee Straight Rye Whiskey, winner of nearly three dozen gold and platinum awards, including Best in Class Whiskey in the 2019 American Craft Spirits Association Awards.