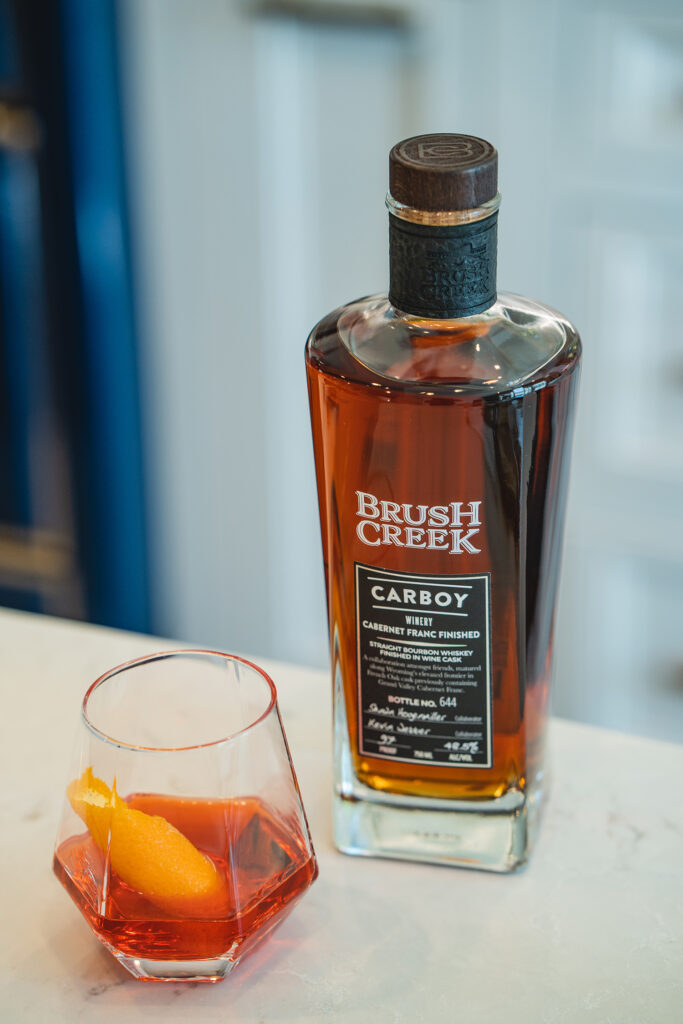 Brush Creek Distillery of Saratoga, Wyoming, unveiled its limited edition release, Brush Creek Carboy Winery Cabernet Franc Cask-Finished Straight Bourbon Whiskey. This release represents a collaboration between Brush Creek Distillery and Carboy Winery, Colorado's largest in-state winery.  Multiple barrels of six-year-old Straight Bourbon Whiskey were selected from the Distillery's premium on-site collection, blended, and finished in ex-Carboy Winery Cabernet Franc wine barrels. The whiskey then rested in the wine casks on the Distillery's south-central location, a 30,000 acre working cattle ranch that Brush Creek Distillery calls home.  
"After more than one year of working behind the scenes, we are ecstatic to introduce Brush Creek Distillery's first Cabernet Franc cask-finished offering," said Shawn Hogenmiller, Director of Hospitality and Barrel Program Director at Brush Creek Distillery. 
This project was inspired by the 30,000+ bottle wine cellar that sits directly below the Distillery in a 96-yard underground tunnel at The Farm at Brush Creek. Equally as inspiring with this collaboration is the lifelong friendship between Hogenmiller, and Kevin Webber, co-founder and CEO at Carboy Winery. This product represents a common thread with both programs.
"Whether you're drinking a glass of wine or sipping a neat pour of bourbon, great conversation and collaboration are always the best pairing," said Webber. "It's been an absolute honor to tell this story alongside my best friend and watch the well-deserved success of this new release."
In late 2021, two 59-gallon French Oak barrels were collected from Carboy Winery's Littleton, CO facility immediately after Cabernet Franc wine was emptied, and ahead of its bottling and spring 2022 release. The empty casks were transported from Colorado to Brush Creek Distillery's Wyoming location, idyllically positioned in the Rocky Mountain region, between the Snowy Mountain and Sierra Madre Mountain ranges, where they were filled, and further rested at over 7800' elevation, along Wyoming's majestic frontier.
Brush Creek's "Carboy Winery" Cabernet Franc Cask-Finished Straight Bourbon Whiskey packaging is refined and elegant, much like the cabernet franc grown in Colorado's Grand Valley, along the western slope.  
"The 97-proof spirit was transformed as part of the maturation process, similar to the friendship exhibited between Shawn and Kevin," says Andrew Wason, Managing Director for Brush Creek Distillery. "It showcases all the great qualities of a well-aged, structured bourbon, while delicately balancing the flavorful attributes of Carboy's Colorado-grown cabernet franc."  
Earlier this month, the Distillery was awarded a Gold Medal for its Brush Creek "Carboy Winery" Cabernet Cask-Finished Straight Bourbon Whiskey in the 12th Annual Denver International Spirits Competition (DISC). Entries are judged by Certified Spirits Specialists in a double-blind competition, seasoned buyers, mixologists, sommeliers, and master distillers.
The inaugural release is limited to only 610 bottles, each sequentially numbered. The Distillery is hopeful to release future collaborations with Carboy Winery, with each release showcasing different varietals, oak casks, and maturation techniques. 
Brush Creek Distillery, known for its craft distilling, blending, and innovation, opened in 2019 with the vision to share the inspiration and pioneering spirit of the American West with others. This is shown in its core line of small-batch spirits consisting of Brush Creek Gin, Brush Creek Vodka, Brush Creek Straight Bourbon, Brush Creek Straight Rye. Additional limited-release offerings include Brush Creek "Chimney Rock" and Brush Creek "Honig" Cabernet Sauvignon Cask-Finished Straight Bourbon Whiskeys, and Brush Creek "Railroad Rye" Straight Rye Whiskey. 
Brush Creek "Carboy Winery" Cabernet Franc Cask-Finished Straight Bourbon Whiskey is currently only available in Colorado and available for purchase in numerous restaurants, bars, and retail stores including Loveland Taphouse (Loveland), Corinne Restaurant (Denver), Angelo's Restaurant (Denver/Littleton), Logan Street Restaurant & Bar (Denver), Parker Garage (Parker), E3 Steakhouse (Steamboat Springs), Palisade Brewery (Palisade), Enzo's (Palisade), Red Barn Liquors (Johnstown), Ponderosa Spirits (Evergreen), Fisher's Liquors (Grand Junction), and Peachwood Liquors (Palisade), along with Carboy Winery locations (Littleton, Denver, Breckenridge, Palisade).

Tasting Notes
Nose:  Vanilla, Dried Cherry, Fig, Baking Spice, Black Tea Leaf, and White Pepper
Palate: Creamy Mouthfeel confirming the Dried Red Fruit, Fig, and Spice 
Finish:  A Long Lingering Finish with flavors of Cinnamon, Allspice, Toasted Oak, Vanilla, and Chocolate Baking Powder 
97 Proof           48.5% ALC. By Vol.        750ml