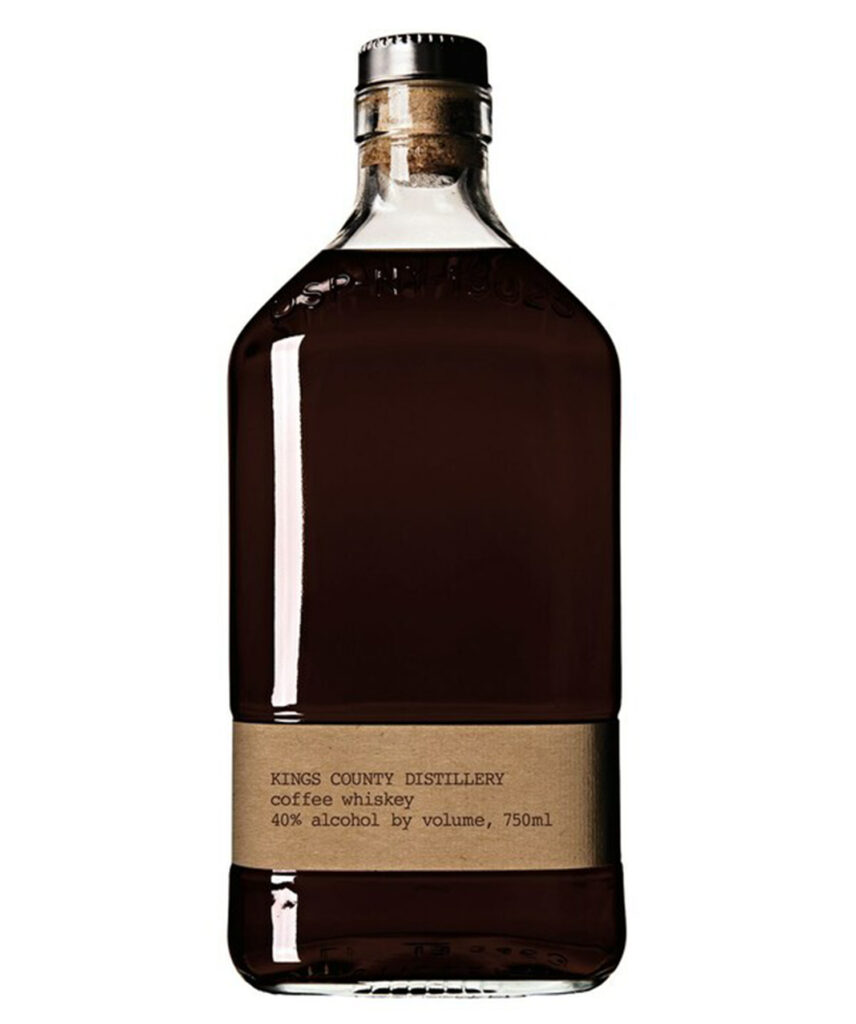 Kings County Distillery of Brooklyn, New York, is excited to announce the release of a new Coffee Whiskey, made in close collaboration with longtime Brooklyn Navy Yard neighbors Parlor Coffee. Obsessively crafted from a blend of Kings County's finest whiskeys and Parlor's exceptional ready-to-drink Cold Brew, Coffee Whiskey sets out to define a more elegant and thoughtful flavored spirit. With a balance, complexity, and depth of flavor that is as suited for cocktail backbars as it is late-night neat pours, this hyper-local whiskey aims to represent the forefront of Brooklyn's craft culture to the wider world.
­­­­"While cocktail-making has evolved rapidly over the last two decades, we haven't necessarily seen that same creativity translate to the backbar," said Kings County founder and distiller Colin Spoelman. "Coffee, in the context of spirits and cocktails, still often means one of two things: either syrupy coffee liqueurs, or the use of coffee itself as a component ingredient. Our blending team imagined Coffee Whiskey as a newer, better expression of those concepts. And, after a year of R&D, it became clear that we'd found a perfect match in the best-in-class Cold Brew developed by our friends at Parlor Coffee."
"We developed Parlor Cold Brew with the belief that a better tasting beverage will always start with better ingredients," said Parlor Coffee Co-Founder AJ Walzer. "Our friends and neighbors at Kings County share this belief—their dedication to their craft parallels our own. When Kings County reached out to us with their concept to create a better coffee whiskey, we had no doubt they would achieve it, and we are honored that they found our Cold Brew as worthy of celebration as we do."
The lively, tropical top notes and creamy, chocolate undertones of Parlor's Cold Brew — made from a blend of uncompromisingly sourced coffees and roasted by Parlor in Brooklyn — marry perfectly with the balanced sweetness and rich complexity of our own blend of house-made bourbon and corn whiskey. The resulting drinking experience is that of a true whiskey, but with an added depth of flavor that evokes the elegance of fine Madeira wines and Italian amari.
This whiskey will go on sale on Wednesday April 19th at the distillery and will begin rolling out to New York accounts and national distributors the next day. Each 750ml bottle is lightly caffeinated (14mg per 1.5oz serving) and 40% alcohol by volume. With a suggested retail price in the mid-$40 range in most of the country, this is a high-end alternative to the standard coffee mixer, one that suits a new spirits landscape brought on by the craft revolution.