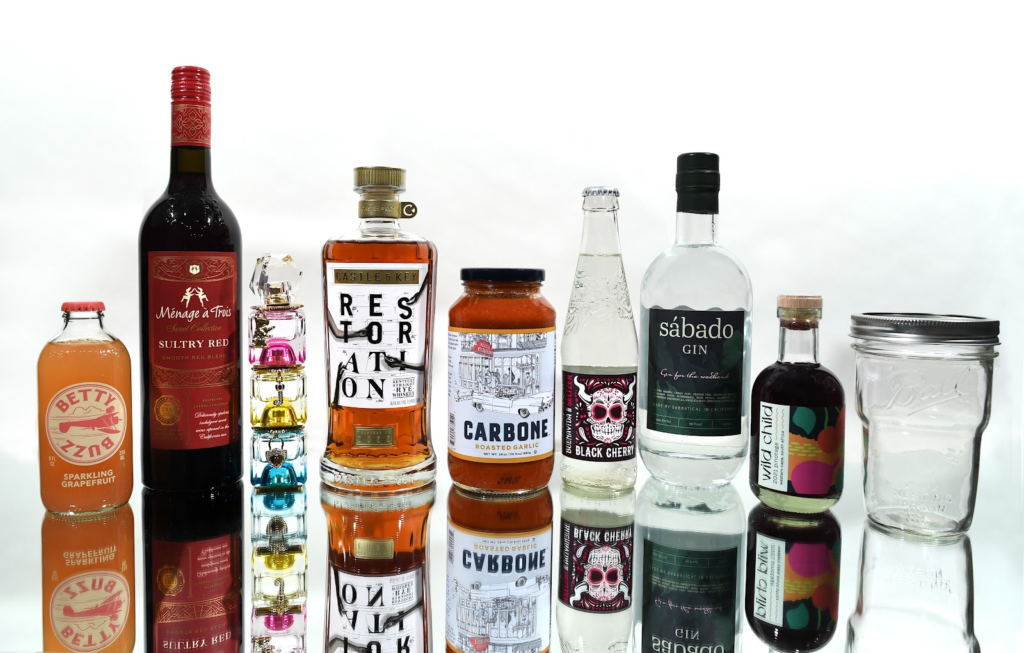 The Glass Packaging Institute (GPI) is delighted to announce the winners of the 2023 Clear Choice Awards (CCA), which recognize North America's top brands and manufacturers creating remarkable glass product designs that form dynamic consumer experiences.
Since 1989, the Clear Choice Awards has honored consumer product goods manufacturers who find noteworthy ways to use glass packaging to tell the story of their brand, create glass packaging designs that stand out from others, and help brands meet their sustainability goals.
"I want to congratulate the winners of the 2023 Clear Choice Awards," said Scott DeFife, President of GPI. "It's been two years since we've held these awards, and I especially want to recognize the glass container manufacturing industry for their support in providing premium and sustainable glass products to consumers around the world. It is amazing to see each of these companies and North American manufacturers receive recognition for all of their hard work in creating unique glass design and packaging. Congratulations to every one of our winners, we truly appreciate the work you are doing!"
The winning glass containers were selected by an independent judging panel of food and beverage packaging professionals which consisted of John Neata, Wine Director at Ristorante TOSCA in Washington, DC, Tom Bobak, Founder and Editor-In-Chief at American Craft Beer, and Jeff Cioletti, Editor-In-Chief at the American Craft Spirits Association (ASCA). They determined the winners for each category based on four criteria: package design (including container, label and closure), shelf impact, storytelling strength of the brand or product, and innovation (in container form and product category).
"I am honored to be invited to judge the 2023 GPI Clear Choice Awards," said Cioletti. "At ACSA, we're always thrilled to see the latest and greatest innovation in glass packaging. A hearty congratulations to all of the winners!"
"Every time I participate in the Clear Choice Awards judging panel, my already-high expectations are met and surpassed — and 2023 is no exception," said Bobak. "It is a privilege to witness the creative ways that brands showcase themselves and their products through the design of their glass packaging."
"I thoroughly enjoyed sitting on the GPI Clear Choice Awards judging panel this year," said Neata. "The winning designs are striking and bold, and will faithfully represent the best the glass industry has to offer on every shelf they're placed. These numerous contestants are the future of glass — and the future of the industry is bright."
The 2023 CCA winners (listed by both brand and glass container manufacturer) for each category are:
Category: Beer, Cider & Flavored Alcoholic Beverages
Brand: Buenavida Hard Seltzers
Glass Manufacturer: O-I Glass
This bottle was designed to celebrate the Mexican heritage and cultural influence present in Stone Brewing's hometown of San Diego. The shape and color of the glass bottle draws from the look of popular Mexican sodas, and the artwork is inspired by the Calaveras (sugar skulls) that are a common sight on el Día de los Muertos, as well as Talavera tiles molded into the design.
Category: Food
Brand: Carbone Fine Food Pasta Sauces
Glass Manufacturer: Ardagh Glass Packaging
This standout jar has a white label printed on high quality linen paper to replicate the restaurant menu at Carbone's flagship restaurant where the iconic sauce is served. Carbone Fine Foods is committed to using glass packaging because it doesn't interact with the sauce – maintaining its taste and aroma.
Category: Spirits
Brand: Castle & Key Restoration Rye Dark Label
Glass Manufacturer: Saverglass
The restoration of a Kentucky distillery built in 1887 is the inspiration for this uniquely shaped bottle made from premium flint glass. The bottle is an expression of the distillery — which is now known as Castle & Key — and with its modern design of historic elements, this premium durable glass is perfect for patiently aging the premium whiskey inside.
Category: Wine
Brand: Ménage à Trois Sweet Collection
Glass Manufacturer: O-I Glass
These ornately carved glass bottles were designed to stand out on the shelf in the same way the Sweet Collection wines stand out on the palate. The glass packaging and the wine both combine a sophisticated experience with a fresh sensibility that is sure to engage young and diverse consumers.
Category: Non-Alcoholic Beverages
Brand: Betty Buzz
Glass Manufacturer: O-I Glass
This Betty Buzz flagship glass bottle pays homage to the vintage design of the Golden Age of Flight in the early 20th century, while also being modernized into a simple glass package that features the liquid first and foremost.
Category: Cosmetics, Fragrances & Pharmaceuticals
Brand: OUI Juicy Couture Play
Glass Manufacturer: Verescence
This bottle was specifically designed with a deep push-up and inward dome that embodies a luxurious feel — reminding us that sustainable glass makes it possible to create complicated shapes while also offering superior protection to the fragrance.
Category: Innovation
Brand: Ball® Nesting Jars
Glass Manufacturer: Ardagh Glass Packaging
Ball® has a nearly 140-year history of producing glass mason jars, and these Nesting Jars are an example of the company's knack for innovation while simultaneously staying true to its roots. The jars securely nest and stack, saving 30% more space compared to regular pint jars.
Category: Sustainability
Brand: In Good Taste California Wine Mixer
Glass Manufacturer: Ardagh Glass Packaging
These single-serve glass wine bottles designed by In Good Taste founder Joe Welch represent what the company calls the "Perfect Pour." Beyond their gorgeous design, they reflect the company's commitment to reducing emissions and advancing a sustainable glass economy. In Good Taste decided to forgo importing its products from overseas and has instead moved to producing them domestically, dramatically cutting down emissions.
Category: Global Member Container
Brand: Sábado Gin by Sabbatical Distillery
Glass Manufacturer: Verallia USA
The subtly intricate design of this glass bottle reflects the complexity of the spirit inside, with a pattern that reveals itself over time and invites consumers along for the journey. Sabbatical is furthering its mission to minimize waste by recycling and repurposing this eye-catching bottle for use as barware and more.
---
You can read more about each of the nine winners and download high-resolution photos of the products on the GPI website.