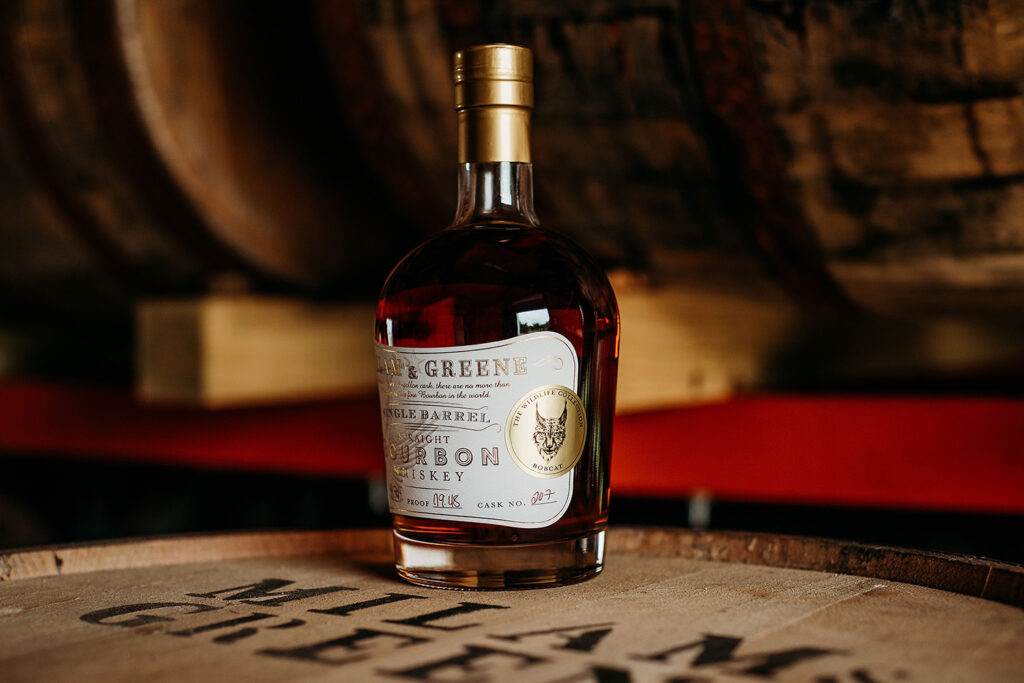 Blanco, Texas-based Milam & Greene Whiskey is proud to unveil Bobcat Single Barrel Bourbon, the second release in the Wildlife Collection, a limited-edition series of cask-strength, single-barrel whiskies. The Milam & Greene Wildlife Collection showcases the effects of Texas Hill Country weather on aging whiskey and honors the local Texas wildlife that thrives in this beautiful, but often challenging environment. Bobcat Single Barrel will be available exclusively on the Milam & Greene Whiskey website and in the distillery tasting room beginning at 3:00 p.m. (CST) on Wednesday, April 26.  
This extremely limited high-proof release is pulled from a single barrel: cask #207. It is named for the solitary, rarely seen bobcat of which Texas has two subspecies: the desert bobcat in the west and northwest, and the Texas bobcat, which ranges across the rest of the state. Much like the solo bobcat that left her tracks behind the Milam & Greene distillery in the winter of 2022, cask #207 is the last from its lot, aging in some of the most intense Hill Country weather conditions on record.
"The Wildlife Collection gives us an opportunity to isolate single casks to really explore the impact of Texas weather on aging whiskey," says Milam & Greene Whiskey CEO and master blender Heather Greene. "Our extreme temperature swings in Texas have the potential to speed up the aging. With Bobcat, the scorching Texas heat and sudden freeze events this past winter created a great deal of wood interaction and angel's share making this whiskey a real flavor bomb."
The Wildlife Collection: Bobcat Single Barrel BourbonMilam & Greene Wildlife Collection Bobcat Single Barrel Bourbon was distilled in Tennessee with a mash bill of 80% corn, 10% rye, and 10% malted barley. It was barreled on March 15, 2018, and was bottled on March 31, 2023, at 119.48 proof, giving it depth and richness. Bobcat Single Barrel was aged more than four years in new American oak barrels with a #4 alligator char in Tennessee and then for 10.5 months in Blanco, Texas on the northside of the Milam & Greene Rickhouse 1, row 4, level 3, position 5 where it rested undisturbed, unrotated and without climate control. During its time spent in Texas, the whiskey weathered almost two months of triple-digit temperatures, an extended drought, and a multi-day ice storm that caused widespread power outages, significant tree damage, and effectively shut-down commerce in the state.   
Bobcat Single Barrel is a complex bourbon with a russet muscat brown color. It's floral, rose petal scent is layered with old leather and maple syrup. The palate starts with demerara sugar chased by fresh-baked biscuit and oak notes, followed by a long finish with allspice and cinnamon.  
"This is an approachable whiskey that drinks a bit below its proof," says Rikk Munroe, Milam & Greene Whiskey distillery manager. "When it is left to open up in the glass, Bobcat Single Barrel becomes intensely sweet on the nose. The palate, on entry, is just as smooth and sweet, evolving to toasted grain flavors on the mid palate. The lengthy, spicy finish begs for another sip. It is truly beautiful stuff."
Pricing and Availability 
Milam & Greene Wildlife Collection Bobcat Single Barrel will be available for $99.99 only on the Milam & Greene website and in the distillery tasting room.  This single barrel had a yield of just 209 bottles. Milam & Greene Whiskey has allocated 168 bottles available for sale online and 41 bottles for sale at the distillery. As a very limited release, once this is gone, it's gone. The first release of the Wildlife Collection – Scorpion Single Barrel – sold out online in just 15 minutes. A portion of the proceeds from the sale of each bottle of the Milam & Greene Wildlife Collection will go to benefit Texas Parks & Wildlife.