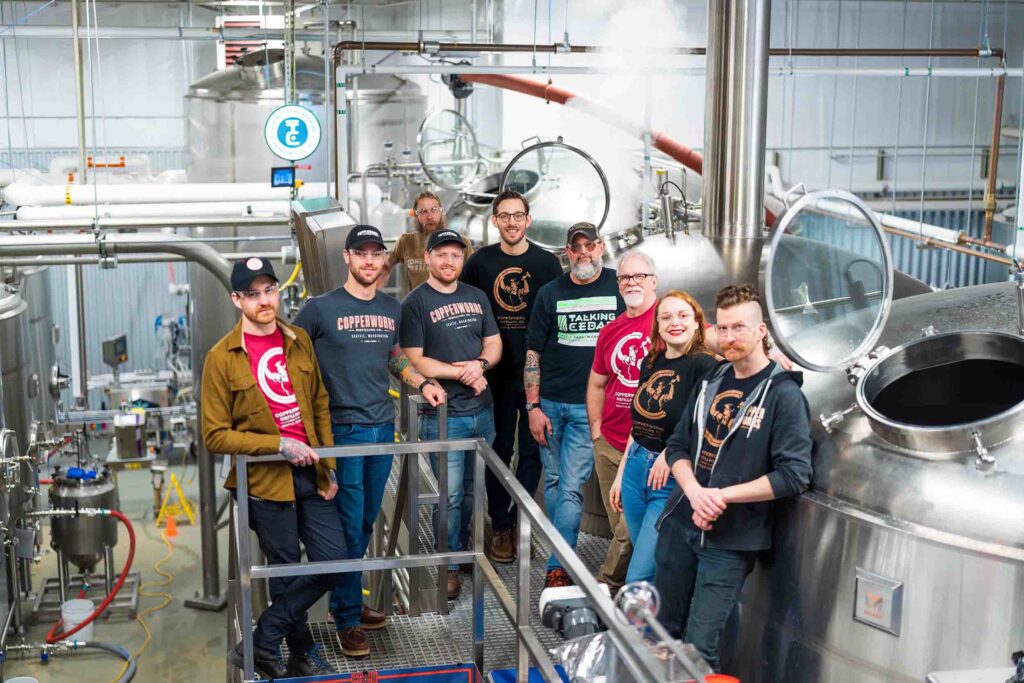 Seattle-based Copperworks Distilling Co. recently announced it will increase whiskey production and continue its expansion thanks to a partnership with Talking Cedar of Rochester, Washington.
The partnership came about thanks to a relationship forged between Copperworks Distilling Co. president, co-founder, and co-owner Jason Parker and Talking Cedar plant manager Scott La Roy during their years together in the craft beer industry.
"Since we started in 2013, we've partnered with renowned and trusted breweries such as Pike Brewing, Elysian Brewing and Fremont Brewing to make the beer (without hops) we use to create our spirits," says Parker. "This beer has always been made to our specifications and with the local malted barley we've selected, then transferred to our distillery where our distillers handle the rest of the production process—fermentation, distillation, barreling, maturation and bottling. These invaluable partnerships have allowed us to grow steadily over the last decade. As a sign of our success, we've reached maximum capacity with our first three brewing partners, and thanks to my long-standing connection with Scott and Talking Cedar's new, state-of-the-art facility, we have another outstanding Washington state partner to help us meet our demand as we continue to expand."
Talking Cedar is located in the Chehalis River Valley, south of Seattle. It is Southwest Washington's first tribally owned and operated craft brewery and a Pacific Northwest destination distillery, restaurant, taproom and tasting room.
"Talking Cedar and Copperworks share a vision and commitment to sourcing local ingredients to support farming communities in our region while producing the highest quality craft beverages," said Copperworks Distilling Co. vice president and co-owner Jeff Kanof.
How the Partnership Works
Talking Cedar stores locally sourced malted barley selected and purchased by Copperworks. "In fact, one of the five 60,000-pound grain silos at Talking Cedar is reserved exclusively for Copperworks," says Parker.
Talking Cedar brews and ferments the malted barley (without hops) according to Copperworks' recipe and specifications. (Until now, Copperworks had always done its own fermentation at its distillery.)
The finished beer is transferred to Copperworks' facility in Seattle for the distilling, barreling, aging, and bottling process handled by Copperworks' distillers.
"Thanks to this partnership, we've seen an immediate increase in our whiskey production, which will continue (up to five-times our previous capacity) as we expand the Copperworks' production team in the future," said Kanof. "While we had initially planned to construct our own production facility during our previous crowdfunding campaign in 2021, the opportunity to partner with Talking Cedar became available following the campaign's conclusion. We realized this would save us millions in capital expenditure, plus years of design and construction."
Added Parker: "Bottom line—we found a way to increase our production capacity immediately, and so are now making whiskey that will be available for sale before we'd have even completed building a new brewery."
The Talking Cedar Partnership is one of three expansion projects underway for Copperworks.
Parker and Kanof will soon host two webinars to discuss Copperworks' current expansion projects and crowdfunding campaign. Each webinar will include a Q&A session and attendees are encouraged to submit their questions in advance on Copperworks' official campaign page.