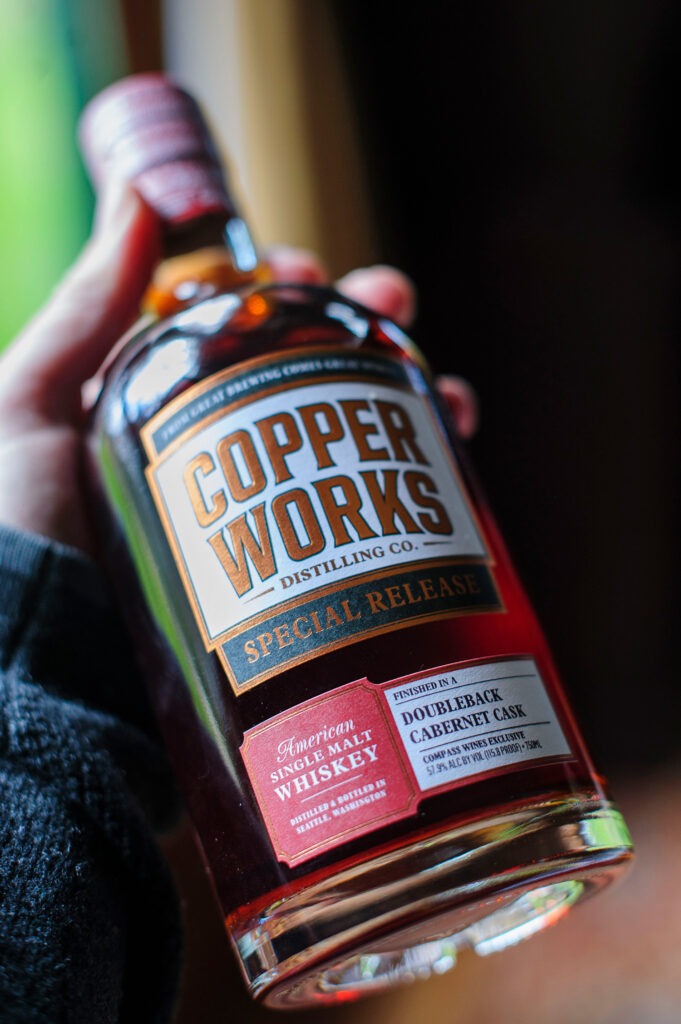 Seattle-based Copperworks Distilling Co. has become known for exploring flavors of the Pacific Northwest through regionally sourced ingredients and special collaborations with other craft beverage makers in and around Washington. Their newest special release is no exception, with a celebration of flavors from Washington's Walla Walla Valley.
On the day that Doubleback Winery was emptying one of their Cabernet Sauvignon casks, Doug Charles of renowned Compass Wines in Anacortes, Washington, drove to Walla Walla, loaded the cask in the back of his Volvo wagon, and hand delivered it to Copperworks Distilling Co. in Seattle where it was immediately filled to become another special release of Copperworks American Single Malt Whiskey.
In March 2020, Charles began discussions with CEO & Director of Winemaking for Doubleback Winery, Josh McDaniels and Copperworks' Co-Owners Jason Parker and Jeff Kanof about the collaboration to create the exclusive single cask release —Copperworks American Single Malt Whiskey Doubleback Cabernet Cask.
The special release is now available for pre-order through Compass Wines.
"We've been a staunch supporter of Washington wine for decades," said Charles. "When we added spirits to our portfolio in 2020, it was only natural that we'd take a serious position on Washington whiskey as well. Together, we selected a Copperworks American Single Malt Whiskey to be finished in a stunning Cabernet cask from the legendary Doubleback Winery."
Copperworks Doubleback Cabernet Cask Single Malt (Compass Wines Exclusive) $119.99
Production Notes
"This exclusive release was crafted from Genie barley (Salmon-Safe certified) grown on HT Rea Farms in Washington's Walla Walla Valley," said Kanof. "The whiskey matured in new American Oak casks for 3 years and 5 months, then finished for 11 months in a French Oak cask that previously held Doubleback Cabernet Sauvignon, also in the Walla Walla Valley."
"The unique character of Washington malt from a single farm is remarkable on its own, but add layers upon layers of the decadent red fruit which Walla Walla Cabernet is known for, and you've got something truly special," said Charles.
277 bottles produced (750ml)
57.9% ABV (115.8 Proof)
Tasting Notes
"The depth and complexity of this whiskey matches its heavily lacquered copper color," said Parker. "On the nose is a union of cherries, cherry skins and oak, framed by fresh orange oil, slight tannins, and a waft of cigar wrapper and spice. On the palate you'll find grape pomace, honey-drizzled apples, sugar cookie, hints of coffee and baking spice. Leather and oak mingle with dark chocolate on the finish, lingering with spice and light lemongrass."
"Enjoy neat and pair as you would a Cabernet Sauvignon," said Parker. "When in doubt, let your 'Compass' guide you."
Release Party and Bottle Signing at Compass Wines
Be one of the first to grab a bottle from this exclusive release and have it signed by Copperworks President, Co-Founder, and Co-Owner, Jason Parker, and Compass Wines Co-Owner Doug Charles.
WHEN |Friday, May 19 | 4pm-7pm
WHERE | Compass Wines
1405 Commercial Ave, Anacortes, WA 98221
COST | There is no charge to attend, but Compass Wines kindly asks that those tasting please bring food or make a monetary donation to their local food bank.
CONTACT | For more details about the event or release, please reach out to Doug Charles at Doug@CompassWines.com.
AVAILABILITY
This release will be available exclusively through Compass Wines. It will not be available for tasting or purchase through Copperworks.
PRE-ORDER
Link to order: https://www.compasswines.com/copperworks-doubleback-cask-special-release-single-malt-spcodb750-46956.
Due to very limited quantity, pre-orders are highly encouraged.
The special release bottles will be available for pickup at the event.
For those who cannot attend the event, but would still like the whiskey, Compass Wines can hold it for people in the shop, or ship it most locations.